5 Amazing Tips to Save your SME's Time Through Rapid eLearning
Involvement of SMEs is an indispensable part of your eLearning design and development, and rapid eLearning ensures you save enough time for them as they don't have a lot of it on the first place. Check out 5 amazing tips below to save your SME's time.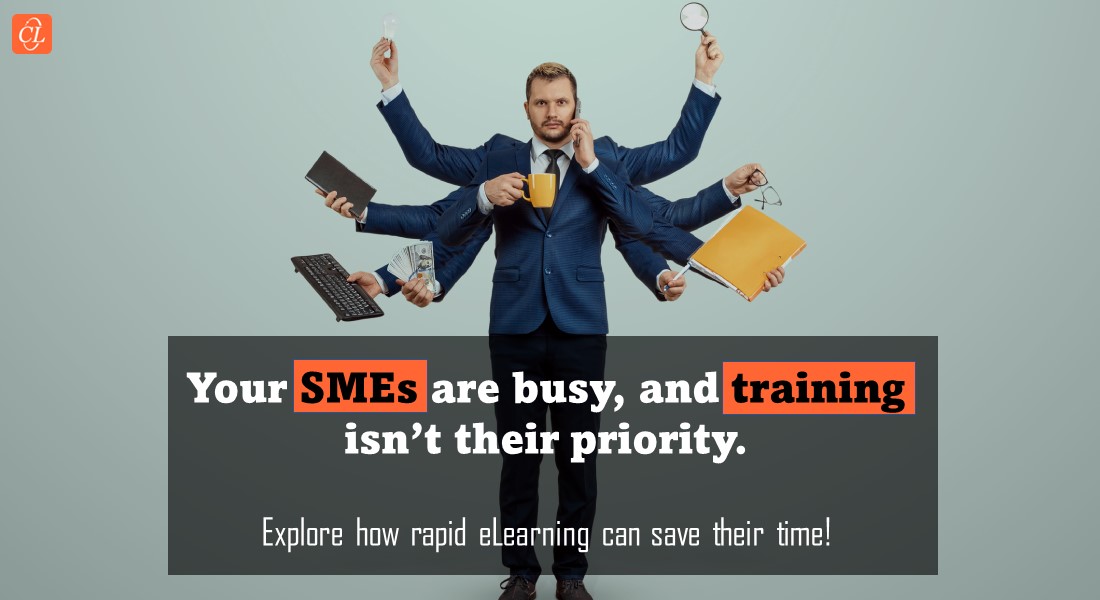 ELearning design and development has various stages and subject matter experts(SME) are required at almost each and every phase. But, here's the problem, they don't have that much time to spare as they are high-value professionals who are mostly traveling to different places or focused on their primary field of work. There are various reasons why the expertise and vast knowledge of SMEs are highly crucial, one of them being the factual accuracy of the content. Explore how rapid eLearning can minimize the SME touchpoints from 9 to a mere 3 saving a lot of their time, which eventually ensures their support throughout your design and development process.
Tired of Scheduling Multiple Appointments of Your SMEs? Try Rapid eLearning Solutions!
Check out these 5 amazing tips to save your SME's time:
Don't design standalone courses, plan for curriculums instead
Make the SMEs aware of rapid eLearning design and development processes
Design a prototype of your rapid eLearning course
Do your research before gathering the inputs from SMEs
Use online review tools
Who is a Subject Matter Expert and Why Securing Their Time is a Challenge?
SMEs are high-value professionals and their involvement is extremely crucial in the design and development of eLearning courses. Even though their expertise is highly important for the content to be accurate, corporate training is not their primary job role. Moreover, they are mainly focused on traveling abroad to solve individual client issues or are busy with their traditional training sessions. To expect them to invest their precious time in multiple eLearning courses is a lot to ask for, and it's challenging for them as well if your touchpoint count is way too much.
SMEs are responsible to provide the input for most of the eLearning content, approve the included content and review the final course for potential factual and logical errors in the entire content, all because they hold vast knowledge of their respective subjects. There is so much to do but SMEs have a limited time to invest, and this is where rapid eLearning acts as a game-changer. It reduces the number of touchpoints eventually saving a lot of time for the SMEs and ensures the courses are delivered before the deadlines without compromising on the quality.
5 Amazing Tips to Save Your SME's Time Through Rapid eLearning
1. Don't design standalone courses, plan for curriculums instead
When you are designing individual courses, your SME has to go through each and every development process like content finalization, gap filling, and the accuracy of assessments, then review the final output as a whole. But, this long process can be shortened if you plan for curriculums, as it will ensure the SME has to get involved just for once. And when you are asking for their involvement, always prefer to have them on board from scratch instead of mid-development phase.
Rapid eLearning follows an agile project management process so involving SMEs from start will help them understand more about your learning goals and expectations, which eventually provides better clarity for the SME and they can provide their input as well.
2. Make the SMEs aware of rapid eLearning design and development processes
SMEs are not used to shortening the eLearning content as they prefer explaining every topic in detail so that a concept is thoroughly understood by the learners. So, when you are involving SMEs from scratch, you can help them understand how rapid eLearning only focuses on "need-to-know" content while the extra "nice-to-know" information is sidelined. This will help them get a clear idea of how they have to carry forward their finalization and review process and add relevant feedback. As we have already discussed, rapid eLearning reduces the touchpoints, so intimating the SMEs about their potential touchpoints and scheduling their timelines beforehand can save a lot of time for them.
3. Design a prototype of your rapid eLearning course
Rapid eLearning focuses on an agile development process, and creating a prototype before the main course is always advised due to the following reasons –
Helps to align project expectations
Helps the SME understand the instructional design of your course
Identifies the gaps and flaws in your eLearning content
Streamlines your review and feedback process
While prototyping, you can design a mini course for one section of your subject so that you can display your instructional designs, type of templates, and other interactivities such as formative and summative assessments you are about to use in the final course. This will help the SME to suggest possible modifications in the early stage, saving their time to do the same for the final output.
4. Do your research before gathering the inputs from SMEs
SMEs can fill the gaps for you, but they don't really have the time to plan the whole content, so it is always advised to do your research about the required topics and subjects, and write down your doubts and queries. Once you are done with your research, you can share it with the SMEs preferably through eMails, and ask them to record their inputs and suggestions. The recording can be either an audio or video so that you can understand the content better and use it later for any sort of revisions.
You can also ask the SMEs to provide any sort of classroom training recordings, guides, presentations, and other raw information assets to use as snippets for enhanced engagement of eLearning courses. Apart from the theoretical content, you can also ask them about their personal insights or experiences and include them in your course.
5. Use online review tools
Rapid eLearning authoring tools come with separate online review tools to make the review and feedback process easier for SMEs and other stakeholders. These review tools help them note down their opinions as comments in real time, making it easier for development teams to resolve them. The review tools generate a URL that can be shared easily among all the involved stakeholders and SMEs for seamless online reviews. You can also use external review tools such as zipBoard and Review My eLearning apart from the in-built review feature provided by modern rapid authoring tools.
Parting Thoughts!
The proper involvement of SMEs is highly crucial for the rapid eLearning courses to be productive, and to ensure the content is accurate. Rapid eLearning can indeed save a lot of time for SMEs without compromising the quality of content. To understand more about how you can save the already limited time of your SMEs, you can access this free webinar recording.