How Rapid eLearning Helps Save SME Time?
Designing and developing learner-centric eLearning courses involves multiple stakeholders. And Subject Matter Experts (SMEs) are the most sought-after ones. But time is a major pain point for them. Read on to learn how to tackle this problem like a pro!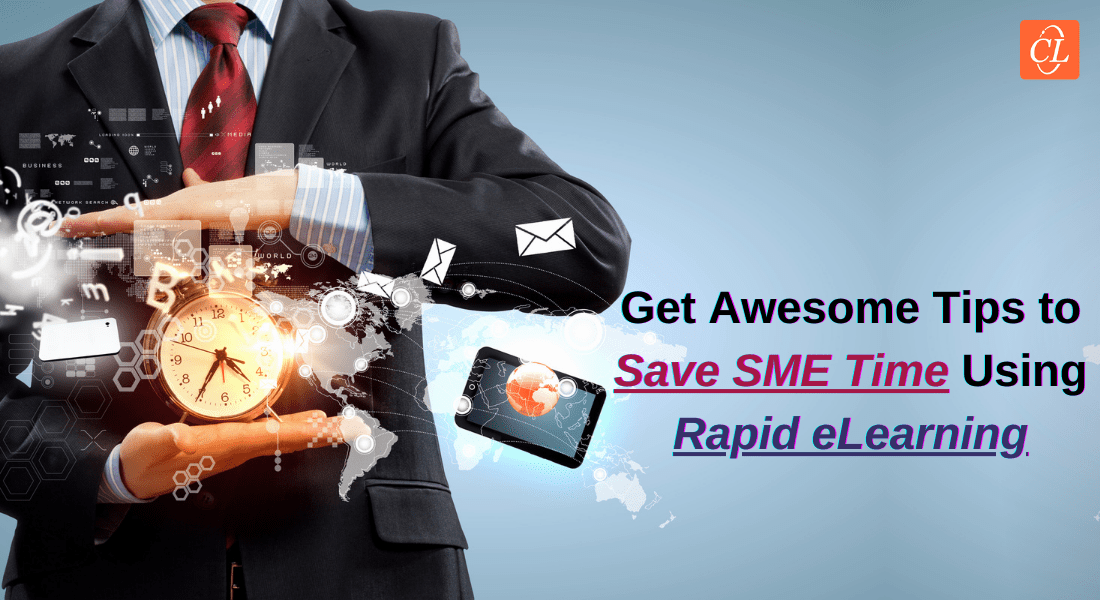 A ship without a captain won't sail for long! Similarly, designing or developing rapid eLearning courses without the guidance and input of the Subject Matter Expert (SME) won't have the desired impact on corporate training. With that said, one cannot ignore the busy and hectic schedule of SMEs. If you're wondering what keeps them so busy? Then just to set the record straight, reviewing is not their primary job. These valued professionals are in between places handling company matters, working tight schedules, and are even stressed. Needless to say, they are often faced with a shortage of time, which affects the review and feedback cycle, leading to delays and disruptions.
Even If They Don't Complain, Your SMEs Are in Pain!
Here's how to relieve them from the time crunch problem using rapid eLearning:
Plan curriculum instead of standalone courses
Familiarize the SME with the rapid eLearning design and development process
Involve the SME from the beginning itself
Leverage the Record strategy of Rapid eLearning
Use online review tools
Well, that seems so unfair, after all, they are human too. There must be a way out! Isn't it? Something of a middle ground that allows SMEs to save a fair share of time, thus saving their mental peace and sanity! So here are some tips and suggestions on how you can leverage rapid eLearning to save your SME time. It will facilitate a structured eLearning development process without messing with your SME's schedule.
How Rapid eLearning Helps Save SME Time?
Plan curriculum instead of standalone courses
Imagine going to the market and buying all the items on your shopping list in a single go in contrast to going to the market to buy every item separately. Well, it saves you plenty of time and effort which you can easily devote to completing your other tasks. That's what planning your curriculum means. When you design and develop standalone courses, each course needs to go through the same mundane process of reviews and sign-off, which certainly consumes a lot of SMEs' time.
This process includes different stages like the primary review of the course content, checking the gaps, template approval, storyboard, and prototypes, and finally, reviewing the main eLearning course. And if you stack all this into a single curriculum, the multiple stages of the process are reduced to only one. This way, you can save a great deal of time and effort for your SME.
Familiarize the SME with the rapid eLearning design and development process
Are you shifting from classroom training to eLearning or virtual learning for the first time? Well, if so, then making your SME familiar with the eLearning design and development process would be a wise thing to do. Usually, when it comes to sharing their knowledge and information, SMEs are very particular about it. They are skeptical about the way information will be conveyed to the learners and often hesitate to give away the secret facts and engagement hacks that make classroom training a success.
Even better, getting them acquainted with the whole eLearning development process allows them to understand the different steps and stages involved in rapid eLearning development. They can accordingly plan their schedule and meetings for well-aligned collaboration. This saves the trouble and anxiety of going back and forth between multiple tasks they are occupied with, and they can attend to the eLearning project priorities as and when needed.
Involve the SME from the beginning itself
That's right! Since SMEs are the experts in their fields, it is always better to engage them in the planning and development phases right from the start. Making them familiar with the design and development plan (for example, the course duration, modules, etc.) from the beginning enables them to analyze and provide the necessary input accordingly. It saves you time and energy as you get to know their suggestions in a timely manner and even they understand the whole process in a better way. This reduces the chance of feedback that requires major changes, thereby saving you from rework and spending extra time.
So, you should prepare a project plan where you can seek the SME input and set clear expectations right from the beginning. You can decide on the timeline for review, which will help you progress in an organized manner. You can also seek SME guidance via video and audio instead of long calls.
Leverage the Record strategy
As we clearly know that SMEs are people who are always in between tasks, so for them finding time for reviews and collaborative ventures can be hectic and might also delay the process of eLearning development. So, you can easily opt for the Record Strategy in rapid eLearning. In contrast to the traditional review process that includes 9 touchpoints between the instructional designer and the SME, the Record strategy in rapid eLearning brings down these touchpoints to only three.
The SME creates a quick and dirty PPT presentation along with the voice-over and shares it with the instructional designer. Then the instructional designer streamlines the narration into a proper script and shares it with the SME. Upon signoff, the course is designed. This cuts down on all extra fluff and keeps the SME involvement at its minimum. By leveraging this strategy, you can include and maintain the essence of the SME's knowledge, raw anecdotes, real-life examples, etc., which maintain learner engagement.
Use online review tools
When you think of saving SME time, you need to look every nook and corner of the rapid eLearning development process for such opportunities. Well, one such way to do this is by using online review tools. It minimizes the review and feedback process, which saves SMEs' precious time. You can integrate different types of tools that make the review process simple and easy to manage.
Some of the popular and effective online review tools are Articulate Review 360, Adobe Captivate Reviewer, and Lectora ReviewLink. These applications allow the SME and the instructional designers to collaborate and work together rather than an inconsistent, untuned feedback process. Moreover, these tools enable you to track and compile all the reviews and comments from the SME at a single location, making it easier for you to go through and implement the required changes.
Following this process, it becomes easy for instructional designers to coordinate with the SME, which facilitates producing high-quality, learner-centric, and engaging eLearning courses to maximize the training outcome and achieve learning objectives.
Wrapping It Up!
Finding the balance between your primary responsibilities and additional tasks can often take a toll in terms of effectiveness and efficiency. If not on the professional level, then the personal level is definitely affected. To save things from going to the point that is beyond repair, it is wise to take timely measures. So incorporate these best-in-class techniques to ensure your SMEs have some time for themselves too! It will maintain their interest and enthusiasm in being involved while developing the eLearning courses rather than a task that they somehow need to get over with. Check out this eBook to know more about the best practices that save the SME and instructional designer time.