Convert Flash to HTML5: Match Your Authoring Tool with Your Requirements
There are many authoring tools in the market to convert Flash to HTML5. If you know your requirements, it's easier to choose to convert Flash to HTML5.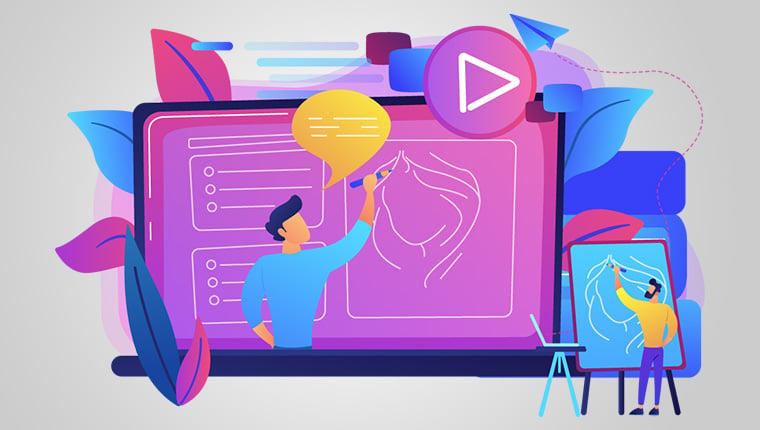 The entry of rapid authoring tools brought a change in the way e-learning courses are designed. They enable the quick creation of courses and are user-friendly. They support the HTML5 code, which means functionality on modern browsers and the ability to run courses on mobiles. Prior to their launch, Flash was popular owing to its features that helped produce visually-rich courses with stunning animations and complex interactivities. However, the inability of Flash to match up to rapid authoring tools and the announcement by Adobe to phase out Flash by the end of 2020 have urged organizations to convert Flash courses to HTML5.
What do eLearning authoring tools offer for Flash to HTML5 conversion?
Recreate Flash-like interactivities with Articulate Storyline
Convert courses with Captivate's responsive design feature
Choose Lectora Online for easy collaboration
Read about the other benefits of using authoring tools aligned with your requirements to convert Flash to HTML5.
However, with so many authoring tools available today, which tool do you choose for Flash to HTML5 conversion? Your choice will be easy if you know your requirements. Let us look at common conversion requirements and three popular HTML5 authoring tools. This will help you map their features to your requirements and make the right choice.
Convert Flash to HTML5 – Requirements
These are some you need to ask to identify your requirements when converting Flash to HTML5:
How many courses do you have for conversion?
If there are only a few courses for conversion, you can consider doing it in-house, but if there are many courses to convert from Flash to HTML5, you can consider outsourcing them to an eLearning vendor.
Do you want a tool that is easy to use?
Most authoring tools today have an easy interface but certain tools such as Articulate Storyline are comparatively easier to use.
Do you want your courses to be accessible on mobile devices?
Though HTML5 authoring tools provide responsive design options where the content adapts or resizes to suit the screen size of the device, certain tools such as Adobe Captivate provide better responsive design options.
Do you have many interactivities in your course? Are they simulations or animations?
Flash was able to create complex interactivities and animations and yes, rapid authoring tools too can recreate most of them for you. If an interactivity cannot be recreated, an alternative is suggested.
Do you want to translate your courses into different languages?
Rapid authoring tools such as Lectora Inspire have features that allow learners to access courses in their preferred language.
How many people are working on the conversion? Are they in different locations and do they need to collaborate on the project?
Lectora provides facilities for online collaboration where people working at different locations can work on the same course.
These questions will help assess your Flash to HTMl5 conversion requirements, and based on the features of authoring tools you can make your choice. Here are three popular authoring tools to consider.
The Tools You Can Choose From
The following table gives an overview of the conversion requirements and tools that have the best features to meet them.
Name of Tool
Conversion Requirements
Features
Articulate Storyline
Ease of use
Simple interface and short learning curve ensure the tool is easy to operate.
Interactivities
Flash-like interactivities are easy to create with the tool's built-in triggers, slide layers, and variables.
Even if you cannot create exact Flash-like interactivities, you can use this tool to create next best alternatives.
Adobe Captivate
Simulations

If your Flash courses are simulation-based, Captivate allows you to
generate simulations with a resolution up to 4K HD.
For software simulations, the Record Software Simulation feature helps capture demonstration steps as screencasts which can later be converted to videos.
Responsive Design
The Fluid Box feature in this tool ensures that the objects in your converted Flash courses are aligned automatically based on the device being used.
The advantage is that content needs to be added only once and the design will then adapt to any device.
Lectora
Translation

Flash-based courses are not generally translation friendly but if you want the converted courses to be available in various languages, the 'switchable interface' feature lets learners access the course in their preferred language, even in the middle of going through the course in English. They also have the option to go back to the course in English.
Collaboration
If developers need to collaborate on a conversion project, there is ReviewLink – an online responsive review tool where reviewers can share courses, collect feedback from fellow reviewers, while sharing their own feedback. Stakeholders and learning developers can review courses simultaneously and follow up on comments and bugs till they are resolved.
Articulate Storyline has a responsive player output feature that responds appropriately to different mobile sizes and orientations. It also has a preview option to help you see how converted courses will look on a particular device.
Adobe Captivate offers a library of themes and templates that are responsive. They reduce development time and can be modified based on the device.
As for converting text-heavy Flash-based courses, both Lectora Inspire and Articulate Rise do a good job of converting them into a simple and easy format.
If your Flash-based courses have storyboards in the form of PPTs, you can consider iSpring for converting PPTs to the HTML5 format.
Though rapid authoring tools have some similar features, they also have distinct features you can leverage to convert Flash to HTML5. If you can identify which tool will best meet your requirements, you are halfway through your conversion journey.
If you are looking at conversion for the first time, choose an eLearning authoring tool with an easy learning curve so that you save on time and effort and get the best return on your investment. But if you already possess the license for an authoring tool, and you feel it may not meet some of your present conversion requirements, you may need to look at another tool. Buying another tool will make sense provided you have enough conversion requirements that will make it worth the investment. If not, you can outsource the conversion to an e-learning vendor who has licenses for most authoring tools and can deliver what you need.
Choosing an authoring tool is just one of the steps in the Flash to HTML5 conversion process. The transition should be a well-planned process. It involves a series of steps that will ensure a hassle-free conversion. Read more about this in our blog Flash to HTML5 Conversion Process: A Ready Reckoner.