Compelling Features of iSpring that Make It a Favorite for PPT Conversion
This blog explores the features of iSpring that make it not only ideal for converting PPTs to immersive e-learning courses but also offer a host of features that enhance online courses.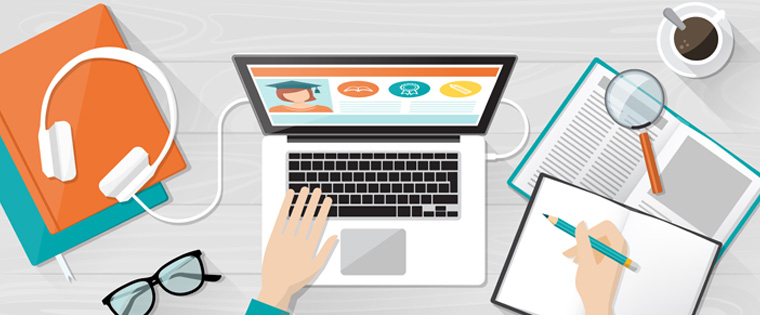 With a lot of companies adopting e-learning for training, they are looking at ways to repurpose the PowerPoint presentations used in classroom training. One key aspect of this conversion is using the right authoring tool.
iSpring has been the go-to solution for converting PPTs to e-learning courses for a long time. iSpring has power-packed features that can transform your PPTs to online training of the highest standards. Let us look at the features in this rapid authoring tool that make the conversion of PPTs into impressive formats for e-learning courses efficient, and other exciting aspects as well.
Ease of Use
The learning curve of iSpring is minimal. It is basically a PowerPoint add-in, so anyone familiar with PowerPoint will quickly learn to use this tool with little training. This is good news for learning developers who need not spend hours getting accustomed to the tool. This also reduces the time window required to convert PPT courses to e-learning considerably.
Inbuilt Assets
There are several assets that help learning developers bring their designs to life and make course creation exciting and engaging. These include course templates, characters, backgrounds, icons, buttons and controls, and graphic objects. Course templates save a lot of time when creating courses; there is no need to start from scratch.
These templates can be the base for the course and the design can be taken further from there. Moreover, these templates have a cohesive design that can give your course a neat and consistent appearance.
Retain PowerPoint effects
PowerPoint effects such as transitions and triggers are preserved. This removes the worry of the original PPT losing its message when converted to HTML5 or Flash formats. Animations are also preserved, with their timing and directions.
Videos
The Video Lecture Player in this tool helps develop custom-based videos. You can sync explainer videos with PowerPoint presentations and the output will be published as a video. This will help develop good video lectures.
You can use different screen layouts in the presentation explorer to specify the respective areas the video and the slides should occupy. Viewers can also adjust the screen ratio between the slides and the video.
Screencasts
You can capture screen recordings to develop online tutorials on software applications, product demonstrations, and processes, without the need for any external tools. There is a built-in application called iSpring Cam that enables you to create screencasts. This feature records and incorporates audio, highlights cursor movements, and includes sound effects of mouse clicks.
It also provides hotkeys to make the screen recording process less cumbersome. There is an integrated video editor to make editing of videos convenient. These screencasts can be used as standalone videos, uploaded to YouTube, or inserted in online courses.
Assessments
Assessments are often absent in conventional PPTs. When you convert them as e-learning courses, assessments don't have to t be restricted to multiple choice questions with this tool. It is now possible to create assessments with branching scenarios and drag and drop questions to those with simple click-on images, movable markers, and to typing the right answers.
All of this can be done with minimal effort. You can customize the design of your assessments by choosing the layout, design, color, and add animations to the question and determine how videos and images need to be added. You can even include formulas, images, and audio in your feedback. This gives you a lot of flexibility in terms of designing assessments that will appeal to your learners.
Dialogue Simulations
Interactive dialogue simulations are effective in training, especially when you want to teach communication skills or soft skills. This tool helps you create dialogue simulations with various options. Learners can be put through realistic work situations to help them practice communication skills with clients and associates.
You can even build a branched conversation scenario by creating various scenes and adding links between them. These dialogue simulations can be part of an online course or published as a standalone course. You can use these dialogue simulations to test learners – it's possible to assign negative scores and penalty points too.
The features in iSpring make it not only ideal for converting PPTs to immersive e-learning courses but also offer a host of features that enhance your online courses.