A Guide for the Perplexed: The Four 'R's of Flash to HTML5 Conversion
It's time to save Flash courses from going obsolete! Thinking of Flash to HTML5 conversion? Let's look at four proven Flash to HTML5 conversion strategies.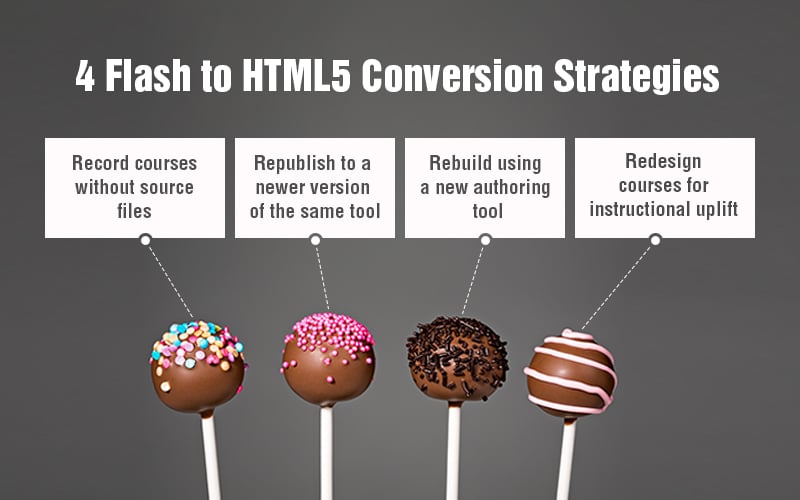 Flash has been the go-to tool to create a wide variety of interactivities and high-quality animations for online learning courses for a good two decades; but no more. Its lack of support for mobiles and several inherent drawbacks have meant that the reign of Flash is coming to an end and made Flash to HTML5 conversion a necessity.
What are the Four 'R's of Flash to HTML5 Conversion?
Record – Record existing Flash courses using a screen capture tool
Republish – Upgrade legacy courses to the latest version of an existing authoring tool
Rebuild – Transform courses by developing them in a new tool
Redesign – Revamp existing online courses for instructional updates
Is there hope for organizations who have been using Flash-based courses for training their employees? Can they salvage the Flash courses that have been a valuable part of their training strategy for so many years? Fortunately, the answer is yes, given the fact that a lot of design effort has been put in by your subject matter experts (SMEs) to make them effective and engaging.
So, there are various ways you can keep your legacy (Flash) courses alive, by converting them to HTML5-based eLearning. In this blog, we will discuss the fours 'R's of Flash to HTML5 conversion—Record, Republish, Rebuild, and Redesign.
The 4 'R's of Flash to HTML5 Conversion
1. Record Courses without Source Files
Organizations can opt for the Record conversion methodology if they satisfy any of these requirements.
The legacy courses lack interactivities and 'learner to course interaction' is not a major concern.
The source files of the original Flash-based courses are not available.
Content doesn't need any changes.
This conversion strategy is best for courses where the learner is required to simply read each slide and listen to its narration, without interacting with the content in any way – where the main intention of the course is to help learners learn and recall factual information and concepts.
These courses, when converted to HTML5-based eLearning, can be used as introductory or refresher courses. Courses on the basics of POSH (prevention of sexual harassment), compliance training, and new hire onboarding are some of the examples of where 'Record' works best.
In this method of Flash to HTML5 conversion, the existing course is recorded in the MP4 format – the course is played and all the on screen content is captured using dedicated screen-recording software such as Camtasia. Assessments can be added to the MP4 video and integrated into a SCROM courseware shell.
2. Republish Courses Developed in Older Versions of Authoring Tools
A few of your Flash courses might have been developed using older versions of authoring tools. In the Republish strategy for Flash to HTML5 conversion, these courses can be published to the HTML5 output, using a newer version of the same tool. This methodology is for organizations that wish to:
Upgrade courses using a new version of the software (when all media assets and files are available)
Give a new look and feel to the old content
Offer maximum learner interaction on multiple devices
When republishing Flash courses, you can also enhance them moderately in terms of interactivities, and complex Flash animations can be recorded.
3. Rebuild for Multi-Device Compatibility
The term 'Rebuild' is self-explanatory; legacy eLearning courses that were developed with outdated software such as Adobe Flash—but with relevant content and functional media elements —are redeveloped using newer, better rapid authoring tools. Needless to say, these tools provide courses that are HTML5-enabled. These courses can also be enhanced for interactivities and the graphical user interface.
So for example, if you want to replicate the Flash interactivities, you can go for Articulate Storyline. Similarly, Adobe Captivate and Lectora Inspire can really up the game when it comes to developing SCORM-compliant, multi-device, and multilingual online learning.
Use the Rebuild strategy when:
Courses are developed in tools now obsolete

Media assets and content are still relevant
4. Redesign during Flash to HTML5 Conversion for a Complete Make Over
In the Redesign Flash to HTML5 conversion strategy, legacy courses that need content, branding, instructional updates are redeveloped in a new authoring tool, using the raw assets (pictures/images, vector graphics, audio/video). The source files of these Flash courses may/may not be available.
Organizations can opt for this methodology:
When the original content has become obsolete and the course requires a complete make over
To convert lengthy content heavy courses into easy-to-digest microlearning modules
To ease translations of legacy courses
Multinational corporations with a globally dispersed workforce often need to offer training in multiple languages. Also, they need to offer learning material that can be used on the job to solve every day, work-related tasks—in the form of performance support tools/job aids—without taking employees away from their work schedule. In the face of such diverse training requirements, it makes sense to opt for the Redesign methodology, which enables organizations to explore new learning strategies such as microlearning and mobile learning.
Concluding Remarks
The Flash to HTML5 conversion process has many facets to it depending upon the business requirement. The trick, as a trainer or a manager, is to first realize that Flash courses do not need to die—organizations simply have to choose from the fours 'R's to ensure their valuable Flash-based material lives to see another day, especially when so much effort has gone into making them.
Most often than not, a common strategy cannot be applied for all legacy courses, as they might need varying levels of rework. Therefore, it goes without saying that for any of the conversion methodologies to be remotely successful, companies need to hire a learning partner who can bring to the table their years of experience and knowledge in learning and development, and be able to suggest the best possible solution for your content and training at large.
To help you get started with the conversion, here is a resource that will provide you with a comprehensive understanding of how to choose the right conversion partner and also a complete list of authoring tools available for Flash to HTML5 conversion.