Pre-requisites for eLearning Outsourcing: What's the Leg Work to Be Done?
Is venturing into eLearning taking too much of your time away from other responsibilities? Don't worry – just try eLearning outsourcing! However, for success, you need to do some homework.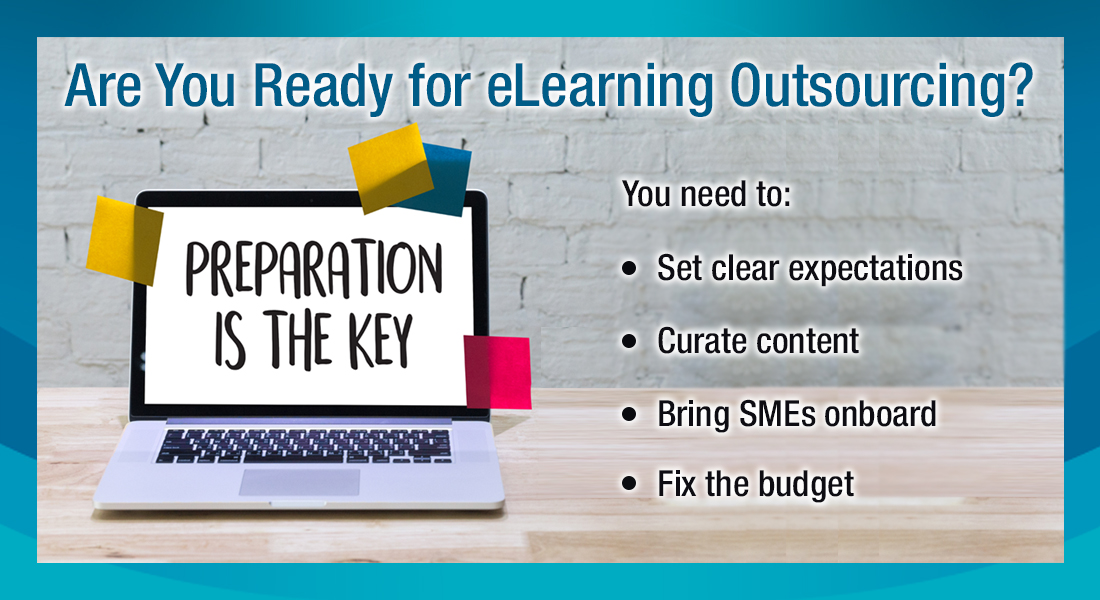 Believe it or not, though the COVID-19 lockdown led to so many training disruptions, it has also popularized the one solution to all these problems – eLearning. The global eLearning market is exploding because of a steady demand for effective and new-age online training solutions. With both big and small businesses shifting from classroom training to eLearning, the L&D market is estimated to reach $375 billion by 2026. But designing, developing, and managing eLearning demands a lot of time, expertise, and resources. This can divert an organization's focus from their core services. This is where eLearning outsourcing becomes an appealing option.
eLearning Outsourcing
What You Should Do to Help Your Vendor
Set clear learning expectations
Curate content
Bring SMEs onboard
Fix the budget
And now, from among all the big and small companies claiming to be eLearning experts, you will need to choose a vendor based on their expertise, experience, project management, and accountability. But before zeroing in on the vendor, you need to do your homework – some pre-requisites before outsourcing eLearning design and development to a vendor.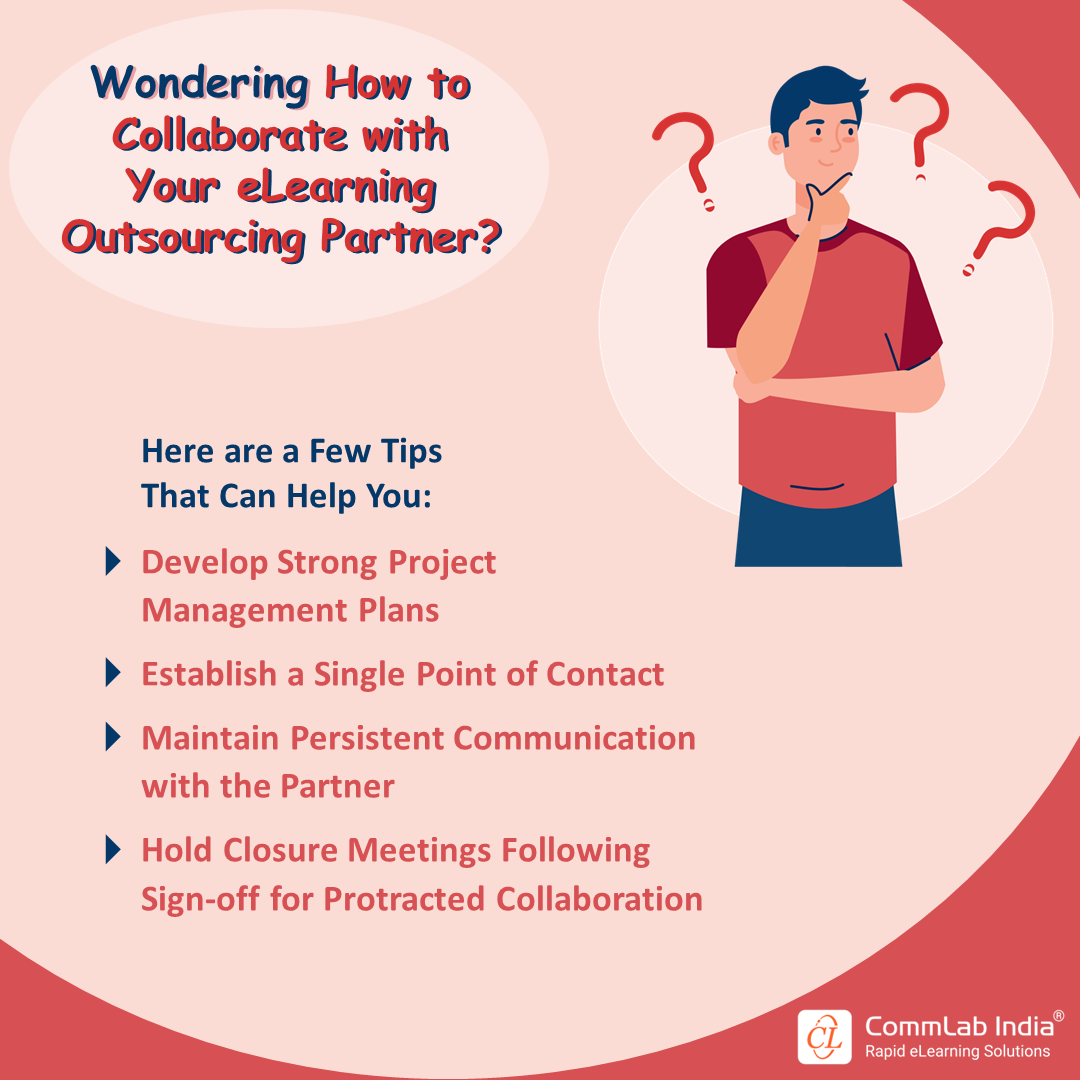 4 Pre-requisites for eLearning Outsourcing
1. Set Clear Learning Expectations
A successful learning journey holds no meaning without a clear destination, especially for corporate training. So before you decide to outsource eLearning, it is important to set clear learning expectations. The best way to do it is by framing measurable learning objectives.
"A Learning Objective is a statement
in specific and measurable terms that describes what the learner will be able to do as a result of engaging in a learning activity."

– Robert Mager
Learning objectives ideally have three characteristics:
Performance describes what learners are expected to be able to do.
Condition refers to the situation/environment under which learners are expected to perform.
Criteria describe the level of competency learners need to achieve or surpass.
Example: Given the correct equipment and user's manual (condition), be able to fix an overheated car radiator (performance) in 45 minutes (criteria).
Specific and measurable performance-based learning objectives help you decide the scope of your course content and determine the instructional type and strategy. They also influence the duration of the course, and thereby the cost involved. Once you decide on the broad learning objectives, a good eLearning outsourcing vendor can help you refine them.
2. Curate Course Content
For training to be successful, learners need to be able to transfer the acquired knowledge to performance on the job. That will possible only when content is aligned with performance-based learning objectives. Content is the fundamental and most important part of any eLearning course.
However, curating content aligned with your learning objectives is a major task in the instructional design process. The best option is to do a thorough review of all the existing content you have – documents, PDFs, PowerPoint decks, ILT manuals, and guides. You need to remove all unnecessary and irrelevant information and keep only what is relevant for the course.
You also need to make sure the content doesn't have any gaps. eLearning outsourcing vendors with experienced and expert instructional designers can help fine tune your content and align them with the learning objectives for effective eLearning design.
3. Bring SMEs Onboard
Subject Matter Experts (SMEs) are the gurus of proprietary information and the source of knowledge that drives corporate learning. You can't have a successful eLearning program without having the SMEs on board, without their inputs and contribution. However, bringing the SME on board for your online training is a task that is easier said than done.
You have to remember that while SMEs are experts in their domain, their primary role is not training. They are busy individuals who find it difficult to take time out for training from their busy schedules. You need to respect their time and contribution. You need to establish a clear line of communication respecting both yours as well as the SME's timelines. And while choosing an outsourcing vendor, you need to ensure they have an agile project management process which will also do the same.
The second hurdle when it comes to SMEs is convincing them about eLearning. You have to understand that content is their brainchild and if possible, they would like to include all information they have in the eLearning course. But in eLearning it is very important to know how much information is too much information. You can't overwhelm learners and hence, you will need to convince SMEs on the benefits of eLearning and the relevance of providing precise and specific information.
4. Fix the Project Budget
The last but not the least of the key factors which you need to consider before you start with your outsourcing is fixing the budget of the project. The cost of the course depends primarily on three elements – course duration, level of interactivity, and the number of eLearning translations you require.
The level of interactivity should be decided based on:
Target learners
Their prior experience in online training
Whether the course teaches simple tasks or complex skills
Budget and timelines
The cost of course design and development will depend on the level of interactivity you want – highly interactive approaches like game-based modules, watch-try-do eLearning simulations, branching scenarios are more expensive than explainer videos or simple scenarios.
If your eLearning courses need to be translated and localized into different languages for a global workplace, it will add to the cost of production. The standard cost of translation is 40 to 60% of the cost of production of the master course in English.
Summing it Up!
Hope you now have an idea on what is expected from you before start looking for an eLearning outsourcing vendor. These steps will give you a solid foundation. Moreover, these guidelines will help you choose the right vendor for now you know what is expected from them when it comes down to development process.
Selecting the right eLearning outsourcing vendor can be a tricky business. So, here is a comprehensive guide with all the information you need to make the right choice.
Editor's note: This post was originally published in August 2020 and has been updated for comprehensiveness.