eLearning: A Solution for All Your Training Woes! [eBook]
This article covers the significance of eLearning in 2022, as well as factors to consider when implementing eLearning in your firm. It also helps you encapsulate actionable insights to get more out of the eLearning Champions eBook.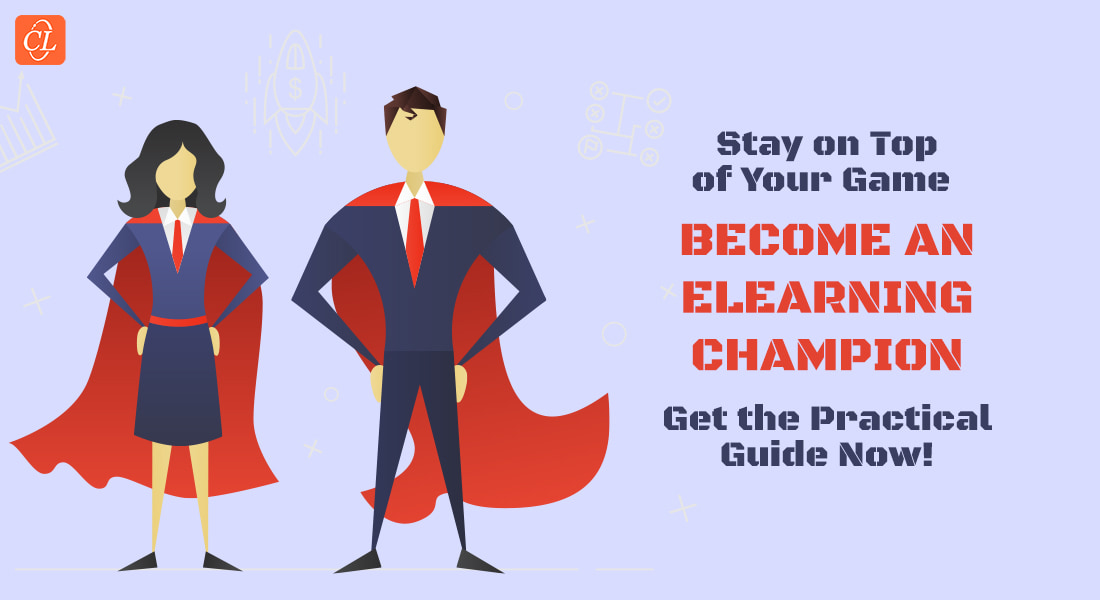 For decades, firms that developed training for their personnel used classroom instruction as their preferred technique. The times, however, have changed. Many companies have had to negotiate these changes and adapt their corporate training strategy because of new business technologies, processes, and work modes, not to mention the growing global workforce. Switching to eLearning helps organizations address challenges such as crowded schedules and increasing expenses. One of the solutions is removing the instructor from the learning environment.
Even before offices closed in 2020, L&D gurus computed the value of the eLearning industry at $18.6 billion, and it was thriving globally. COVID-19 has recently enhanced this industry's growth. Owing to eLearning's ability to cut through the clutter, this creative innovation is becoming even more widespread in businesses throughout the world.
What You Need to Consider When Implementing eLearning in Your Organization?
When introducing eLearning in your firm, keep in mind to:
Determine the need for eLearning
Examine your learners' readiness for eLearning
Assess infrastructural requirements
Examine the content
Decide on an implementation strategy
What is eLearning?
Let me clarify, in case you're not familiar with the eLearning field. The learning process that starts and ends with online digital resources is what we refer to as eLearning, Through electronic learning, learners access training material from anywhere and at all hours, which also allows them to learn at their own pace. In recent years, eLearning has grown in popularity, as technology has enabled the implementation of remote workplaces and cloud-based solutions. If done properly, eLearning can be even more effective than traditional classroom training. eLearning is a preferable alternative that guarantees the comprehension and retention of key concepts, as opposed to forcing learners to attend extensive, sessions in person.
Organizations confront several hurdles when implementing eLearning. You could face pushback from both the management and their employees, as you would when dealing with any other major change. As a result, it's critical to think about how to manage these aspects before developing eLearning for your company.
Factors You Need to Consider before implementing eLearning
1. Determine the need for eLearning
eLearning could be your best ally. The first step is to determine how eLearning might help your company sell its products and services even more effectively. Effective eLearning looks like increased efficiency for your organization, right from fast-paced sales personnel training that decreases the time-to-market all the way to employee compliance training. Today, with technology allowing for a quicker development process and widespread reach, eLearning developers spend less time and effort in the training process.
2. Examine your learners' readiness for eLearning
The next step is to assess your learners' preparation for the eLearning initiative. It could be that your learners are familiar with eLearning as part of their own informal learning journey, such as through social media educational videos and undertaking pilot surveys.
If your learners aren't tech-savvy, then approve a strategy to grow their skills. Keep an eye out for new abilities and software that you can develop into new endeavors like virtual classes and webinars.
3. Assess infrastructural requirements
The next stage in eLearning is to determine if you've the necessary LMS (Learning Management System) technology and infrastructure in place to design and deliver eLearning. This is significant as learners embrace digital courses quicker when they have a pleasant experience on their first try. As a result, double-check that you meet all infrastructural requirements.
4. Examine the content
Make sure you have all the content you need for your eLearning initiative. As there's usually a lot of classroom training material available, you must match your content with your training objectives by filtering through these notes.
5. Decide on a strategy for implementation
Finally, make sure you have a plan to implement eLearning. Are you planning to start with training, let's say, your sales team who might be more receptive to trying something new? Do you think you should send out the prototype of your eLearning course to a diverse learner population that cuts across departmental boundaries and observe its progress?
The scope of the pilot is determined by your implementation plan. It's worthwhile to spend some time planning the pilot, because its outcomes are utilized by stakeholders to determine how much you employ eLearning across your business. Before you take the leap, gather, and inspire eLearning advocates that are passionate, as they are an added advantage for your organization.
According to LinkedIn Learning's 2021 Workplace Learning Report, 79% of L&D professionals intend to increase their investment in online learning. And there's a new kid on the block: the eLearning Champion.
Who is an eLearning Champion?
eLearning champions look for opportunities to learn. They look at learning as a journey rather than a onetime event, and they believe in maximizing every occasion for continuous learning. They credit fun and engaging learning experiences as having the biggest impact. Most significantly, they recognize that the optimum learning strategy is dependent on their organization's specific training needs.
Do you have what it takes to be an eLearning champion? And do you know what it entails?
One cannot deny the value of online training in today's learning and development space. It's a cost-effective and efficient means to train a global workforce; it appeals to millennials and new-age learners, and, most significantly, it keeps up with ever-changing training requirements. In the age of pandemics, online training has become less of a luxury and more of a mechanism for trainers' survival.
Even though you, as training managers, understand and encourage the transition from classroom to eLearning conversion, there might be some barriers in your way.
Becoming an eLearning Champion clarifies the value of learning interventions in achieving business goals. It also acts as a practical guide for readers on:
Current eLearning developments
Blended learning
eLearning translation and localization
Well-known authoring tools
Getting the most out of your LMS Measuring training effectiveness
Promoting eLearning in your company
These pointers are only a foretaste of the knowledge packed inside this eBook. It was written by the founders of CommLab India to help professionals in the L&D field. Those who are just getting started with eLearning implementation and veterans seeking practical insights can benefit by going through this book.
Parting Thoughts!
If this is your first time investigating online learning, the eLearning Champions eBook will provide you plenty of food for thought. Even if you've used eLearning in your training plan before, there's still vital knowledge that can help you go from an ordinary eLearning enthusiast to an eLearning guru.
Download the eLearning Champions eBook. It's a one-stop shop for practical eLearning insights, implementation ideas, recommendations, and more; all distilled from decades of expertise. This eBook contains further insights into eLearning as well as everything you'll need to pioneer eLearning in your workplace.