6 Common Mistakes When Converting ILT to eLearning and How to Overcome Them
There are specific challenges to converting ILT (instructor-led training) material to eLearning. In this post, we'll explore 6 frequent challenges disrupting the ILT to eLearning conversion process, along with workable solutions.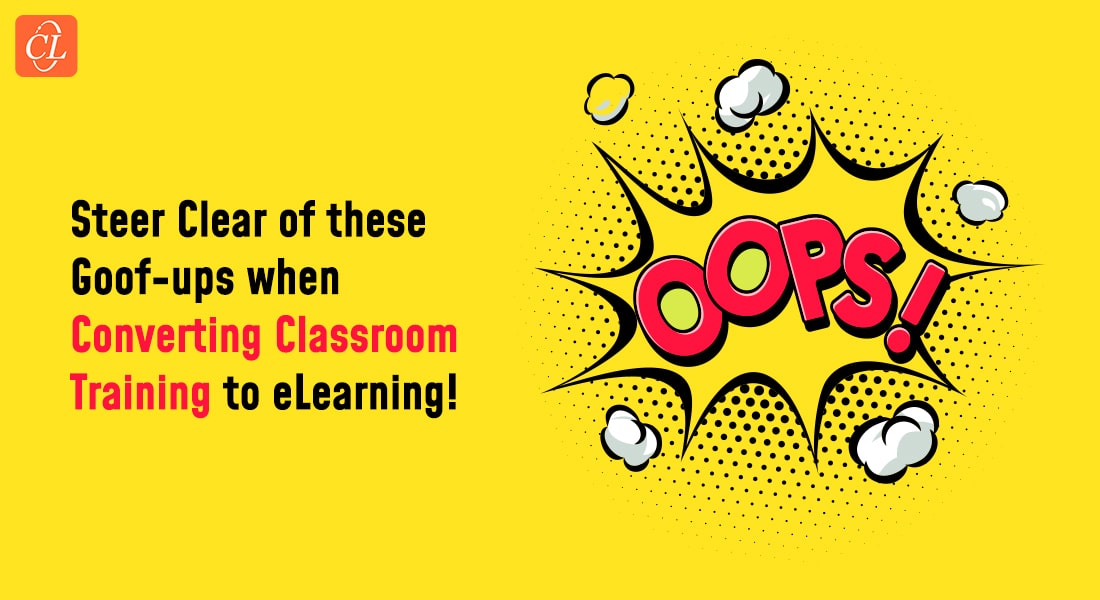 For decades, classroom instruction has been the preferred method for companies that want to train their employees. However, times have changed. New business technologies, practices, and work models, not to mention the growing global workforce, have led many organizations to navigate these changes and transform their corporate training strategy. Organizations can overcome obstacles, including crammed schedules and rising costs, by switching to eLearning. This requires taking away the instructor from the learning experience.
Looking to Convert ILT to eLearning?
Here are some common mistakes to dodge:
Not re-evaluating training goals
Not using multimedia to stimulate engagement
Not estimating costs
Explore more in the post.
The eLearning sector was valued at $18.6 billion and it was flourishing in the worldwide market even before offices closed in 2020. COVID-19 has just boosted this industry's growth, and, thanks to eLearning cutting through the noise, this innovative approach has become increasingly commonplace in enterprises throughout the world,
If you're not familiar with the term, then let me explain. eLearning (or electronic learning) takes place when learning occurs through online digital resources. This novel technique allows learners to access training materials from anywhere, and at any time, so they can learn at their own pace. As technology has made remote workplaces and cloud solutions possible in recent times, eLearning has become even more popular. eLearning can become even more successful than classroom training if done the right way. eLearning is a better option when compared to pushing learners to attend long, face-to-face sessions to ensure that they comprehend key concepts.
eLearning is becoming more popular than traditional classroom instruction. Many organizations are switching from instructor-led training to eLearning. As a result, we need to plan the conversion process meticulously.
However, it is possible to make mistakes when converting ILT to eLearning, which can also reduce the impact of its benefits. The first step toward evading such mistakes is to be aware of them. Let's discuss a few of them in this article, along with practical solutions to beating them.
6 Common Pitfalls when Converting ILT to eLearning and How to Avoid Them
1. Not Re-evaluating Training Goals
Existing training methods, such as traditional classroom instruction, have objectives that are spelled out. However, when transitioning from ILT to eLearning, there is a possibility of restructuring learning goals.
Even if all that is produced in the classroom cannot be addressed through eLearning, eLearning courses still need to be spread out through several courses. A single eLearning course cannot contain content from an 8-hour or 3-day ILT course. ILT contains a lot of material, much of which is connected to but isn't concentrated on the primary subject'. The finest eLearning courses feature information that is laser-focused on the core topic and learning objectives, with additional content available as a bonus.
This implies that you may need to reduce the amount of ILT material when converting it to eLearning.
Examine the ILT content to determine if it is thorough and sufficient for your online learning course. If you think that the material is inadequate and you believe it will not satisfy the eLearning course's objectives, then you need to rework it. It can be difficult to examine unstructured information, relate it to the learning objectives, and design an effective course. Find strategies that fill in existing gaps. Replace any outdated content with newer, relevant stuff. Bring the information together to ensure that it flows smoothly.
To encapsulate, it is crucial to secure a resolution on the learning objectives from the eLearning project's stakeholders.
2. Developing an Incomplete Storyboard
You can use storyboards to express your thoughts and vision to the rest of the development team when designing an eLearning course. It is no exaggeration to say that creating an effective storyboard is half the battle when building a strong eLearning course. You can visualize your eLearning course by prearranging the information, multimedia, and assessments the way you want it. The preferred format for developing a storyboard is a word document or a PowerPoint presentation.
A storyboard, in fact, serves as a template for arranging content in a consistent manner, complete with useful tasks and feedback. This way, you improve the efficiency of the eLearning design and development process. Creating a thorough storyboard when migrating from conventional training to eLearning is crucial. You must also make certain to include the following:
Graphic/Media
Title
Screen Overlays and texts
Narration and the usage of audio
3. Converting ILT into PowerPoint slides
eLearning is much more than just imparting training through the internet. When compared to ILT, presenting content using eLearning requires an original style and method. There is a misconception that a PowerPoint presentation includes material for learners. They almost never do. ILT material comes directly from the instructor's mind and not from a PPT. PowerPoint slide are instead used as prompts for the instructor. In a classroom session, the instructor imparts knowledge through live demos, examples, and interactive exercises.
When converting ILT to eLearning, keep in mind that you must:
Revise and rebuild the ILT program's activities to meet the requirements of an eLearning course's learning objectives, context, unique learning needs, and platforms.
Convert your ILT slides into eLearning does not imply breaking down text into bite-sized information. To add relevance to your online learning program, you must eliminate the nice-to-know material and place emphasis on the need-to-know information. So, when the material is in order, the instructional design team must come up with an effective and appropriate ID (instructional design) strategy based on the learning needs. Guided learning, scenario-based learning, and simulations are a few examples of ID strategies.
Use content from the ILT material in novel ways. You mustn't copy and paste your PowerPoint slides and other ILT content directly as they are. You can, however, use it as a starting point. You can also conduct an inventory of existing material:
Handouts
Slides
Case studies
Demos
Worksheets
Quizzes
Turn them into interactivities that fit the online learning environment. For example, instead of your learners reading bits of material off a screen, turn case studies into "What would you do?" situations allowing them to apply their minds.
4. Not Using Multimedia to Stimulate Engagement
Expect the instructor's personality and presentation style to make the ILT session fun. You must design interesting material that can hook your learners' attention and motivate them to modify their behavior on remote eLearning platforms.
Here's how you can create fascinating material for an eLearning course:
Select an authoring tool that allows you to develop engaging games and incorporate interactive components.
Thinking visually is crucial as it helps put together the most appealing aspects of an eLearning program. It is critical to make the most of your visuals by including:

Animations
Videos
Infographics
Interactive PDF's

Offer learners' the opportunity to explore and learn by leveraging your instructional design strategies more effectively. Nothing is more frustrating than repeatedly pressing the 'Next' button. The explore and learn approach keeps learners motivated as they go over each section until they grasp it.
Try not to design text-heavy material that drives learners away. Instead, think of ways to make eLearning material concise, specific, and more intriguing.
5. Not Estimating and Allocating Costs
A fresh finance strategy including cost allocation is required when switching from ILT to eLearning. When creating the training budget, your organization must be realistic about learning goals and outcomes, as well as they must be aware of potential obstacles.
Unplanned changes such as the duration, level of interactivity, developing new content and revising content, for example, might cause a budget overrun.
As a result, when planning and assigning funds for eLearning development, your organization must take all these probable circumstances into account.
6. Selecting an Improper Authoring Tool
Authoring tools are used to develop eLearning content. They can assist you in creating eLearning course templates, interactivities, and assessments. For training managers and instructional designers, authoring tools have proven to be a game changer. They are also a very cost-effective alternative because you don't need to hire expensive software programmers.
Today, there are multiple rapid authoring tools available like Articulate Storyline, Adobe Captivate and Lectora Inspire, each of which is superior to the others in some aspects. As a result, it becomes extremely important to choose the right authoring tool that fulfils your requirements.
The purpose of eLearning authoring tools is entirely determined by your training needs, content, platform, online or mobile, schedules, and budget. It's critical to take these into account when selecting the best authoring tool. If you want to improve your course's accessibility, then the authoring tool must support responsive design. This ensures that your course works on all platforms and browsers. If it does not, then you can't meet your learning goals.
Parting Thoughts!
The transition from ILT to eLearning is not easy. It requires substantial reflection and preparation. You must use the ILT to eLearning conversion process as a chance to build valuable online learning courses.
We believe that in the argument between classroom instruction and eLearning; the latter is the clear victor! eLearning is on the rise and will continue to do so, pandemic or not.
Do you want to know what's trending in learning and development in 2022? Download our eBook to learn about eLearning trends that can help you improve your online training performance, outcomes, and ROI.