5 Instructional Design Strategies to Create Sticky eLearning Courses
What is the secret behind eLearning courses that make learners remember them for the longest time? Instructional Design Strategies! Discover 5 of our favorite instructional design strategies for creating sticky eLearning experiences.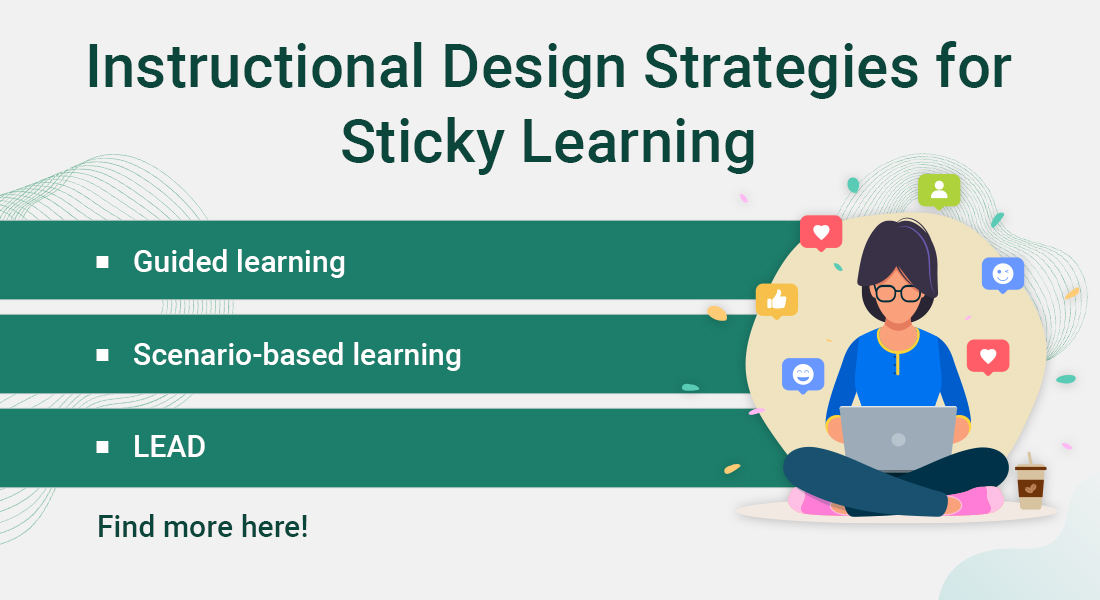 Why are we talking about sticky eLearning courses, especially in the current times?
Well, given the decreasing training budgets (from $19.7 million in 2018 to $17.7 million in 2019) and rising costs of implementing a corporate training program, organizations cannot afford employees failing to apply learning to their jobs, because they forgot what they learned from training. And seeing that companies spend an average of $1,286 per learner (Training Industry Report), you have a lot at stake if you are an organization with hundreds and thousands of employees spread across the globe!
Instructional Design Strategies for Sticky eLearning Experience
Guided learning
Scenario-based learning
LEAD – Learning Through Exploration and Discovery
Storytelling
Gamification
Enter sticky eLearning courses.
Sticky eLearning or stickiness refers to creating memorable eLearning experiences that learners remember even after a training session is over. In other words, activating the brain for long-term retention and designing learning based on cognitive experiences. For instance, most of us still remember certain learning experiences from our childhood because of an interesting story, an activity or simply because your instructor was so good.
Certainly, eLearning stickiness is something we all want because sticky eLearning experiences help your learners to:
Retain what they've learned – making neural connections that they can revisit later
Recognize value in learning experiences – making emotional connection with learning and understanding its impact on their workplace performance
Practice what they've learned and transfer it to their jobs effectively
But how do you create sticky eLearning courses? With robust instructional design strategies!
Instructional Design Strategies for Sticky eLearning
Contrary to popular belief, eLearning is much more than just adding audio to PowerPoint presentations and publishing them online. In most cases, PowerPoint presentations only contain static text and images that learners can gaze on screen. It hardly contains even half the information that is delivered during classroom training. It depends entirely on the trainer to deliver the other half through examples, stories, and detailed explanations.
In the eLearning course, the absence of the instructor is compensated for by a well-designed instructional strategy that also includes designing assessments to reinforce and measure learning.
Here are 5 time-tested instructional design strategies that will continue to remain favorites in the L&D space.
1. Guided Learning
As children, we were guided at each step – be it learning to read, how to solve math problems, or how to do a science project. It was considered the best way to train us throughout our school life.
The good news is you can guide your learners in eLearning courses as well! How? With a guided learning approach.
Guided learning uses learning agents (characters/avatars) to accompany and guide learners through an online course, letting them take their own decisions.
Guided learning can be used to:
Help new hires/juniors find their way through the training or a process
Train learners on a new product or feature
Guided learning is a popular instructional design strategy for different types of training, such as sales (how to respond to a customer query), software (how to use a new software), process (to show the steps in a process), etc.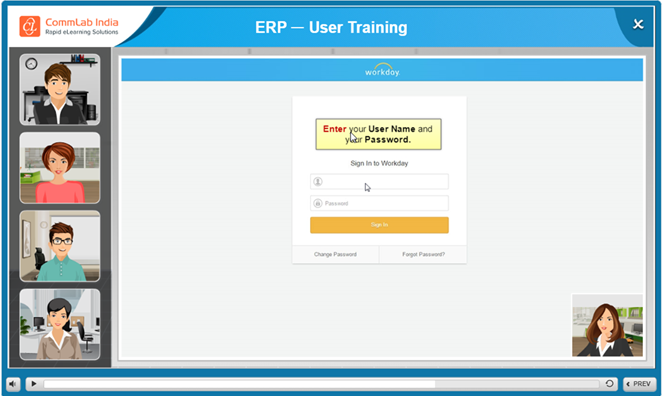 Image: Guided learning for ERP training
2. Scenario-based Learning
Who wouldn't want to learn how to tackle a real-life situation as against simply going through its theoretical concepts? That is exactly what scenario-based learning provides.
Scenario-based (problem-based) learning puts learners in situations where they learn by doing tasks or taking decisions, using their acquired knowledge. It presents them with challenges similar to the ones they will face in real-life situations. Scenario-based learning helps hone critical-thinking skills and apply the knowledge gained directly on the job.
See the example below for training employees on the best practices of how to securely transfer data. The scenario-based eLearning course places the learner in the shoes of an employee who is in a dilemma on how to give access to her files without compromising on IT security – a situation that is familiar to most employees. Learners will have to apply their acquired knowledge and make the correct choice.
eLearning scenarios can also be used to train learners on applying policies/rules at the workplace. In addition, you can use scenario-based eLearning courses for sales training (to explain the context in which a product will be used), compliance training (how to manage workplace conflicts, anti-bribery, code of conduct), etc.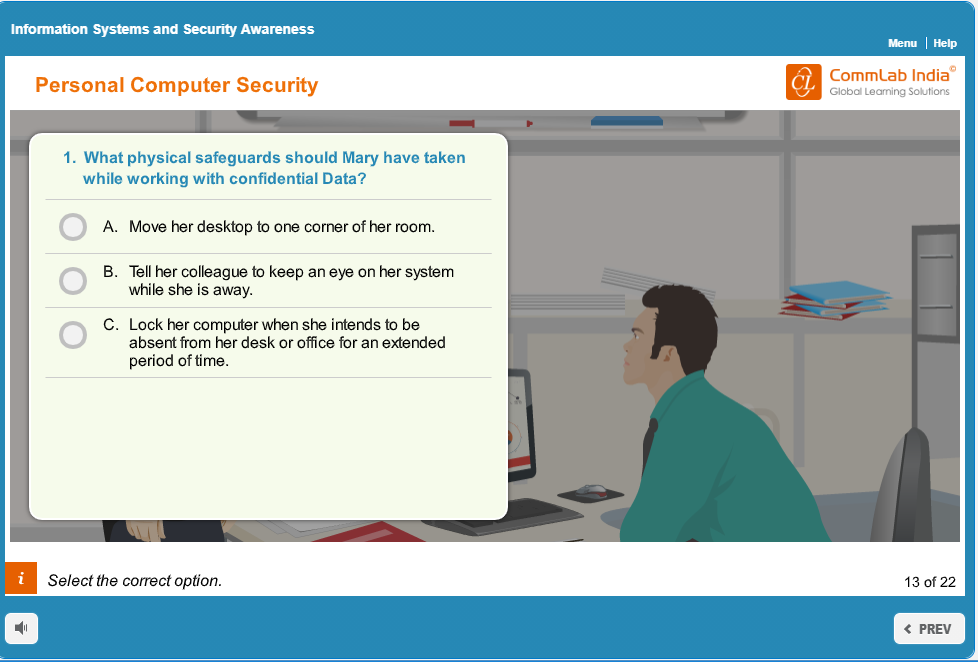 Image: Scenario-based eLearning Course
3. LEAD
Unlike other instructional design strategies – where learners passively absorb knowledge – LEAD or Learning Through Exploration or Discovery facilitates active participation of learners throughout the learning journey.
LEAD is also known as enquiry-based learning where learners are offered the flexibility of 'discovering' and assimilating knowledge by exploring and interacting with the learning elements in a virtual setting.
The elements involved in this instructional design strategy are:
The setting – company building, warehouse, etc.
Clickable elements that can be explored or interacted with
Go with LEAD if you want to:
Familiarize your learners with a specific place or a product
Offer the flexibility of learning at their own pace with unrestricted navigation and menu
This immersive eLearning strategy can be used with great effect for new employee orientation (to explore different parts of the organization – see example below), safety training, product training, etc.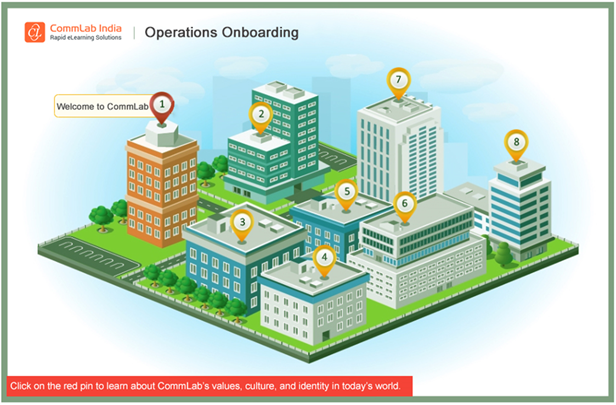 Image: LEAD-based eLearning Course for New Hire Onboarding
4. Storytelling
Storytelling is my personal favorite because who does not like a good story? Stories keep us hooked and emotionally connected as they are always personal – what you take away from a story can be completely different from what others do.
Now, that's exactly what you want in a learning experience – for learning to stick and connect in a personal way, something that can also be shared socially. Storytelling not only immerses learners (to learn and perform better), but also helps them achieve desired learning objectives better. Plus, it enhances retention – a double winner!
You can go with storytelling for almost any type of training. Examples include:
New-hire training
Product training
Soft-skills training
Performance management: (see example below)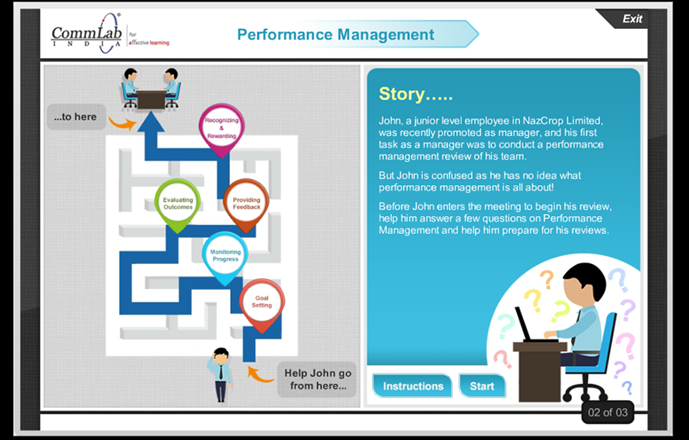 Image: Storytelling for an eLearning Course on Performance Management
5. Gamification
Gamification applies game mechanics (rewards/badges) in eLearning courses for sticky eLearning experiences. This improves learner experience, makes learning fun, and motivates learners to complete the required training. All in all, gamification influences behavior by rewarding participation.
Gamification in eLearning leverages badges, levels, points, leaderboards, etc. to foster a sense of competition and achievement in learners.
This instructional strategy can be used to:
Ensure high impact learning with longer retention
Improve sales and operational efficiencies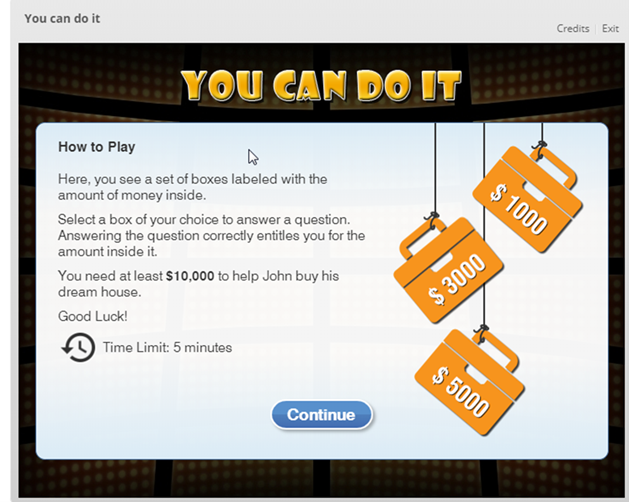 Image: Gamified eLearning Course
Wrapping It Up!
These instructional design strategies not only lead to sticky learning experiences, they also ensure your learners are engaged and satisfied. After all, ensuring learner engagement for effective on-the-job application is what every organization aims for.
However, while we always think about the cost of training an employee, we don't usually look at the other side of the picture – how much you would lose if you do not train an employee. American business author and former management professor, Michael LeBoeuf has this to say about ignoring employee training –
"If you believe that training is expensive, it is because you do not know what ignorance costs. Companies that have the loyalty of their employees invest heavily in permanent training programs and promotion systems" (The Greatest Management Principle in the World).
Worst of all, poorly trained employees – who lack knowledge and are unaware of protocols, e.g., safety – can have huge implications on your business. As a modern-day business, can you really afford eLearning courses that jeopardize life and property? Not at all!
Hence, ensure sticky online training with instructional design strategies that are relevant, engaging, immersive and most of all, new age to suit modern-day learning needs.
While we dealt in length on how to create sticky eLearning experiences with instructional design strategies, wouldn't you like to know how to rollout these courses quickly? Here's a quick guide – Rapid eLearning Design for Quick Rollout – that is a must download!