Top 3 Instructional Design Strategies That Pair Perfectly with Rapid eLearning [SlideShare]
The success of an eLearning course's instructional designs, which are at its core, depends on instructional design strategies. These strategies depend on the needs of the learners. Let's look at a few strategies that work well with rapid eLearning.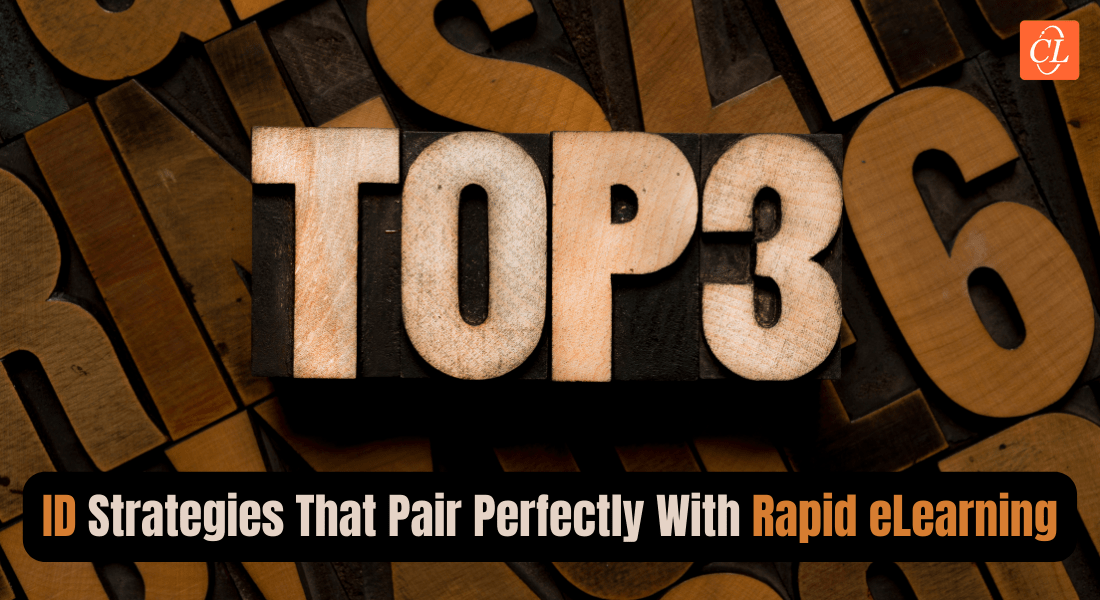 People frequently believe that because rapid eLearning develops courses quickly, the quality is compromised. Rapid eLearning doesn't necessarily compromise instructional designs just because it creates courses quickly. Good ID strategies in eLearning courses can have a direct impact on ROI, corporate goals, and employee engagement. You can choose the instructional design strategy that will benefit your learners the most by researching their preferred learning styles.
ID strategies have been used in eLearning design more recently with the introduction of eLearning and are known to improve both instructions and learning. However, they have been adjusted to the new environment even though the methods themselves are the same as those used in conventional classroom instruction. In fact, it is regarded as a failure if an eLearning course or program is not built on reliable instructional design principles. Read on to learn more about instructional design strategies, the various instructional strategy types that are used to create immersive eLearning, and what to do and what not to do.
What are Instructional Strategies
Instructional strategies are detailed plans for how a topic must be taught. Clear objectives, selecting the steps to be taken to get there, and using a variety of tools, resources, and techniques are the first steps in instructional design. Let's look at the top 3 instructional design strategies that can be used to create immersive eLearning.
Top 3 ID strategies That Match Perfectly with Rapid eLearning
1. Guided Learning
There is a misconception that guided learning requires learners to begin working on their jobs. A learning strategy called guided learning involves the trainer guiding the learners toward their learning goals through a collaborative effort. Unique avatars and characters are used for rapid eLearning development to create engaging courses for your learners. Sticky learning is encouraged by guided learning because it ensures that the learners are motivated and interested in the course, which will make it easier for them to finish it quickly. The learners' memory is improved by this personalized learning.
2. Learning Through Exploration and Discovery (LEAD)
Have you seen the "Dora the explorer" cartoon? If not, let me explain. This is a cartoon where a girl named Dora uses a map to get to where she's going. She uses the pictures and directions on the map as hints. In a similar vein, LEAD is a strategy that will give your learners access to an explorable map. Rapid eLearning provides interactivities like clickable icons, images, and other interactive elements that make it interesting for learners. Learners are free to navigate the entire map without any restrictions. This design strategy works best when used in the areas of product training, safety training, etc.
3. Scenario-Based Learning
Authoring tools have built-in templates and backgrounds which are used by rapid eLearning for the development of eLearning courses and that can be used when planning to create scenario-based learning. Through scenario-based learning, learners are placed in situations where they must use their newly acquired knowledge to decide on resolving issues. Scenario-based learning improves the critical thinking abilities of the learners and this will help your learners to decide the best solution when in a sticky situation. This ID strategy emphasizes collaboration and communication.
I hope you understand what and how these instructional design strategies help in enhancing eLearning courses. Check out the SlideShare to know about the 'Do's and Don'ts of Instructional design strategies.
End Note
Rapid eLearning courses use instructional design as a framework. Learning objectives and training requirements are combined to create the desired strategy and increase employee engagement. You must know how to use rapid authoring tools to their full potential in order to incorporate a successful instructional design. Here's an eBook that will help in choosing the right authoring tool that will help you in creating effective and engaging eLearning courses. Download now!