Action! Drama! Why Scenarios in eLearning?
What contributes to an effective scenario-based learning experience? An immersive, challenging, and motivating scenario that is relatable to learners, addresses their challenges, with the learning objectives rightly figured out.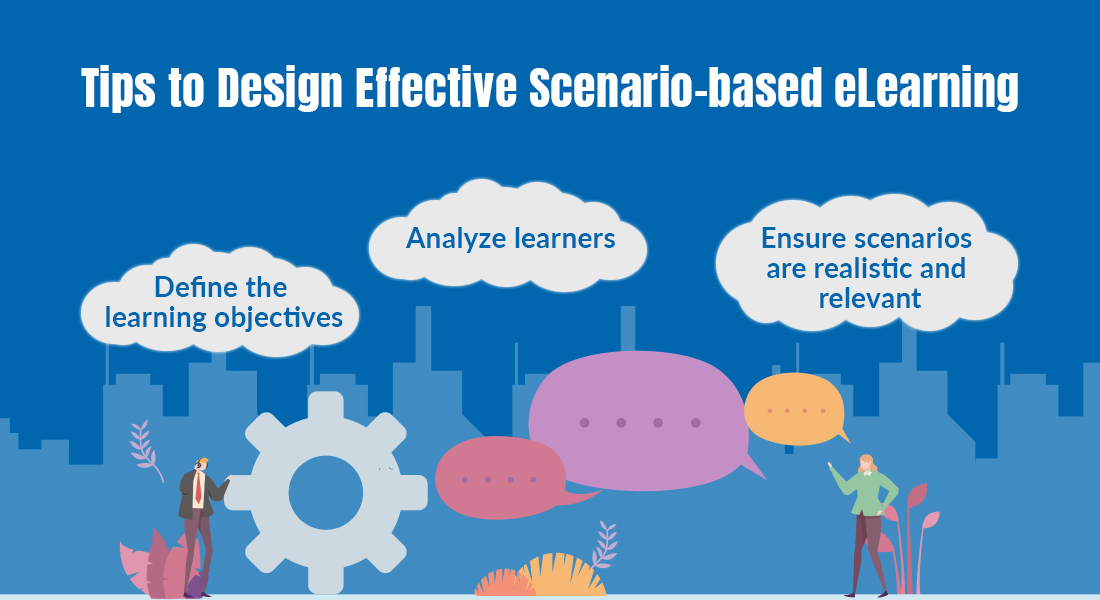 Learning as a function of "activity, context and culture" is more effective than passive learning that involves simple intake of theory without any active involvement. That is exactly where the effectiveness of scenario-based learning lies – learners learn better (qualitatively) and more (quantitatively) when they are actively involved in the process of learning.
But to make the most of this high-returns learning strategy, one needs to get it right. Scenario-based learning is a strategy wherein learners are placed in virtual work-like situations where they have to make decisions and face the consequences of their actions in a safe, risk-free environment. This translates into highly engaging experiential learning that is retained for a long time.
Useful Tips to Design Scenario-based eLearning
Know the learning objectives
Know your learners
Design the most appropriate scenarios
Make scenarios realistic and relatable
Make the scenario engaging and immersive
So to get scenario-based learning right, it is important to have an immersive, challenging, and motivating scenario that learners can relate to. The specific learning objective needs to be incorporated and woven into the scenario.
5 Tips to Design Effective Scenario-based Learning
Here are the five things you need to do to get your scenario-based learning just right.
1. Know the Learning Objectives
The first step toward designing any course is to identify the performance-based learning objectives that the course is going to address. These learning objectives should be aligned with the organizational goals.
It is also important to know where to use and not use the scenario-based learning strategy. For instance, scenario-based online training is usually used for sales training, compliance and safety training, communication skills training, etc. (mainly for the ones requiring critical thinking skills). It should not be used for procedural tasks like filling in information about customers in a Customer Relationship Management system, which are routine step-by-step tasks to be performed by employees without any need for making critical decisions.
2. Know Your Learners
An online course can only be effectively designed when you know the learners. Understand their needs and requirements for the job they need to do. Examine the struggles they face on a day-to-day basis at work. This will help identify the areas in which they need training, and create relevant content to boost their performance.
Know their skills and limitations so as to design relevant scenarios for them, and enhance their decision making skills. For instance, a scenario involving a technical concept that learners are not aware of might intimidate them besides affecting their learning experience. Scenario-based learning is not for new learners without any prior knowledge that might be required.
3. Design the Most Appropriate Scenarios
Instructional designers and SMEs (subject matter experts) should use the learning objectives as a basis to design the most appropriate approach, structure, and format for the scenarios. It should also be decided whether to go in for a basic or a branching scenario-based learning. While the former is designed to train employees in general, the latter will create learning paths based on the previous knowledge and job roles of different employees.
It should be determined whether the scenario is designed as part of an eLearning course or an assessment.
The scenario should not be too complex or else it might overwhelm learners hindering learning. It should also not include unnecessary details or features.
An eLearning storyboard with a map of the entire scenario will help fine tune every aspect it before finalization.
4. Make Scenarios Realistic and Relatable
Scenarios should be designed realistically to convince learners about their relevance to their workplace outside the eLearning course. Using real-world problems and stories would help make the scenario more realistic.
The scenario should as far as possible, resemble the office environment to make the experience authentic and relatable. The characters in the scenario should resemble the employees in terms of job requirements, the challenges they face, the terminology they use, and the work they do.
Learning in a realistic (yet safe) setting where learners can commit mistakes takes the stress out of the learning process and boosts learning and retention, ultimately improving employee performance.
5. Make the Scenario Engaging and Immersive
In scenario-based learning, the more the engagement, the better the learning experience and ultimate outcome. Scenarios can be made more interesting, interactive, and immersive using the following tips:
Using images, nuanced characters, backgrounds, callouts, and using short videos will make them more engaging.
Creating challenging and motivating scenarios will inspire action on the part of the employees at the workspace.
Using direct speech, conversational tone, and informal language makes scenarios more lifelike.
Scenarios should be so designed to engage learners and encourage critical thinking and decision making.
Pack Up!
I hope these tips will help you create effective scenario-based learning experiences for your learners. Besides imparting the desired knowledge and skills, scenario-based learning also prepares them for challenges outside the eLearning environment. This learner-centric pragmatic approach guarantees higher ROI for the organization by boosting employee performance through higher information retention and effective application of the acquired skills in their job role.