Top 3 L&D Strategies to Design Immersive eLearning Courses
Design and develop immersive eLearning courses to ensure effective and desired corporate training results. Wondering how to do so? Read this blog to know the top 3 L&D strategies that are sure to make your eLearning content engaging and learner-friendly.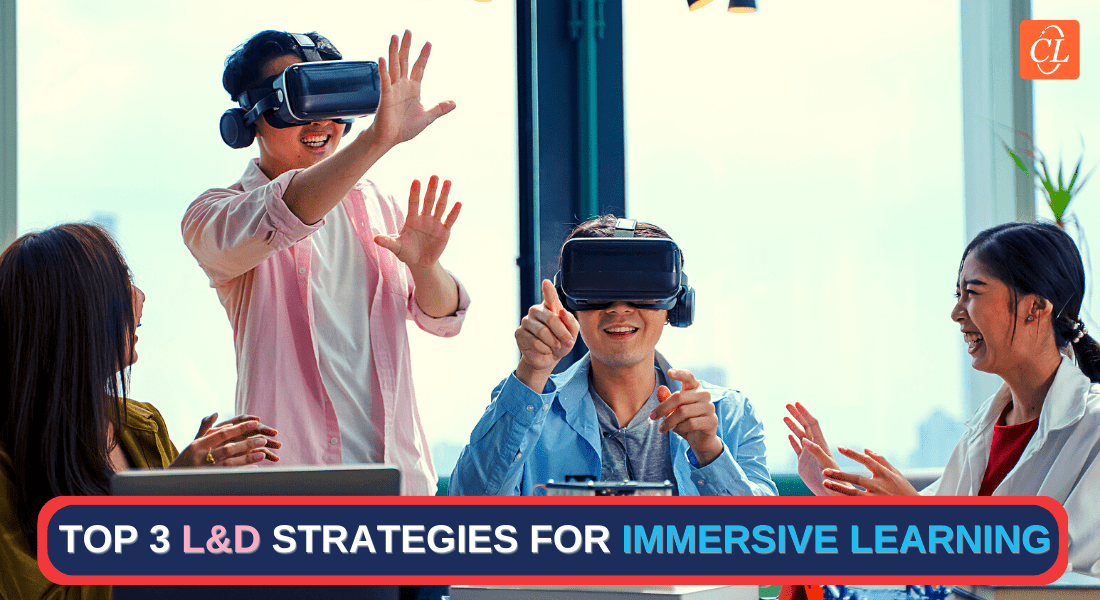 Let's face it. Designing and developing immersive eLearning courses is not easy. But something difficult doesn't make it impossible. Rather, it makes the whole process intriguing, knowledgeable, and an experience to remember. With the right planning and instructional design strategies in place, developing immersive eLearning courses can be fun and exciting. But first, what exactly is immersive? And why should you, the L&D professionals, even bother about it?
Engaging Learning Experience with Immersive eLearning Courses!
Here are the top 3 L&D strategies to support your efforts:
Design learner-centric courses
Avoid cognitive overload
Include interactivities
Immersive Learning Encapsulated
Well, immersive learning refers to online learning experiences that aim to provide learners with a sense of being fully involved and being part of the content. It is often facilitated through the use of interactive elements, simulations, and other types of multimedia. And you should bother about making your eLearning materials more immersive as it is an effective way to engage your learners and help them to retain information. Immersive eLearning courses allow them to participate in the learning process actively and explore content in a more enthusiastic and motivational way.
Some examples of instructional design strategies to design and develop immersive eLearning courses include gamification, virtual reality, interactive PDFs, scenario-based learning, storytelling, simulation, etc.
Top 3 L&D Strategies to Design Immersive eLearning Courses
With benefits like designing and developing more realistic and engaging learning experiences and supporting different learning styles, immersive eLearning courses are certainly the way forward to ensure efficient and productive corporate training. However, creating immersive eLearning courses can also be more time-consuming and complex than traditional eLearning courses, as it requires developing more interactive and dynamic content. So it's better to start right than rework. Isn't it? Let's take a look at the top 5 L&D strategies to help you make the right start!
Design Learner-centric Courses
To ensure immersive eLearning courses, designing learner-centric content must be at the top of your priority list. After all, it is the important aspect that ensures your learners are engaged and involved in the eLearning content. To facilitate learner-centric eLearning courses, you need to consider and put the requirements and preferences of the learners at the center of designing and developing the training material. You can do so by keeping in mind different learning styles and adult learning principles like self-directed learning, flexibility, value addition, etc. Moreover, you need to set clear learning objectives as they will act as an outline to help you align the learner goals and the training objectives.
Some of the important elements to keep in mind while designing and developing learner-centric eLearning courses are motivation, stimulus, reward, reinforcement, etc. They engage the learners and inspire them to participate in the learning process. Therefore, while developing eLearning courses, you should tailor the content as per the individual needs and goals of the learners. It should not be skewed towards being focused solely on the goals of the instructor or the content being covered.
Avoid Cognitive Overload
Not many learners fare well under pressure! On top of that, when your employees are constantly dealing with deadlines and a time crunch, training becomes more of a problem than something to be excited about. Cognitive overload is a common thing! It makes the learning process boring and ineffective as the learners are presented with too much information at once, which makes it difficult for them to process the information. This can lead to learners feeling overwhelmed, which can negatively impact their ability to learn and retain information.
To make the training material immersive along with avoiding cognitive overload, you should separate the need-to-know content from nice-to-know content. It will help you design and develop eLearning courses that put forward only the essential and desired information to the learners. You should include proper time intervals that prevent the learners from being distracted and bored. In fact, encompassing different activities and visuals that break the text monotony help in maintaining learner engagement and boost interaction.
Include Interactivities
Interactivities play a vital role in designing and developing immersive eLearning courses. They help you create engaging and effective learning experiences for your learners which further impacts their ability to retain and implement the information, thereby influencing the training ROI and business goals. It will help them to understand the concepts in a better way and also enable them to put the acquired information into practice. This will improve their retention power and augment their productivity and performance.
You can leverage different types of interactivities like audio, video, animations, GIFs, gamification, quizzes, and more. They break the one-way direction of passing on the information and motivate the learner to get involved in the learning process. Interactivities make the learning process fun and interesting, which initiates a response from the learner. This way, interactivities help the learners participate in the eLearning courses, thereby making the learning experience immersive and interactive.
Wrapping It Up!
Learning is like mountain climbing! It is challenging but has a thrill attached to it! To make the mountaineering process interesting and memorable, one needs to be cautious about things that can pose a danger. Similarly, while designing eLearning courses, one needs to be careful about which elements to include and which to avoid to ensure immersive eLearning courses. Now that you know how to make your eLearning courses interactive and immersive, you can be sure of an effective training outcome. Learn more about where L&D is headed and enhance your chances of success with our upcoming webinar. Register now!