5 Ideas for an Engaging Mobile Learning Experience for Remote Learners [Infographic]
With numerous benefits for your workforce – remote or otherwise – mobile learning is a must-have in your training arsenal. Here are 5 interesting ideas to offer an impeccable mobile learning experience.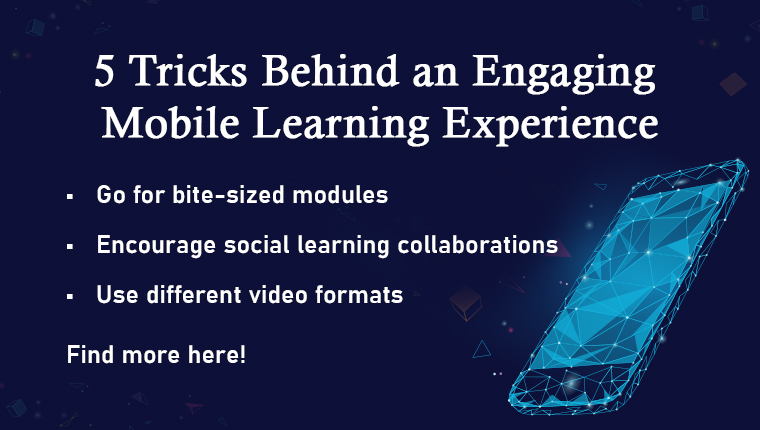 Gone are the days when mobile learning was just considered a complementary training solution. Instructor-led training (ILT) and eLearning used to rule the roost. Today, mobile learning is more a necessity than a luxury! Even amid the COVID-19 crisis and the looming global recession, the mobile learning market will grow by a projected US $57.7 Billion worldwide (ReportLinker).
Just like virtual training, mobile learning will only continue to grow – more so now with the number of 'accidentally' remote workforce bound to working and learning-from-home increasing. While accepting this new normal of working style might take a while to sink in, learning on mobile devices is going to be pretty smooth and easy. From searching latest market updates to catching up with daily news, mobile devices have redefined the way we consume information. Then why should you refrain from using mobile learning to offer workplace training?
While there are numerous benefits of delivering online training through mobile learning, here are a few that are most relevant in the current times:
Enables learning in the flow of work. Learners can take courses at their own pace and preference
Works as an effective method to offer consistent learning to a dispersed workforce
Offers scope for continuous learning with on-demand digital assets, ready to be accessed on mobile devices, anytime anywhere
Supports dissemination of quick updates and renewed learning content
However, there's a lot that goes into designing an engaging mobile learning experience. What are these?
Here's an infographic that offers 5 ideas to create an engaging and immersive mobile learning experience for your remote workforce.