5 Reasons Your Mobile Learning Implementation Might Fail!
Wondering why your mobile learning implementation has failed? Here are a few reasons mobile learning might fail and ways to ensure it doesn't!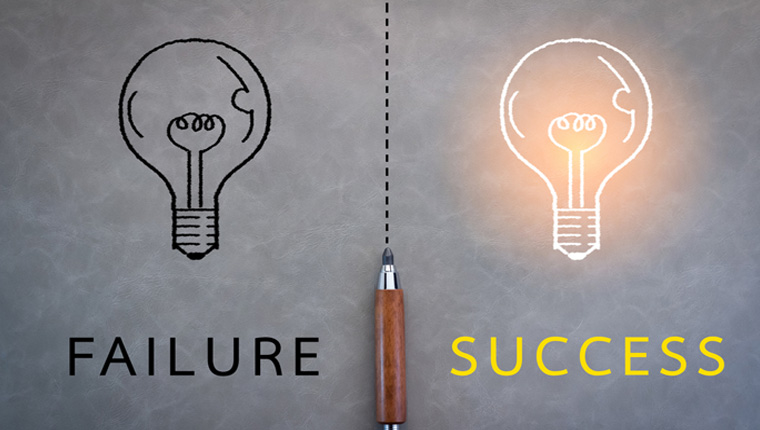 The adoption of mobile devices for corporate training has been on the rise since the past few years. Also, learners are definitely lovin' it! According to statistics, 64% learners find accessing learning through a mobile device extremely useful and essential. Also, 43% improved productivity was noticed compared to non-mobile learners.
Why Do Mobile Learning Initiatives Fail?
The training does not require mobile delivery
Learners are unaware of the benefits
Onscreen content isn't designed for mobile learning
Course isn't designed with a mobile-first approach

Learners might face connectivity issues
But sadly, this is not the case with everybody. There still are mobile learning initiatives that tend to fail – either learners end up disengaged or there might be lack of a strong network. But don't you worry. You have reached the right space!
Here are a few reasons mLearning fails and the various ways you can ensure it doesn't.
Why Can mLearning Fail?
1. Training Does Not Require Mobile Delivery
It's human nature to follow trends, be it in fashion, social media, or even training. Hence, we often come across a lot of organizations implementing mobile learning for the sake of following the trend. Is your organization one of those?
Not every training need can be addressed by mobile learning. While mobile learning is more about providing learners the opportunity to learn on-the-go, some subjects might be formal and need a more formal, comprehensive training. For example, a training which includes a lot of practice and development of skills – such as assembling a car engine – can't be taught just through mobile learning. It requires proper full-fledged eLearning such as simulation-based courses or ILT sessions with opportunities to practice in real-life environment.
So, prior to the implementation of mobile learning, ensure you assess if delivering content through mobiles will really close the competence gap.
2. Learners Are Unaware of the Benefits
"We have to take up training on our mobiles now!?!" How often have you come across your employees bewildered at the thought of training through a mobile device? I am sure quite often you must have, or at least quite a few employees of yours might not have shown a receptive attitude toward this initiative. This happens because your employees might end up feeling they are being pushed to take up training even in their personal hours.
It is therefore extremely vital you let your employees know why this shift has been adopted and also the benefits. No matter how amazing an mLearning course you rollout to your employees, as long as your learners are unaware of the benefits, it is most likely to end up as a failure. Hence it is essential to let your learners know.
One of the main ways you can do this is by promoting your initiative a month or a few weeks prior to the delivery of your course through teaser videos or key message videos from the top management. Besides this you can also:
Understand what is causing the resistance and diffuse any misconceptions they might have.
Design the GUI and content in a way that is familiar and easy to use.
Use an LMS that is mobile-friendly and provides a seamless experience to the learners.
Demonstrate how taking up mLearning will benefit learners and have a positive effect on their performance.
3. Onscreen Content Isn't Designed for Mobile Learning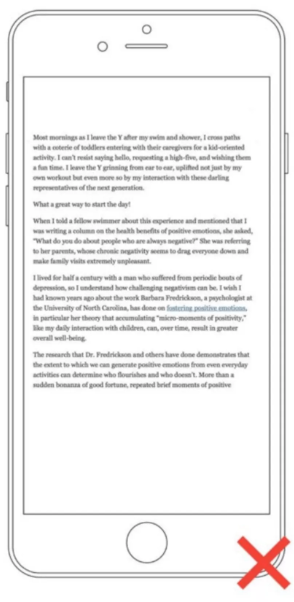 Source: https://www.smashingmagazine.com/
Imagine the plight of your learners having to go through something like this. They will have to either strain their eyes or tire their hands by constantly zooming the screen, which would eventually bring down interest? Instead, the right way to present content would be something like this: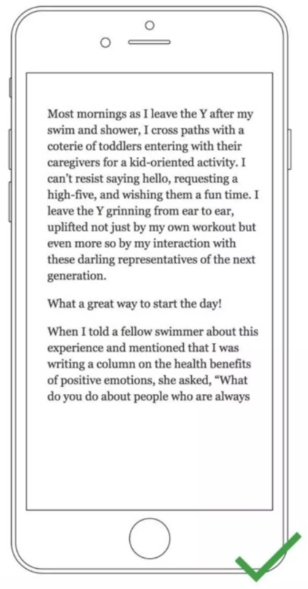 Source: https://www.smashingmagazine.com/
It is essential that the content placed within the mobile learning course is appropriate for the mobile view – not too cluttered or lengthy. Here are a few ways you can ensure this.
Ensure the font size is above 11 pixels as anything below that is challenging to read.
Ensure there is adequate contrast between the color of the font and the background.
DO NOT CAPTITALIZE OR BOLD TEXT UNNECESSARILY. I'm sure that was a bit frustrating to read ?
Use formats other than text – such as eLearning videos, infographics – to present content as this will break the monotony and also avoid clutter.
Ensure only 30-40 characters are used per line, when text is being used.
Ensure the GUI is designed with minimal functional elements as the screen size is small.
Ensure the visual and functional aspects are consistent throughout the course.
4. Course Isn't Designed with A Mobile-First Approach
Quite often, we come across individuals who believe all they need to do is make an eLearning course mobile-compatible and a mobile learning course is ready. However, this is not quite the case. eLearning courses are designed keeping desktop screens in mind while in mLearning, learners are shifting toward smaller screens. These smaller screens require smaller chunks of content which are direct, on-the-point as nobody would want to scroll through the heavy, lengthy text.
Also, the details within graphics in an eLearning course might turn out to be too small when viewing on a smaller screen. Hence, content needs to be designed from scratch keeping the mobile device in mind. Mobile learning isn't eLearning on a mobile device. Here are a few factors you need to ensure:
Ensure complex interactivities are avoided. For example, interactivities such as drag and drop or hover (mouseover) might turn out to be tough in mobile devices. Instead go for simple interactivities such as click to reveal.
Ensure the elements learners need to interact with, such as the navigational buttons, are big enough for them to tap rather than the small buttons optimized for cursors in eLearning courses. Also ensure there is enough space between multiple touch targets – such as the Previous and Next buttons.
Keep in mind that most individuals use mobile devices just with a single hand and mostly navigate with their thumb. The bigger the screen, the harder it gets to navigate; hence, it's extremely necessary that the elements to interact with are placed in the thumb zone. Here is an image to help you decide.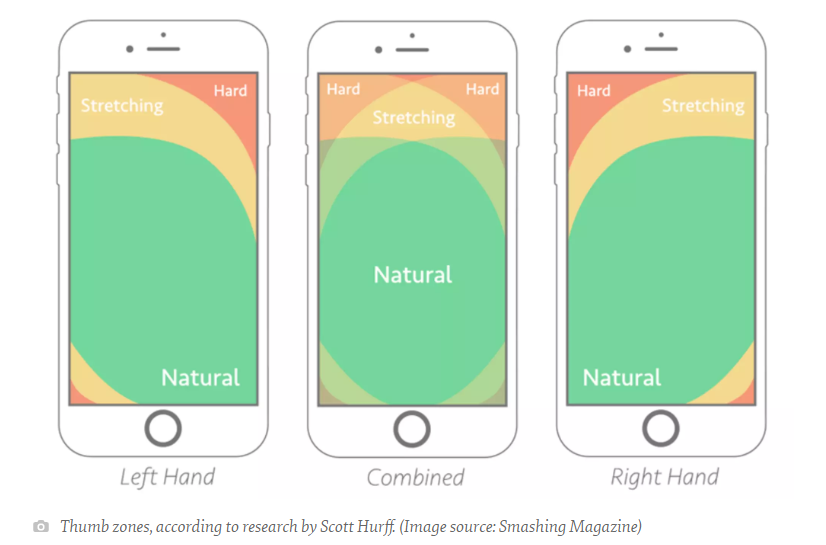 Source: https://www.smashingmagazine.com/
5. Learners Might Face Connectivity Issues
The Internet plays a huge role in delivering mobile learning. Learning can only happen when there is strong Internet connectivity. And it might so happen that not every learner's device or every place supports strong connectivity – especially in case of mobile workers who are always on the go. This often turns out to be a hindrance in learning. What can you do about this?
The solution to this problem lies in delivering learning through mobile apps or providing downloadable files. Once the learner gets to access mLearning courses within native mobile apps (apps that are coded in specific programming languages for a particular operating system which are known to be reliable and to provide a seamless experience), an Internet connectivity is not required.
It's only if there are any updates to the course that learners might require Internet connectivity.
"Mobile phones are misnamed. They should be called gateways to human knowledge," said Ray Kurzweil, an American inventor and futurist. This is indeed very true – even in the case of delivering mobile learning. Hence, ensure they do not fail by keeping these considerations in mind.
While mLearning is being implemented and embraced by organizations on a large scale, there are a few other trends on the move to make it big in the eLearning world. Interested to know what they are? Download our free eBook 'eLearning Trends 2019-The View from the Trenches'!