Adobe Captivate for Flash to HTML5 Conversion: 5 Features for New-age Learning
Have you selected an authoring tool for Flash to HTML5 conversion? Here's a closer look at how Adobe Captivate eases Flash to HTML5 conversion.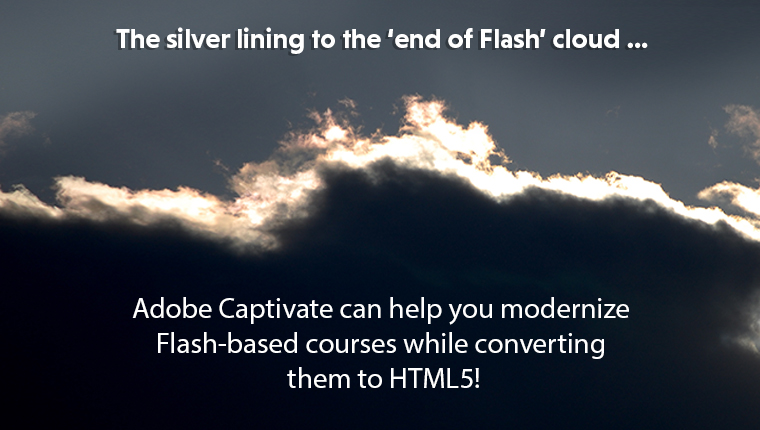 It was in 2017 that Adobe announced its decision to revoke support to Flash by 2020, and it's the end of 2019 already! If wishes were horses, Flash would be going on forever! Migrating from Flash to HTML5 is your only option to save on cost and time. But alas, you only have a little over a year for Flash to HTML5 conversion. But as we know, every cloud has a silver lining, and you can seize this opportunity to modernize your Flash-based courses for maximum impact.
Why Adobe Captivate for Flash to HTML5 Conversion?
Captivate learners with interactive videos
Engage with 360° learning experiences
Reinforce mobile learning with responsive design
Publish converted courses as apps

Leverage the power of xAPI for rich data
However, to do so, you need an authoring tool that caters to all your conversion needs. Among all those available today, which tool should you go for? Which tool offers features that support modern-day learning? Let's explore what Adobe Captivate has got to offer!
5 Ways Adobe Captivate Can Ease Flash to HTML5 Conversion
1. Captivate Learners with Interactive Videos
You really don't need me to tell you that videos are one of the most preferred mediums of learning. They offer support to microlearning, work extremely well with millennials, and enable you to expand mobile learning. However, 'interactive' videos take conventional videos one step further with interactive elements that make learning active and engaging. So, how does Captivate enable the creation of interactive videos during Flash to HTML5 conversion?
If you have existing videos or videos embedded in Flash-based eLearning courses, you can liven them up during conversion by adding interactivities. You can do this by simply adding interactive slides as overlays on top of the existing video. These overlays can be 'drag and drop' or 'click and reveal' interactions that jazz up the learning experience.
You can include knowledge checks in the form of question slides at various points in the existing video. And if the learner fails to answer correctly, he can be taken back to revise the relevant part of the video. Moreover, you can customize feedback options for interactions and answers. Isn't it great how you can revamp existing videos to offer a complete learning experience when converting Flash eLearning to HTML5?
Additional Insight
Let's say you have existing boring demo videos. You can add a punch to them by making them interesting and engaging! Record yourself offering tips or additional insights about the onscreen happenings with the webcam. Resize this video and overlay it wherever suitable in the demo video. This adds a nice touch of personalization. This webcam video can be easily synchronized with the timed objects and slides.
Additionally, interactive videos developed with Captivate are only published to the HTML5 format, making your existing videos accessible on various mobile devices.
2. Engage with a 360° Learning Experience
As most of us know, 360° images/videos offer a panoramic or wide-angle view. Learners can click and drag any point on the image or video to find relevant information. These are being increasingly used across social media platforms as marketing tools, and are the latest in the eLearning arsenal, quite popular with the new-gen workforce. If you wish to include a 360° learning experience in your eLearning courses while converting Flash to HTML5, here's how Captivate can help… all you need are 360° images/videos and Adobe Captivate to begin with!
Captivate enables enhancing the learning space with 360° images and videos, instead of piling static images. Moreover, interactivities can be added to these images and videos by adding customizable items as overlays – for instance short audio clips, information blurbs, and quiz questions. Let your learners actively engage with and explore their augmented surroundings. Needless to say, this improves retention many-fold.
Here are some instances where a 360° learning experience fits well:
Safety courses showing protocols in action
Virtual walkthroughs for new hire onboarding
Product demos
3. Get on the Mobile Learning Bandwagon with Responsive Design
Do you think mobile learning is just hype? According to a report by Towards Maturity, 64% of the respondents said accessing learning on mobiles is very useful. Moreover, the global mobile learning market is poised to reach $37.60 billion by 2020. So, when you convert your Flash-based courses to HTML5, ensure they are designed to be responsive for anytime, anywhere access on mobile devices. How does Captivate support responsive design?
Flash to HTML5 conversion makes your legacy courses mobile compatible and you can use Captivate to convert your desktop-only courses into fully responsive HTML5-based courses. All that needs to be done is importing existing courses in Captivate and saving them as Responsive Projects. Upon final publish, your learners can access them across all mobile devices and browsers.
The latest versions of Captivate (2017, 2019) offer Fluid Boxes which are standard object containers. The tool suggests the optimal size based on the objects placed in it so that the slide can accommodate various screen sizes. Alternately, a Fluid Box layout can also be inserted (horizontally or vertically). Images and text, when placed inside Fluid boxes, align themselves to offer a seamless view across mobile devices and browsers.
Captivate also offers device-specific previews of how converted courses will look and feel even before final publish. This saves a lot of time since it validates the learning experience on each screen size.
4. Publish Courses as Apps during Flash to HTML5 Conversion
According to a report by Towards Maturity, employees are increasingly turning to technology for convenience and connectivity – 89% employees download apps of which 50% are for educational purposes. Hence, publishing your converted Flash courses as apps provides an additional delivery touchpoint you shouldn't miss while converting from Flash to HTML5. How can Adobe Captivate help?
Apart from the best-in class HTML5 publishing, courses can be concurrently published as apps to multiple mobile platforms with a single click from Captivate using the Adobe PhoneGap service. The converted Flash to HTML5 courses will be functional on devices using OS such as:
However, please note that Adobe PhoneGap service requires a separate purchase.
5. Leverage the Power of xAPI
Your Flash-based courses will mostly be SCORM-compliant and SCORM continues to rule the roost as a popular eLearning technology standard. However, if you want to track learners' responses in real-time, or if you need the converted Flash to HTML5 courses to be available offline, it's imperative to publish them to the xAPI standard. Here are some clear advantages Tin Can API or xAPI offers over SCORM:
Supports learning experiences outside the LMS
Supports mobile and offline learning
Tracks rich data (e.g. data simulations from blended learning programs, or learner responses in real-time)
Such insights are useful in building courses that improve job performance.
In addition, if you want learning resources to be included in the converted courses, Captivate can make it happen! Apart from helping make updates during Flash to HTML5 conversion, it also enables the tracking of those additional resources. And it leverages Tin Can API for this.
For example, if you wish to track if learners have watched a video uploaded on YouTube or gone through a PDF for performance support, you can do so with Adobe Captivate's capability to publish courses to Tin Can API.
Wrapping it Up
Adobe Captivate offers endless opportunities to modernize legacy courses during Flash to HTML5 conversion. If such tools weren't around, we would have had a hard time making existing courses mobile-compatible or even updating them for accessing through modern-day browsers.
If you're thinking of Flash to HTML5 conversion, why not go ahead and download our eBook on the 4 R's That Matter in Flash to HTML5 eLearning Conversion? Maybe you will find the tips to get started with the conversion process useful.