Rapid eLearning Development — What Unique Elements Does It Entail?
Rapid eLearning is the essence behind interactive and engaging eLearning courses. Get insights into the unique elements of rapid eLearning development.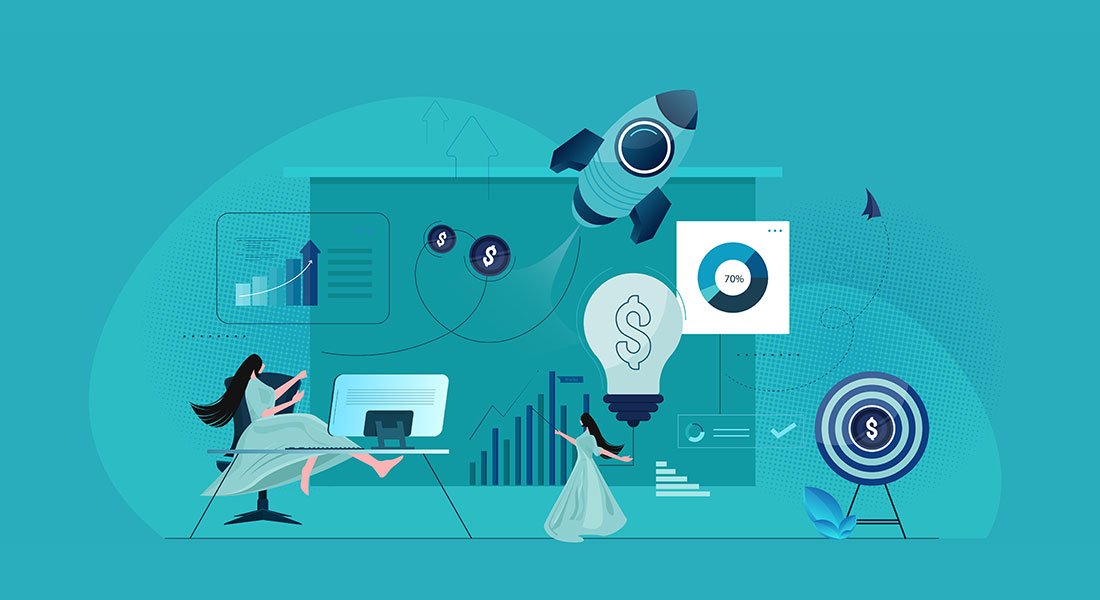 Do you aim to achieve great business results within a short span? Well, who doesn't want to? Training plays a pivotal role in helping you achieve that. It helps your workforce climb up the learning curve fast and subsequently enhances employee performance and productivity. Especially, to cope with the fast-paced dynamic world, organizations don't have the luxury to develop online learning courses at a relaxed pace. Upskilling and reskilling employees persistently to stay current is one of the major business priorities to scale business ROI. What better than rapid eLearning development to meet your ever-evolving business and corporate learning needs? Let's explore the various elements of rapid eLearning development in this blog.
Rapid eLearning Can Ease Your eLearning Journey
Here's what can be executed under rapid eLearning development:
Storyboard development
eLearning course development
Redesign of existing courses
Video development and video editing
Graphical assets creation
Designing engaging assessments
What is Rapid eLearning Development?
Is rapid eLearning a novice concept for you? Well, let me set the stage to give you the hang of it. eLearning is the most preferred training format in the present corporate L&D space as it offers interactive learning experiences to modern learners. Especially in today's scenario where hybrid and remote work models are prominent across corporates worldwide, eLearning is the go-to learning strategy. However, conventional eLearning design and development might not deliver the desired results. It's time to go "Rapid" for truly rapid eLearning design and development.
Rapid eLearning is an approach that stands on the bedrock of sound instructional design and adult learning principles. It leverages the power of rapid authoring tools that offer customized templates and a rich multimedia asset library to rev up eLearning design and development. The authoring tools also help add engaging interactivities to the eLearning courses, which encourage active participation of learners and boost retention. The reason why rapid eLearning outshines conventional eLearning is its quick turnaround time. Unlike traditional eLearning which needs months to design courses, rapid eLearning can help you roll out courses within days.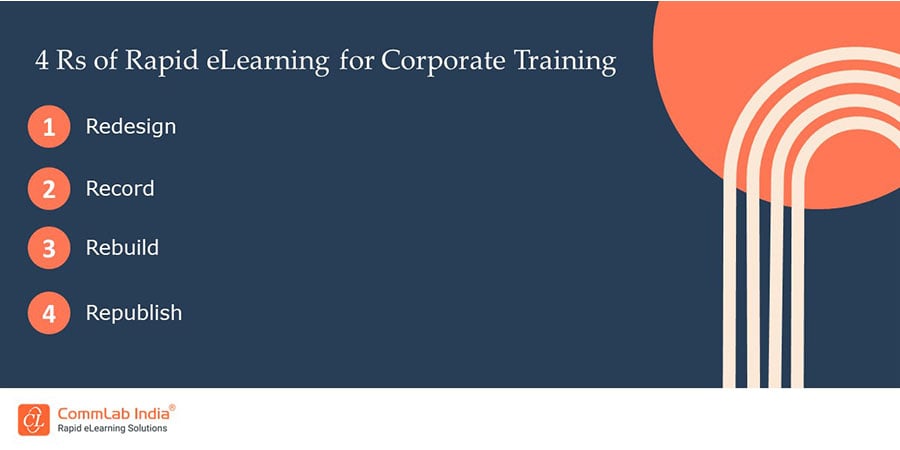 Tasks That Can be Executed Under Rapid eLearning Development
Rapid eLearning development is a broad concept that entails many components. Let's look at the various tasks that can be executed under rapid eLearning development:
Storyboard development
Rapid eLearning can help you design and develop storyboards for your eLearning courses. When you use rapid authoring tools, you get access to the rich multimedia asset library that offers customizable templates, icons, images, animations, and graphics. This revs up the process of storyboard development for a faster rollout of courses. Your team of subject matter experts (SMEs) can share their domain knowledge and the classroom material with the design and development team who in turn decide the learning objectives and work on the storyboards for your eLearning courses.
eLearning course development
Rapid eLearning can help you with end-to-end eLearning course development. The approach focuses on deciding learning objectives and then aligning them to the expected learning outcomes. Raw content that's available in the form of classroom training material such as facilitator and trainee handbooks, PPT decks, and classroom notes is usually used as a base to develop the eLearning course. The courses are developed from scratch adhering to the instructional design principles and leveraging the power of authoring tools. Rapid eLearning facilitates the integration of modern learning strategies like gamification, simulations, and augmented and virtual reality (AR/VR) into eLearning courses and makes training an eventful experience.
Redesign of existing courses
Legacy courses designed in the older versions of authoring tools or in software that are now obsolete such as FLASH, can be converted into HTML5 and newer versions of authoring tools using rapid eLearning. The major drawback of these courses is that they are not responsive. Post conversion to HTML5 format, these courses become multi-device and multi-browser compatible and enhance the accessibility of courses.
Also, the eLearning courses that have been designed using conventional methods can be revamped using modern instructional design strategies to drive learner engagement.
Video development and video editing
Video-based learning has been highly popular in the corporate L&D space in recent times. Videos are unarguably one of the most engaging learning formats that captivate modern learners and offer an immersive learning experience. Rapid eLearning authoring tools like Synthesia and Vyond Go can help you design AI-powered videos that offer immersive learning experiences.
Your design and development team does not have to work on storyboards for videos as Vyond Go can generate them just by using prompts. Using Vyond Studio you can also edit and fine-tune your videos. If you want to create microlearning videos for your multi-lingual workforce, Synthesia is your go-to option. Break all linguistic barriers and design videos using AI avatars and voiceovers in over 120 different languages.
Watch this video for the amazing benefits of video-based learning for corporate training.
Graphical assets creation
The major challenge that lies with online training is learner disengagement. Designing eLearning courses that grab learners' attention and involve them in the content throughout the course is not easy. However, with rapid eLearning, you can design and develop eLearning courses that are visually appealing and provide a memorable learning experience to your learners. Rapid eLearning authoring tools offer a variety of multimedia assets in the form of images, icons, gifs, music, and video clips that can be used to design eLearning courses that charm learners.
Designing engaging assessments
Assessments are an integral part of every online course as they help evaluate learners' understanding and give you the scope to improvise your courses depending on learners' performance. Designing engaging assessments is a challenging task. You need to take care of aspects such as the target audience, level of complexity, and question formats to design assessments that evaluate your learners well. Expertise and experience in rapid eLearning leads to having a strong foundation in instructional design. You can design a variety of questions such as drag and drop, match the following, fill-in-the-blanks, multiple-choice questions, case studies, and scenarios depending on the topic covered to design meaningful assessments.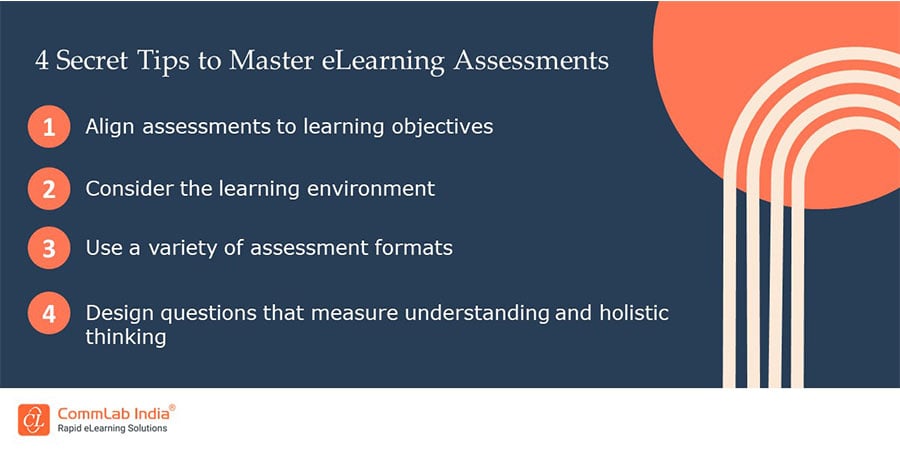 Rapid eLearning — Your Best Ally to Offer Immersive Learning
In today's business scenario when training is a crucial aspect to stay competitive, rapid eLearning can help you sail a smooth eLearning journey. If you think you don't have the required expertise in carrying it out in-house, and don't want to invest in eLearning outsourcing, you can now go for staff augmentation. Staff augmentation offers access to a pool of skilled rapid eLearning professionals. You can hire them on the basis of project requirements and roll out awesome eLearning courses. The various roles that you can augment staff for are instructional designers, visual or graphic designers, courseware developers, programmers, LMS experts, video editors, and quality assurance executives. Want to know more about how staff augmentation is revolutionizing the L&D world?
Download this eBook for deeper insights.