How Videos Can Enhance the Mobile Learning Experience
Why is video-based mobile learning so popular among learners of all ages? This blog will discuss the reasons for the popularity and how you can use video-based mobile learning to enhance your training effectiveness.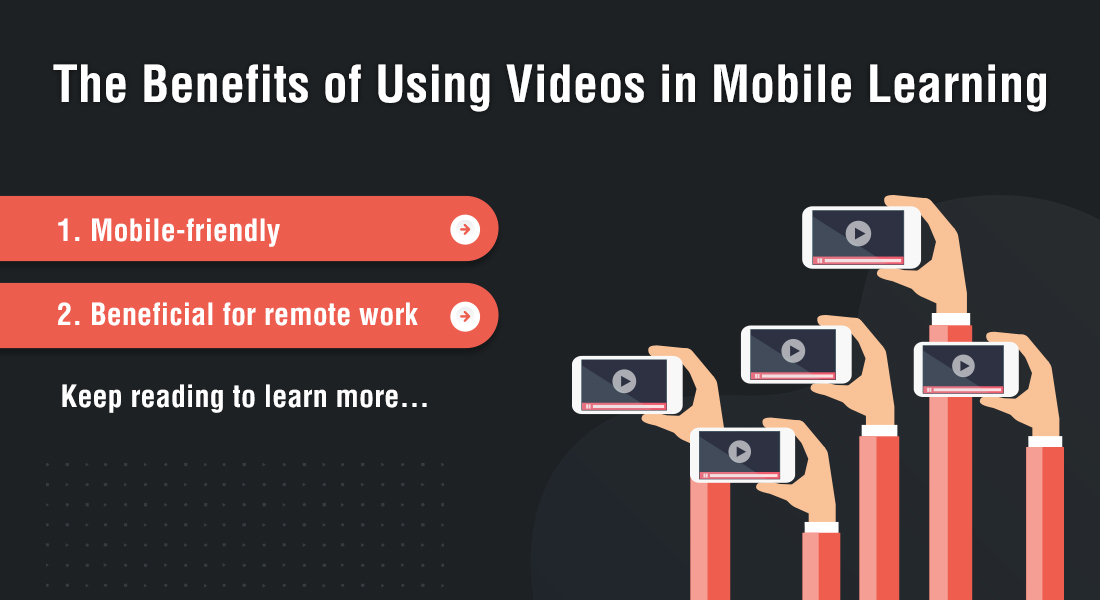 Of the many creative ways to train your employees, mobile learning is one of the most effective and convenient. It has now become an integral part of online learning, thanks to the growing need for remote work. To add to this, the biggest shock of 2020 – COVID-19 – has resulted in a massive shift from onsite to remote work. Work from home is now the new normal (at least for the next few months or so).
Benefits of Using Videos in Mobile Learning
Mobile-friendly
Beneficial for remote work
Used for performance support
Can be accessed offline
Mobile learning is becoming more and more popular, and so is video-based learning. So, what do you think would happen to learner engagement if we combine these two powerful methods of learning?
This blog aims to give you a brief about the benefits of mobile learning and video-based learning. Then we will move on to the advantages of merging both these methods! Not just that, we will also look at some of the best practices of using videos in mobile learning.
Let's begin!
The Growing Trend of Mobile Learning
Mobile learning has been around for quite some time now and is becoming more and more popular with each day.
Why has mobile learning become so popular? And what are its benefits?
One of the biggest advantages of mobile learning is its convenience. People from all walks of life and all generations can afford a mobile device today. Even toddlers are hooked to handheld devices, happily learning nursery rhymes and the alphabet from their favorite teacher, "Professor YouTube"! I'm sure you know some tech-savvy grandparents too! Want to complete that mandatory course while you travel to work? Mobile learning is here to save you!
The concept of BYOD (Bring Your Own Device) has added to the popularity of the mobile learning culture. Here are some of the ways in which you can deliver learning through mobile devices:
Microlearning modules
Podcasts
eBooks
Quizzes
Infographics
Videos
The Ever-increasing Popularity of Video-based Learning
The popularity of video-based learning can be explained in one phrase – learner engagement! Videos can be used in any type of training and in any part of training, for example, as welcome messages for new recruits or demonstrating the working of a complex piece of equipment.
There's another reason for its popularity. People have no time nowadays. They are constantly looking for quick solutions that will help them deal with different problems/situations. They also need to refresh their learning from time to time. In such situations, videos can be used for just-in-time learning or learning at the moment of need.
Videos can also be created in different forms, ensuring you don't watch the same type video for every type of training. Let's take a look at three different kinds of videos that you can use in your training:
Real Videos: These videos usually have a real instructor taking the learner through the training. Examples include induction videos, welcome videos, product training videos, etc.
Simulation Videos: These videos are usually used for software training. They provide step-by-step guidance to operate any kind of software and are usually created from screen recordings of the software. Examples include training on HRM, CRM, or SAP.
Animated Videos: These videos are the most fun for learners because they use character animations and avatars. They may be used for soft skill training or even for product demonstrations. Examples include VideoScribe and Vyond (GoAnimate) videos.
Video-based Learning and Mobile Learning – The Power-packed Duo!
When the power of mobile learning for the remote workforce is combined with the high-level engagement offered by video-based learning, it results in the learner being highly engaged, without getting bored or distracted! While video-based mobile learning is gaining popularity among learners of all ages, the millennials enjoy it the most!
Why is that?
Because Gen Y and Gen Z learners have very little patience to sit in front of their PCs for training, and their fast-paced world gives them plenty of opportunities for distractions. However, they are also quick learners, very good at multi-tasting. Given the right kind of resources, they can contribute a great deal to the organization. All they need is a fun and engaging way to learn – and video-based mobile learning is the perfect fit for them! Here are some reasons why videos combined with mobile learning are so useful in employee training.
1. Videos are Mobile-Friendly
Everyone of your workforce has a smart phone today. And most videos are mobile compatible, and accessed easily on mobile devices. So, the combination of mobile learning and videos works very well as a quick, convenient method for 'learning on the go'.
2. Videos are Beneficial for the Remote Workforce
Remote workers, especially those in the field, usually don't have much time for formal training. They are more comfortable with video-based mobile learning because such videos are short, engaging, and easy to understand, facilitating anytime anywhere learning. As these videos are concise, contain need to know information, and can be used as stand-alone modules, workers do not need to search for extra resources.
Video-based mobile learning are very useful for Just-in-time (JIT) learning – JIT videos are generally used to update learners about changes in policies and products, and to share the latest news. They can be used for sales training, product training, new-hire training, and process training.
3. Videos Can Be Used for Performance Support
It's become a common practice to use mobile-compatible tools along with an LMS (all you need to do to use an LMS on a mobile device is to download an app that allows it to run on the mobile device). Videos can be uploaded on the LMS to offer learning at the point of need to help minimize errors. They can also be used to provide updates about products for sales reps (For example, when the sales executive urgently needs information regarding his own product and a competitor's product before meeting the customer).
4. Videos Can Be Accessed Offline
With the latest technology at our fingertips, it is now possible to learn offline. Many times, remote workers find it difficult to access the Internet. Videos can be easily downloaded on mobile devices to be viewed later, especially since mobile devices these days have a good amount of storage space too.
Creating Video-Based Mobile Learning Courses – Best Practices
Here are a few best practices for creating videos for mobile learning:
Make sure the videos are short and easy to understand.
Plan well before making the video – focus on the learning objective.
Make sure the video is engaging – use interactivities to help the learner connect with the course.
Ensure that the format you choose is compatible with mobile devices.
To Conclude…
Video-based learning has brought a whole new twist to the process of learning. Video-based learning and mobile learning (that is already quite innovative and popular) are a power-packed duo (much like good old Batman and Robin!).
So, what are you waiting for? Let's make the most of this powerful duo to engage our learners and make our online learning courses a success!
Want to learn more about mobile learning? Download our eBook now!