Shifting Corporate Training Gears in the Era of Work from Home
How is your corporate training adapting to the shift towards digital training? If you want some ideas on introducing digital training in your corporate training, read on!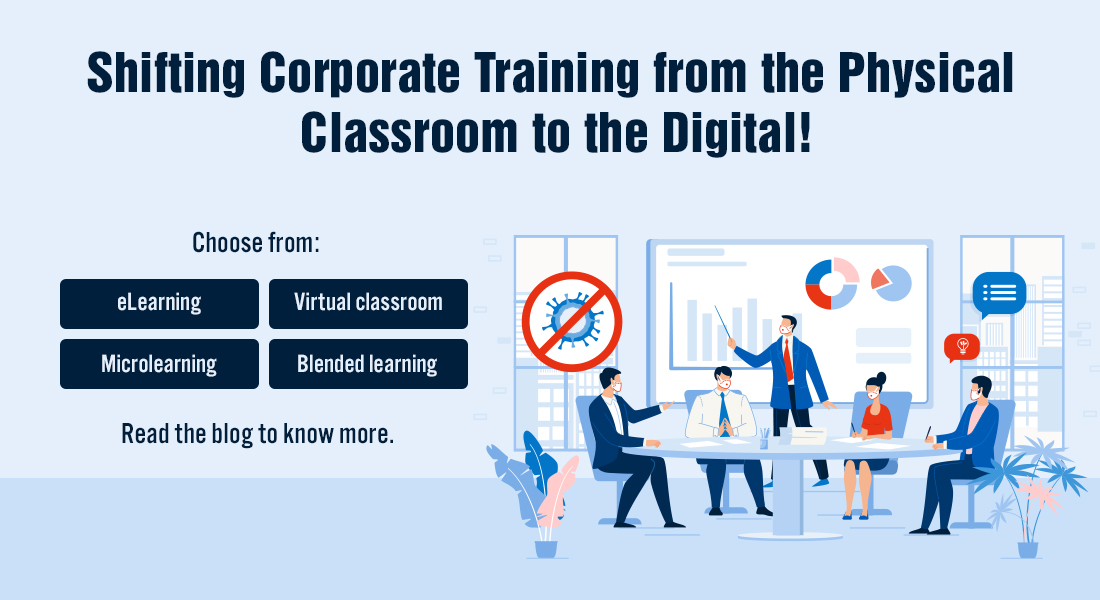 If there is one thing all L&D professionals across the globe agree on, it is that the corporate training industry swears by the mantra, 'slow and steady wins the race'. Any change, however big or small, happens gradually over time. I mean, look at the state of eLearning in corporate training. Up until last year, some companies and organizations still clung to classroom instructor-led training (ILT), vehemently against any form of digitalization in training. But then, 2020 happened.
4 Digital Learning Approaches to Help you Adapt to Digital Corporate Training
Rapid ILT to eLearning conversion
In-person to virtual classroom shift
Library of microlearning courses
Blended learning solutions
Over the past 8-9 months, a significant part of the corporate workforce has been working from home, with only essential service workers braving the world every day amidst the pandemic. But between following safety protocols and getting the hang of Zoom or Skype meetings, organizations realized that they can't hit 'pause' on creating value and up-skilling learners. That they can't just stop workplace training till the situation is dealt with. And with classroom ILT no longer an option, organizations are suddenly being forced to shift to eLearning and other digital training methods.
According to the 2020 LinkedIn Workplace Learning Report, the budget for online training has increased by 58% and organizations are spending significantly less (by 37%) on classroom ILT. While the value and need for online training are increasing rapidly, the important question is, "How are you going to introduce digitalization in your training?" Worry not! We have 4 different virtual training approaches that can help you meet your training demands successfully.
4 Digital Learning Approaches to Include in your Corporate Training Plan
1. Rapid Conversion from ILT to eLearning
ILT to eLearning conversion is the quickest and most cost-effective way to ensure your training deliverables keep up with the speed of business and your curated classroom training materials, PPT decks, guides, and manuals are not wasted. You can quickly convert these ILT materials to interactive eLearning courses with the help of rapid eLearning authoring tools. Since you already have the training content ready, all you'll need to do is to get them eLearning-ready. This will involve:
Framing learning objectives that are aligned to business goals
Removing extraneous or irrelevant content and making sure the content is based on the set learning objectives
Coming up with an instructional design strategy that is both effective and engaging
Selecting an authoring tool with the right level of interactivity for your eLearning course
2. Shift from a Brick 'n' Mortar to a Virtual Classroom
Just because you can't gather in a physical space for classroom training, doesn't mean you can't get the benefit of an instructor-led training. Since the time this pandemic started, organizations have made use of virtual video-conferencing platforms to carry out their everyday job tasks. And the same is true for training as well. With virtual classroom sessions, learners can still interact with instructors and peers without moving from the comfort of their homes.
And don't worry that this will not provide the same level of engagement as the physical classroom. You can pretty much replicate all in-person classroom interactivities over the virtual platform. You can use breakout rooms and whiteboards for collaborative learning activities, annotations, and flipped classrooms.
If you're worried about your instructors not being able to handle the virtual classroom technology, you can provide them with a basic 'train the trainer' course on how the technology works. But do give them a little credit, their abilities to guide and instruct won't change just because the platform has changed. And you can always have a moderator who can carry out the operational aspect of the virtual classroom session while your instructors focus on the training.
3. An Online Library of Microlearning Assets
Microlearning as a training solution has been a blessing for corporate training. Microlearning courses are easy to develop, easy to update, can be made available in multiple formats, and most importantly, are extremely versatile as a training solution. They can be used as standalone courses, as part of a larger curriculum, or curated into a library for just-in-time learning solutions.
Your learners can use this library of microlearning assets for ready reference anytime they need information. It will give them specific knowledge without wasting much time (which they seriously need to do their jobs) and also gives them flexibility in choosing the format in which they want to learn, be it videos, podcasts, infographics, etc.
4. A Blended Learning Solution Tailor-made for your Training Needs
Now, we get to the most controversial question of all – Is this the end for in-person classroom training? I don't think so, and neither do most L&D professionals and industry thought leaders. While classroom training may have come to a halt right now, it's going to make a comeback when the situation with the pandemic improves. Maybe not as popular or as dependable as before, but classroom training will stick around because it too has its benefits and is necessary for certain types of training. Keeping that in mind, many organizations are not inclined to move to an 'eLearning-only' training plan and for them, blended learning is a good option.
Blended learning gives you the best of both worlds, virtual as well as in-person classroom training, synchronous as well as asynchronous. You can blend in-person classroom, eLearning, virtual classroom, performance support, and any other training format you want. But the key to a successful blended learning solution is knowing your training requirements and using the formats that are best suited to fulfill those requirements.
It's All About Method, Not Modality!
I have listed four different digital learning approaches that can be included in your corporate training plan. Choosing the right approach is important but it is also important to remember that it's not the modality of training but the method that makes it successful. After all, many of us could not see training without in-person intervention but look at corporate training now. Isn't digital training living up to all it has promised?
No matter what training approach you choose, if it is learner-centric, aligned to business goals, engaging, and performance-oriented, it is bound to be successful and prove your training ROI.
Summing it Up!
I hope you got some ideas on how you can adapt to the shifting digitalized corporate training world. To get started, you can form a rapid response L&D team and start with conducting a training needs analysis (TNA). If your requirements are too much for your in-house team, you can always outsource eLearning development to a reliable outside vendor.
For more information on how to select the right outsourcing vendor, download our eBook.