Align Your Blended Learning Strategy with Your Business Goals
Blended learning is the magic solution to cure your training woes, but making it a success is another story. Wanna know the secret recipe behind a successful blended learning strategy? Keep reading then!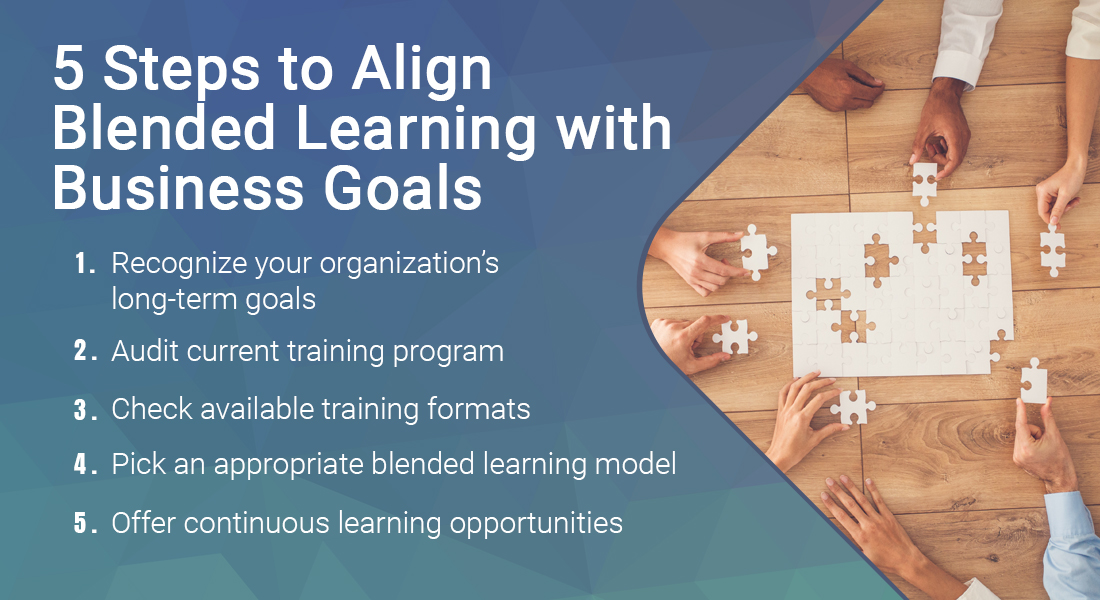 Online training or classroom instructor-led training (ILT)? Synchronous virtual instructor-led training (VILT) or asynchronous eLearning? These are the questions that keep most corporate training managers up at night. And why wouldn't they when the future growth of your employees depends on making the right choice? So, what's the right answer? How do we decide? Should we toss a coin? Or should we just try something different? Mix all training formats and come up with a 'blended' learning strategy? Now, that sounds like an idea!
How to Align your Blended Learning Strategy with your Business Goals
Recognize your organization's long term goals
Audit current training program
Decide on the training formats
Strategize for an appropriate blended learning model
Plan to offer continuous learning opportunities
You can mix and match eLearning, classroom ILT, VILT, social learning, performance support, and come with a blend that is tailor-made to fit your training requirements.
Why Blended Learning
Blended learning is a very popular training strategy because it:
Gives you the flexibility to make up your own cocktail of training design
Is the best solution when you need the convenience and engagement of online training combined with the hands-on experience and face-to-face interaction of classroom training
Helps overcome top management resistance toward technology
You may be thinking, "If blended learning is such a great solution, why isn't every organization shifting from classroom to online training adopting it?"
The truth is, creating a successful blended learning strategy requires much more careful planning than for a classroom-only or eLearning-only or VILT-only strategy. To make blended learning a success, you need to keep your business goals in mind. You have to thoroughly analyze your training requirements and decide which training delivery formats are best suited to fulfill them.
Here is how you can go about planning your blended learning strategy to go with your organization's business goals.
5 Steps to Align your Blended Learning Strategy with Business Goals
1. Recognize your Organization's Long Term Goals
Before you start running through different training formats for possible permutations and combinations, you need to ask yourself, "What do I want this training for?" "What is the goal that I want to meet with this training?"
Is it to reduce cost, increase revenue, or ensure compliance with regulations?
Then, you need to compare your current status against these goals to determine the performance gaps and desired improvement.
How do you do that?
You need to perform a Training Need Analysis (TNA) to help determine if training is the solution for those performance gaps. If TNA pinpoints gaps in the required knowledge, skills, or attitudes that can be resolved with training, go ahead and plan for a blended learning strategy to improve performance.
Let's go through an example here.
Business Goal: To increase revenue from a newly updated product
Performance gaps (from feedback from sales reps and customers):

Sales reps not very knowledgeable on what the updated product has to offer
They are unable to negotiate with customers on the pricing

Desired Improvement:

Improved knowledge on the features of the new product version
Better negotiation skills

Strategy: A blended approach with hands-on product demonstration and online simulation training to hone their sales pitch
2. Conduct an Audit to Gather All Information on Current Training
While a TNA will help you determine the need for training and come up with an effective plan, it can't be effectively implemented if you don't have the necessary information to back it up. Conducting an audit will help you determine the current state of training content, resources, infrastructure, budget, and timelines.
Continuing with the example of product training, here is what you need to find during the audit:
Content
How are the sales reps being trained currently? In the classroom or through eLearning?
Is the information up to date (manuals and guides or eLearning courses)?
How much content is needed to fill the gaps, if any?
Can sales reps access information while on the field?
Resources
Do you have instructors available to conduct classroom ILT sessions for hands-on product demonstrations?
Can the instructors conduct sessions though virtual classrooms?
Are Subject Matter Experts (SMEs) available for reviewing courses for accuracy?
How much time can SMEs spend to provide the updated information?
Infrastructure
Do you have a Learning Management System? Does it allow remote access?
Does the LMS support blended learning and offline learning?
Do you have to license for a VILT platform? Does it allow remote access?
Do you have the infrastructure (e.g. mobile devices) for remote learners?
Budget
What is your current training budget?
Can this budget accommodate a blended learning approach?
How much more funds do you need to implement a successful blended learning program?
Timeline
When should the new blended learning program rollout?
What are the different developmental milestones?
3. Decide on the Training Formats for Blended Learning
After you are done with the audit, the next step is the actual planning for the blended learning – deciding on the training formats (classroom ILT, VILT, eLearning or microlearning) you are going to use.
One of the most widely held misconceptions about blended learning is that ILT + eLearning = blended learning.
In fact, blended learning is not limited to these 2 formats; it can accommodate many different training formats. Here are a few that can be used in an appropriate context to make a perfect training blend.
Training Method
Blended Learning Format
Formal Training

Instructor-led classroom training
eLearning curriculums

Self-directed Training

Microlearning modules
eLearning courses

Just-in-time Training

Mobile learning
Digital resources – simulations, animations, games, quizzes, etc.

Social Learning

Discussion boards
Online forums

Performance Support

How-to guides
Videos
Job-aids
Mobile apps
4. Strategize for an Appropriate Blended Learning Model
Another myth about blended learning is that it can only be either eLearning followed by classroom ILT or classroom followed by eLearning. Again, this is as far from the truth as you can get. Different training formats can be used in different combinations within a blended learning strategy.
Here are four popular blended learning models according to the Christensen Institute:
Rotational Model: In this model, learners spend an equal amount of time in different training formats, be it eLearning, classroom ILT, or even collaborative group learning activities. This model has a fixed schedule and learners need to rotate within these training formats.
The flipped classroom is a subset of the rotational blended learning model. In a "flipped classroom", learners are first exposed to learning outside of class, usually via eLearning courses or self-study, and then use class time to assimilate that knowledge or gain hands on experience.
You can use the flipped classroom for product training of your sales reps. They can go through the eLearning courses first (product animation video) and get hands-on training in offline workshops.
Flex Model: In this model, eLearning is the main training format which is followed by individual tutoring, mentoring, or group activities. Unlike the rotational model, this model is more customized to address individual learning needs.
Enriched Virtual Model: In this model, online training is followed by a mandatory ILT session – either in the physical classroom or through VILT sessions.
À La Carte Model: In this model, learners are mostly trained through classroom ILT, supplemented by online training. You can use this model for product training – training on basic concepts in the classroom, hands-on experience through workshops, and performance support through microlearning modules.
5. Plan to Offer Continuous Learning Opportunities
"Learning is a process." This is a statement we keep hearing time and again in every training conversation. But more often than not, corporate training is treated as an event where every few months, employees are assigned a set of courses or asked to attend some workshops to refresh their knowledge and skills and get a certification and then forget about it until the next time.
However, with a blended learning approach, you can give learners continuous learning opportunities through various informal training methods.
Microlearning assets: These bite-sized learning nuggets can be used to provide learners instant access to information, whenever they need it. Each microlearning asset is focused on only one learning objective and can be made available in a variety of formats (videos, audio podcasts, infographics) to be used as job-aids for performance support.
Social learning elements: You can set up discussion boards in the LMS or open online communities and forums in social media sites where learners can interact with SMEs and their peers informally and share ideas and opinions on different subjects. You can also have e-mentoring, allowing learners to listen and interact with SMEs and thought leaders.
Mentoring: You can set up workshops after the formal training, where learners get one-on-one mentoring sessions with instructors as well as professionals in the same field.
Mobile Apps: Many modern LMSs have their mobile apps. You can use these apps to give learners, especially remote workers, an opportunity to access training anytime, anywhere through their mobile devices.
Summing it Up!
Blended learning can be a formidable training strategy when planned and implemented well. I hope this article gave you some insights on how you can come up with a working plan to get the most out of it. Focusing on the big picture, i.e., your ultimate business goals, in the best way to make blended learning work as your training strategy.
Here's an example of how a complete blended learning approach will look like.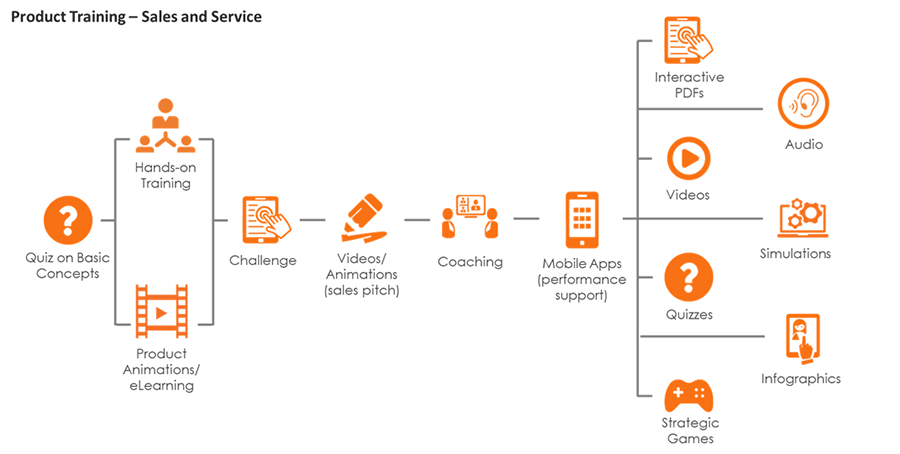 Want to know more about blended learning and how it can be used to boost your employees' performance and skyrocket your business ROI? Download our eBook.