Text-Heavy Content Made Interesting with Articulate Rise
The reader will understand the ease with which text-heavy content can be converted to engaging e-learning modules using the interactive e-learning development tool, Articulate Rise.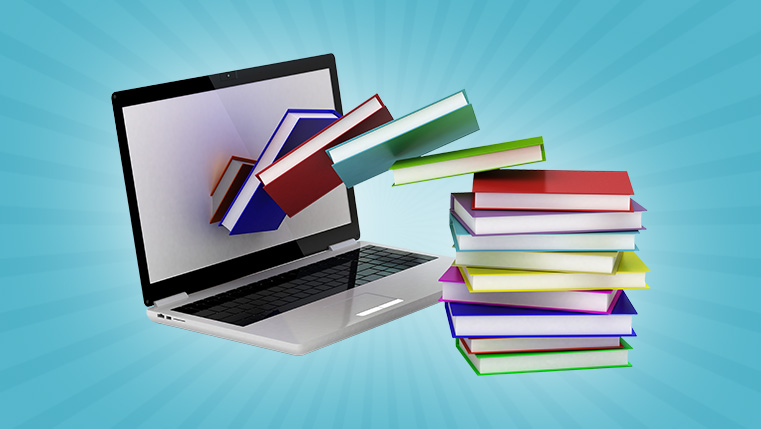 Articulate Rise is one of the most popular authoring tools for developing engaging e-learning courses. It allows developers to harness an attractive array of options ranging from inbuilt assets, multimedia, and interactivities, to help make e-learning courses highly presentable.
Given the number of templates Articulate Rise offers, it is easy for instructional designers to quickly design an e-learning course from text-heavy content. Also, courses developed on Rise are fully responsive. Whether the e-learning course is accessed on a desktop, laptop, tab, or a mobile, Articulate Rise courses fully adapt to the device.
The most important part of Articulate Rise is the 'Blocks' feature. This feature is used to convert text-heavy content into highly engaging e-learning modules. There are various template designs within the 'Blocks' feature. Let us now understand each of these template types.
Chunking Text for Better Learning Retention
The 'Text' option enables instructional designers to present content in easy-to-read paragraphs, in various forms such as:
With/without heading
Subheadings
Two columns
We used the Paragraph template for one of our healthcare clients, to present text-heavy content.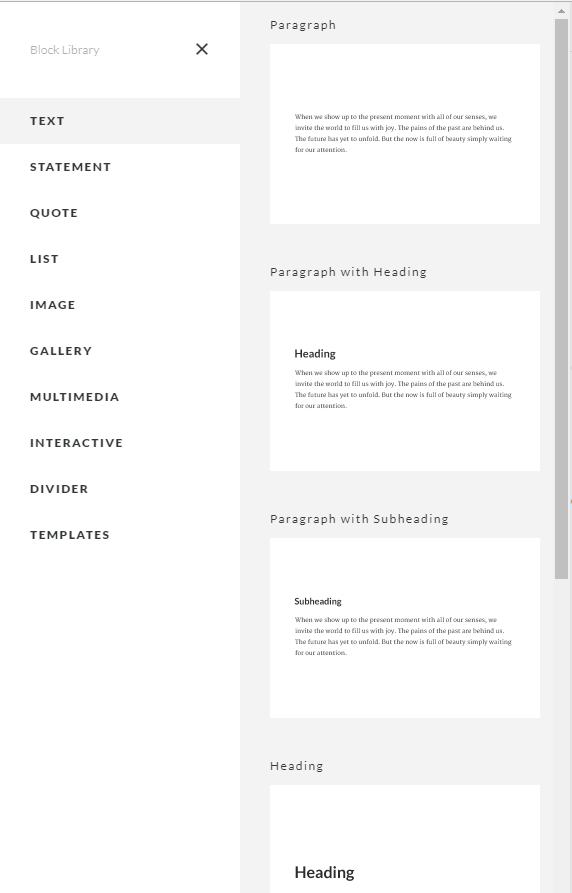 Highlighting Key Content with Statement
This feature helps highlight key points or important statements in an online course, in three different styles as shown in the image.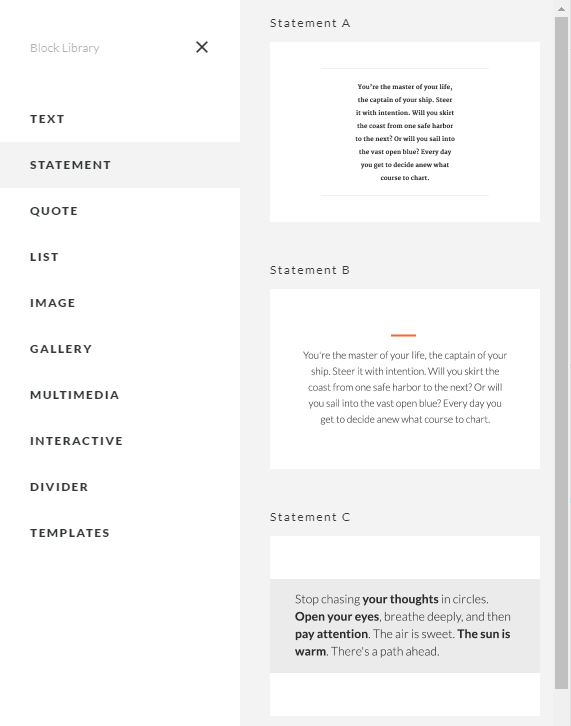 Motivating with Quotes
Want to quote somebody famous or your CEO? Use the various options available in the Quote template. Include the image of the person being quoted, and align in different styles.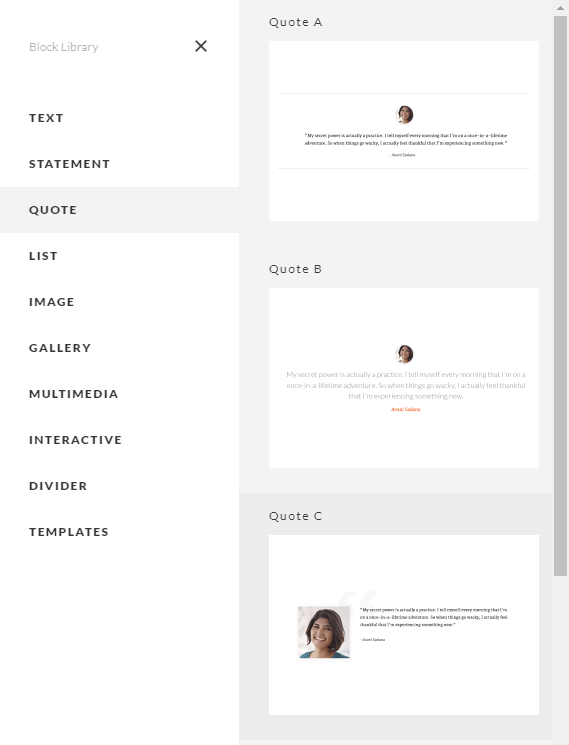 Listing Content for Better Recall
This is another feature that helps in presenting text-heavy content in an easy-to-read format. This template helps present content in three variations:
Numbered list
Checkbox list
Bulleted list

Images to Empower Content
Images are an integral part of e-learning modules. Captions help add explanatory text to images. Articulate Rise helps add text to images in different styles.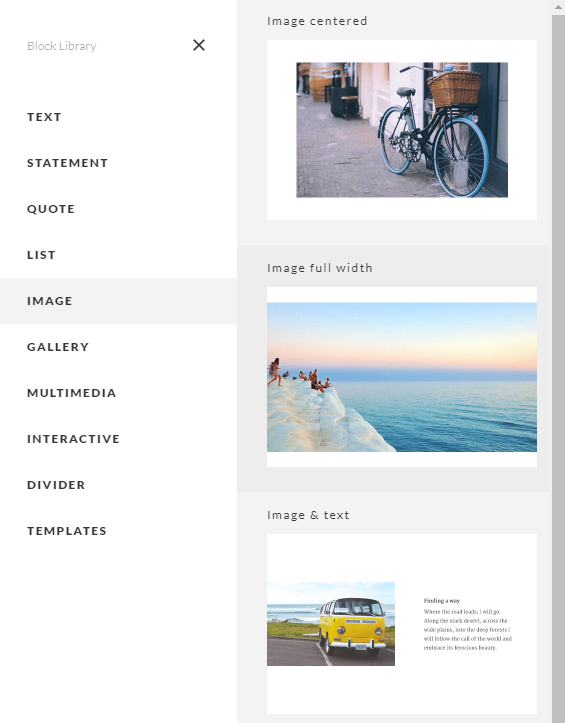 Gallery for Slideshow of Concept
This feature comes with the option of clustering images in two, three, or four columns. There is an additional option of creating a slideshow of images called the image carousel. An image carousel was used for our client to represent complex medical snapshots in sequence.

Multimedia Elements for Engagement
Audio and video formats are important aspects of any e-learning module. The Blocks feature of Articulate Rise allows for easy uploading of multimedia files. Along with audio and video files, PDF files too can be easily attached.
We used a short, powerful training video on complex medical procedures in the e-learning module for our client. The target audience who were medical practitioners, found this a very effective way to learn and engage with the content.

Interactivities to Connect the Learner
Perhaps one of the best options in Blocks is the host of inbuilt interactivities it offers. Flash cards, click-on-tabs, click-on-images, button stacks – all help in condensing textual content and presenting the same in an easy to understand format.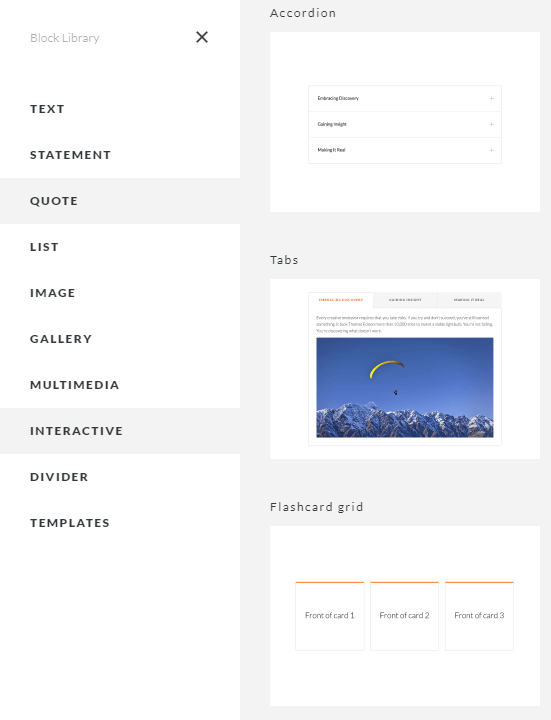 Articulate Rise is an easy-to-use authoring tool that helps whip up visually appealing e-learning courses from text-heavy content within a short span of time. The use of images, interactivities, and formatting text in a variety of ways helps create e-learning content that is highly engaging.