5 Tips for Effective eLearning Design and Development
People can design and develop eLearning courses for years yet might not find them to be effective. To ensure you aren't one of them, here are the 5 tips to help you ensure effective eLearning design and development. Why wait? Read. Implement. Succeed!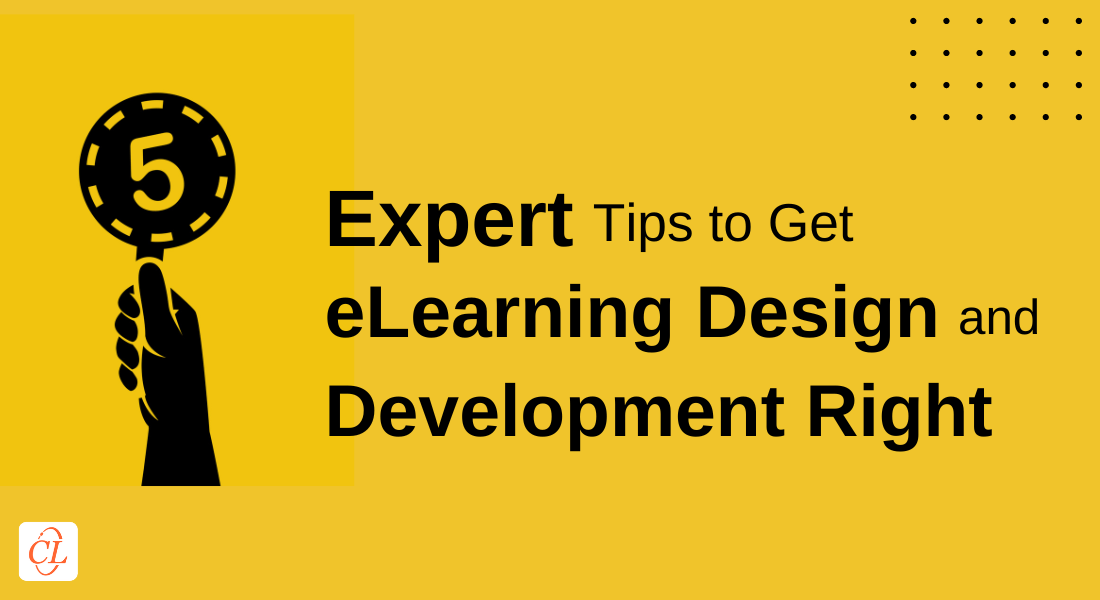 In a world where technology reigns supreme, the way corporate training is conducted has evolved drastically. It focuses on striking a balance between meeting the learning demands of the employees and achieving organizational goals. And as an eLearning developer, you play a vital role in facilitating this balance. You hold the power to design and develop eLearning courses that can change lives.
But with the bar constantly rising for engaging, interactive, and mobile-friendly content, how do you keep up? Fear not, amigos, for this is the ultimate guide to eLearning design and development that will help you captivate the interest of your audience and motivate them to take up the training course right away!! That's right.
Looking for Secrets to Effective eLearning Design and Development?
Here are the 5 expert tips:
Keep it simple
Storytelling is key
Don't forget about interactivity
Think mobile-friendly
Continual improvement
So get ready to take your eLearning game to the next level.
And this my friends, is the story of five tips that will change everything.
5 Tips for Effective eLearning Design and Development
Tip 1: Keep it Simple
The first tip is simple, but often overlooked. And taking a hint from the first line, the tip is — Keep it simple! Yes, I mean it. In eLearning design and development, complexity can adversely affect the learning experience, hinder the learning process, and thus impact the overall training outcome. If you make the eLearning courses too complicated and difficult to understand, learners might lose interest, get confused, or simply give up.
To avoid this, focus on keeping things in your instructional material simple and straightforward. Using plain language and clear instructions make a huge difference in ensuring the effectiveness of your eLearning course. Furthermore, make the eLearning course easy to navigate, so that your learners are engaged and interested in continuing the training program.
Tip 2: Storytelling is Key
The second tip is that incorporating storytelling is the key to effective eLearning design and development. It is a powerful tool that helps you create eLearning courses that engage learners and make learning more interactive and memorable. You can use storytelling to present information in the form of narratives that capture your learners' attention and keep them interested throughout the course. Moreover, you can leverage visuals, multimedia, and other interactive elements to augment the storytelling experience. With the right storytelling techniques, you can make even the most mundane topics exciting and immersive for your learners.
Tip 3: Don't Forget about Interactivity
The third tip centers around interactivity. And trust me, this tip deserves attention. After all who would like an eLearning course or a training session that acts as a catalyst to sleep. So maintaining the component of engagement and interactivity is crucial. It helps you keep your learners alert and attentive. Therefore, interactive elements are a key component of effective eLearning design and development.
They help you engage learners, increase retention, and make learning more enjoyable. In your eLearning courses, you can use interactive elements such as quizzes, videos, audio, infographics, digital flashcards, games, and simulations to ensure your learners stay intrigued and motivated. These elements also help you reinforce the key concepts and ideas of your eLearning course.
Tip 4: Think Mobile-friendly
If I ask you, would you consider reliving those days where we had landlines? Glued to one place. Costly bills. Well, I won't. And with a certain degree of confidence I'd like to say, Millennials and Gen Z won't. Just a friendly reminder: they form a significant part of the modern-day workforce. This leads us to the fourth tip. It is focused on designing eLearning courses for mobile devices.
With more and more learners accessing training courses on their portable devices like laptops, tabs, smart phones, etc., it's important to ensure that your eLearning courses are mobile-friendly. To facilitate effective eLearning design and development, it is important to make sure that the eLearning courses are easily accessible and usable on mobile devices. You should use responsive design, which automatically adjusts the layout of your course to fit the screen size of the device, to ensure that your training course works well on any device.
Tip 5: Continual Improvement
The fifth and final tip is to ensure continual improvement. That's true! The world around us is constantly changing. And with that, business goals, learning habits, technology, and even our lifestyle undergoes a change. Then why should your eLearning courses stay the same? Not fair! Sadly, if they do stay the same over a period of time, these training materials lose their relevance and effectiveness.
Therefore, the key to effective eLearning design and development is to continually evaluate and improve your training courses. Try to gather feedback from your learners, use data analytics to track their progress, and leverage this information to make improvements to your eLearning courses. With continual improvement, you can ensure that your eLearning courses are always up-to-date, effective, and engaging.
To Sum It Up!
Effective eLearning design and development is critical for the success of any eLearning course. So remember to keep it simple, use storytelling techniques, incorporate interactive elements, make it mobile-friendly, and continually improve your training courses. By following the above-mentioned tips, you can create eLearning courses that are engaging, interactive, and fun. So let's make learning fun again! Here's my favorite pick on instructional design strategies. It'll help you design and develop high-quality, effective eLearning courses like a pro! Check it out now!