Six Critical Considerations for Effective eLearning Design
eLearning design is very crucial for effective learning, retention, and application. There are some aspects such as adult learning principles and performance-based learning objectives that need to be addressed. This blog covers the critical elements you should consider to shape up a perfect eLearning course.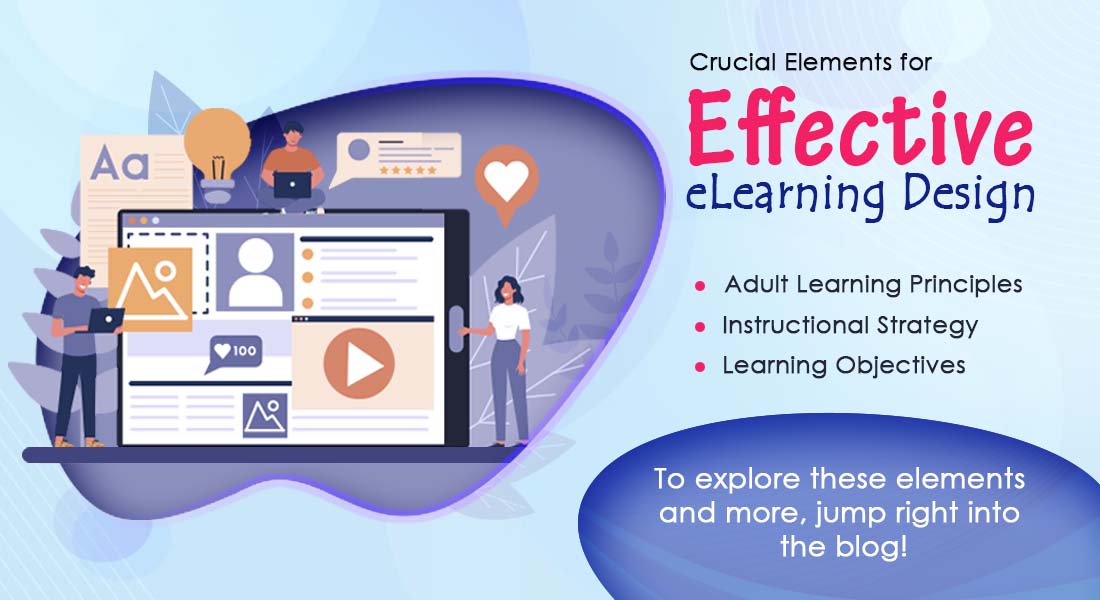 A simple definition of eLearning is that it is 'learning facilitated by technology for its design, development, delivery, administration, and evaluation'.
eLearning is more than simply publishing a PowerPoint slide deck to HTML or adding audio to a PowerPoint deck and uploading it online. It is also much more than online resources like web pages, eBooks, videos, or PDFs! eLearning includes a crucial element – 'Instructional Design'– the creation of learning experiences that help the learner acquire and apply the newly gained knowledge and skills to the job.
Instructional Design involves studying the learners, the subject or topic, and the environment to come up with an appropriate learning strategy. It draws heavily on some timeless elements and principles of learning. That's what we are going to discuss in this blog.
E-learning Design Must-Haves/Checklist
Essential elements for effective eLearning design:
Adult Learning Principles
Learning Cycle
Performance-based Learning Objectives
Interactivities
Instructional Strategy
Six Critical Considerations for Effective eLearning Design
1. Adult Learning Principles
Your online training should address the five 'principles of adult learning'. Why? Because all your learners are adults.
So, what do adults need to learn? And how do you incorporate those principles in your eLearning.
i. The Need to Know the 'Why' of Learning
Inform learners the 'why' of the training through SMART (Specific, Measurable, Achievable, Relevant, and Time-bound) performance-based learning objectives – what they will be able to do (perform) after completing the course.
ii. The Need for Self-directed Learning
Provide scope for self-directed learning through a learner-friendly GUI and free navigation without any restrictions.
iii. The Need to Connect New Information with Existing Learning
Use pre-assessments that allow learners to recap what they already know; and refresher courses to help them boost retention of information.
iv. The Need for a Problem-solving Approach
Implement a problem-solving training approach through:
Case studies where learners analyze the cause and effect of a real-life problem and find ways to solve it
Branching scenarios where learners need to make critical decisions and face the resulting consequences
Simulations that mimic learners' job environments giving them an opportunity to learn, explore, and practice in life-like situations.
v. The Need for Rewards and Motivators
Encourage learners with rewards and recognition through incentives of bonuses and promotions and by incorporating gamification elements like rewards and leaderboards.
2. The Learning Cycle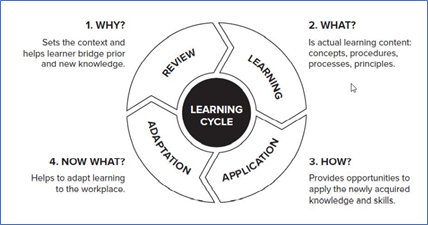 (Adapted from David Kolb's Learning Cycle)
There are 4 main phases in the learning cycle. Let's see how you can implement each of them in your eLearning.
i. Review
Start with the 'WHY' to help the learner bridge the gap from existing to new knowledge and recall relevant prior knowledge.
ii. Learning
Present the 'WHAT' – the actual learning content.
iii. Application
Teach the learner 'HOW' to apply the learning – through case studies, best practices, or applied exercises.
iv. Adaptation
Inform the learner of the 'NOW WHAT' – through resources for advanced learning.
3. Performance-based Learning Objectives
To ensure that the learning content helps improve learners' performance, we need to set performance-based learning objectives before designing the course.
Though Dr. Mager's concept of an ideal learning objective has 3 components (Performance – what the learner is expected to be able to do, Condition – the situation in which the performance is expected to occur, and Criteria – the level of competence that must be reached/ surpassed), for corporate training, in practice, only the tangible and measurable parameter, PERFORMANCE, is included in the learning objective.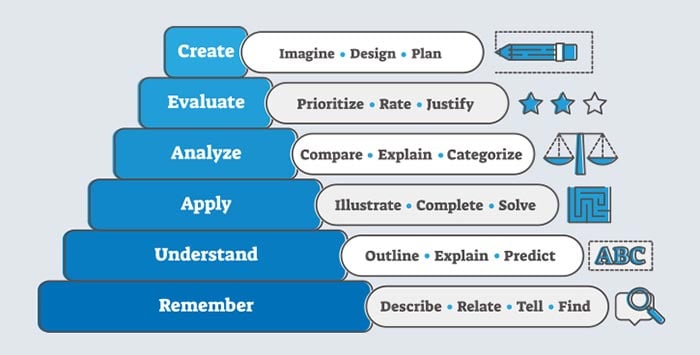 Bloom's Taxonomy (developed by educational psychologist Dr Benjamin Bloom) provides a hierarchy of levels that you can use to craft performance-based learning objectives, design performance tasks, and frame evaluation questions.
4. Interactivities
In the absence of an instructor in eLearning courses, interactivities decide how engaging the course will be. With changing learner profiles came the need to design training that is more engaging, offers more flexibility, and is more immersive.
And interactivities are how it is done in eLearning – capture learners' attention, give them the opportunity to interact with the content, and help them participate actively in the learning process, either by doing or thinking.
There are 4 levels of eLearning interactivities depending on the type of content and the degree of learner involvement:
Level 1: Passive interaction (click next courses)
Examples:
Links to videos
Podcasts
Simple images and graphics
Test questions
Level 2: Limited interaction (click to reveal)
Examples:
Clickable hotspots
Animations
Simple drag & drop interactions
Reinforcement exercises
Multimedia
Level 3: Complex interaction, more learner control
Examples:
Animated/ customized videos
Complex drag and drop interactions
Simulations
Storytelling
Branching scenarios
Level 4: Advanced/Real-time interaction with full control over learning environment
Examples:
Interactive games
Simulated job performance exercises
Customized audio or videos
Avatars
Stories/scenarios
Multimedia
Which level of interactivity you choose to use in your course depends on the content and audience profile.
5. Instructional Strategy
An instructional design strategy is a high-level plan of how a topic must be dealt with for a particular audience. Popular ID strategies include storytelling, guided learning, case studies, scenario-based learning, learning through exploration and discovery (LEAD), and game-based learning.
And here's something that'll help you decide on the appropriate strategy. But before deciding on the strategy, it's important to ask yourself, "Which of these strategies will help my learners achieve the learning objectives?".
Guided Learning – It can be used for:
Sales Training
Software Training
Process Training
Performance Management Training
Scenario-based Learning – It can be used for:
Compliance Training
Sales Training
Code of Conduct Training
Learning through Exploration and Discovery (LEAD) – It can be used for:
Employee Onboarding
Safety Training
Product Training
Site Training
Game-based Learning – It can be used for:
Information Security Training
Code of Conduct Training
Sales/Product Training
Simulations – They can be used for:
ERP/Software Training
Product Training
Safety Training
6. Recent Trends
Owing to the COVID-19 pandemic, it has made us relook at many things which we had taken for granted earlier; among which employee training is one of them.
We present to you a list of some of the recent eLearning formats that are very much in vogue and are definitely here to stay.
Virtual Instructor-led Training (VILT)
Microlearning and mobile learning
Blended learning
Virtual Instructor-led Training (VILT)
According to a report by Training Industry, their web traffic on searches related to VILT and virtual classrooms has increased by 8135%. COVID 19 and the shift to 'work from home' has made VILT look like the only viable option for organizations to keep their training initiatives alive. That accounts for its growing popularity for corporate training, along with the many virtual classroom platforms available today.
Microlearning and Mobile Learning
Microlearning with its small learning nuggets allows for easy absorption and retention, and helps quickly close skill and knowledge gaps, just-in-time. Microlearning assets can be created in many intriguing formats – videos and whiteboard animations, digital flashcards, concept and process maps, quiz-based modules – to name just a few. The best part is that microlearning ca be used before, during, and after the training.
Mobile learning (learning through mobile devices) offers multi-device delivery, shorter duration leading to higher retention, and just-in-time availability – and can serve both as teaching material as well as performance support. Learning Apps also enable easy push notifications and support offline content, in any format.
Blended Learning
Blended learning is the use of two or more learning/training formats and approaches. In corporate L&D, blended learning is a hybrid of classroom training (either physical or VILT) and eLearning, with a little bit of performance support thrown in. Blended learning is the perfect example of the whole being-more-than-just-the-sum of its parts, providing a lot more benefits and being much more effective than when learning formats are used by themselves.
Parting Thoughts
To sum it up, ensuring that these crucial elements of instructional design are adhered to will lead to an engaging, learner-centric eLearning course that your learners will thank you for. So, without much ado, start designing highly interactive and exciting courses keeping all the critical considerations in mind.
To fuel your thirst for knowledge, how about checking out this webinar that sheds light on whether your classroom training material at hand is suitable for eLearning conversion!