Get Your Boss to Say YES for eLearning – Build a Winning Business Case [Infographic]
eLearning not just saves you cost and offers your learners self-paced learning; it ensures your training fills performance gaps and equips learners to meet your organizational goals. Explore how you should make a winning business case for eLearning that your stakeholders won't be able to resist!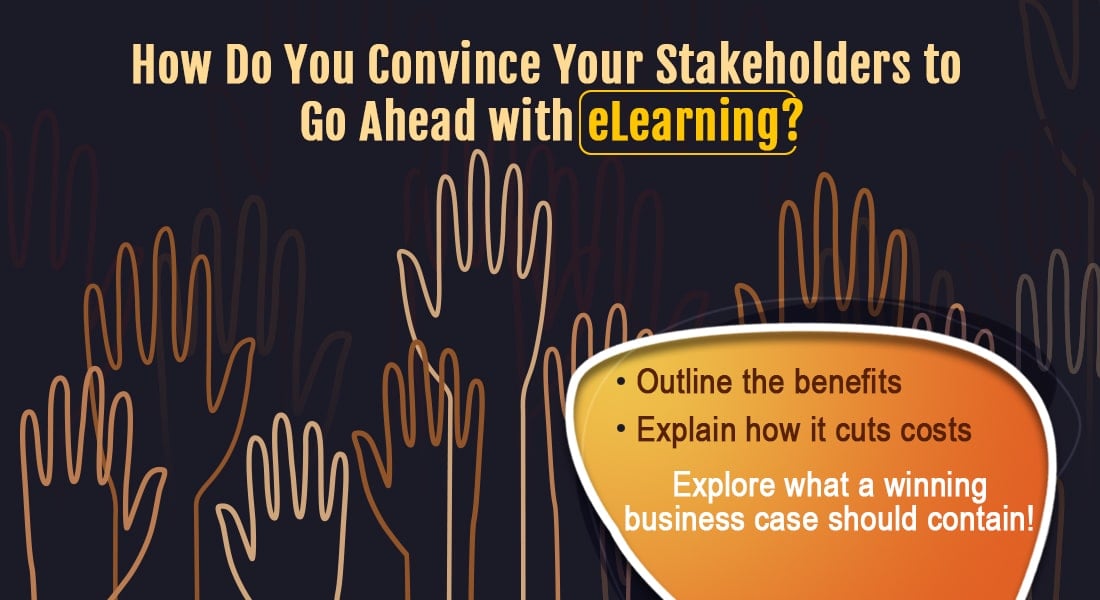 The popularity of eLearning has skyrocketed over the past decade and according to Global Market Insights, the market size of eLearning crossed USD 250 billion in 2020 and is anticipated to grow to USD 1 trillion between 2021 and 2027.
eLearning is not just a boon for employees as it offers them convenient, self-paced training. It will also save your organization the repeated costs associated with classroom training, ensure training isn't interrupted, learners have on-demand access to learning resources, and more.
And if you are wondering how to get your stakeholders onboard for eLearning implementation, put together a robust business case. And one of the first things you should mention is that eLearning can get started with your existing classroom training material – saving a lot of time and efforts.
What is a Business Case?
A business case is a well-structured document which captures the rationale for implementing a new project or making a high-budget purchase. If the business case is approved, it could result in the permanent/formal implementation of the project.
A robust business case covers all aspects required for taking informed decisions and starting a project. It evaluates benefits, the costs and risks, alternates with their merits & demerits, resources required, and more.
This infographic covers all aspects required for building a robust business case for eLearning.



Why eLearning?
eLearning is an effective way of training employees via electronic media. eLearning can ensure learner engagement despite the lack of an instructor and is suitable for various training types. Explore how different instructional design strategies can be used here.
And if you want to get access to experts in instructional design (the art and science of designing eLearning) and authoring tool experts, it pays to partner with a good outsourcing vendor to develop effective courses.
A good vendor-partner will also ensure your courses are based on performance-based learning objectives that are aligned with your employees' desired performance and organizational goals. And the icing on the cake is the flexibility you have to reach remote or globally dispersed learners at the same time and offer consistent, uniform training through eLearning translations.
So, now is the right time to pitch for eLearning and get the go ahead from your management! Explore how you can become the eLearning Champion in your organization.