5 Smart Tips to Choose the Right eLearning Vendor
Since eLearning has become an optimal training option for corporate training, having an eLearning vendor perfect for you is a must. eLearning vendors need to be evaluated on many aspects such as track record, thought leadership, ability to meet timelines, and more.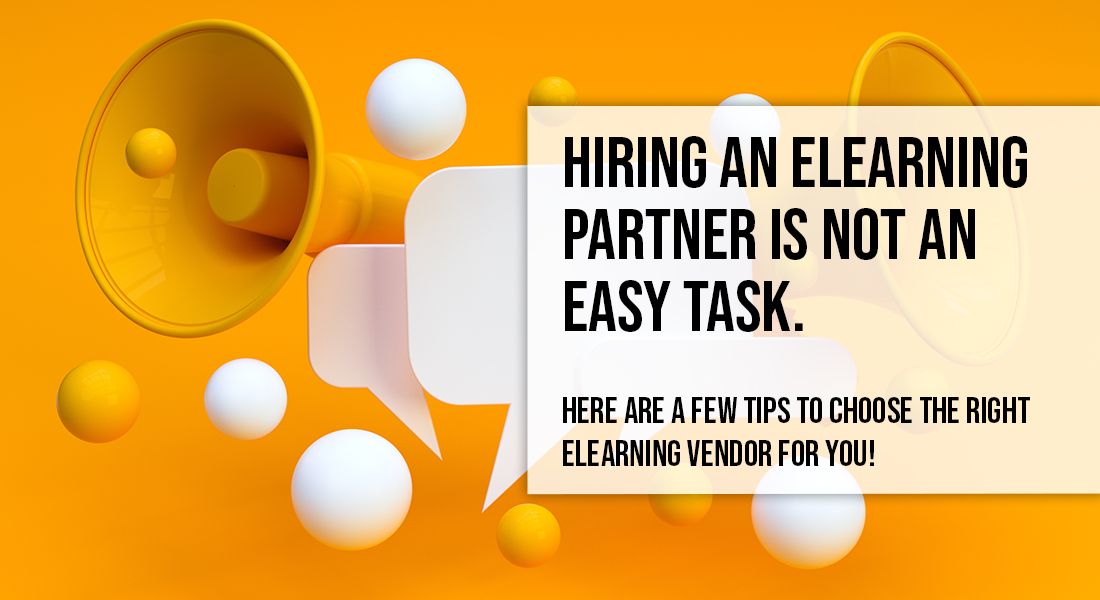 W

hat's the Need for an eLearning Vendor?

That's the big question training managers need to answer when getting started with eLearning design and development. Well, your inhouse team might not be able to meet your huge influx of training requirements, they might not have set processes to save time, expertise with authoring tools, or it might be preferrable for you to have them handle high priority projects.

Whatever the reason, when you outsource your eLearning design and development requirements, ensure you partner with the right vendor. And while there are many eLearning vendors in the market, all offering similar services, picking the right one for your organizational needs to be a thoughtful process.
5 Strengths to Look for in an eLearning Vendor
Instructional design skills
Quality
Processes
Familiarity with your industry
Longevity
And ensure you pick a vendor who can offer rapid eLearning services – at scale and speed with quality.
When you partner with the right eLearning vendor-partner, you get to avail:
Expertise in instructional design
Blended learning solutions
Authoring tool expertise
Robust processes
Post-project support
5 Things to Check when Choosing an eLearning Vendor
1. Instructional Design Skills
Instructional design is the practice of developing digital and physical learning experiences. You need to ensure the vendor has a strong, core competence in instructional design and a team of instructional designers experienced in dealing with a wide range of topics.
Here are a few things a vendor with expertise in instructional designing will do when converting your classroom training material to eLearning:
Add learning objectives to clarify what learners will achieve at the end of the program.
Decide the strategy based on the topic and learner demographics.
Fill gaps in content in consultation with your SMEs (subject matter experts).
Design interactivities and assessments based on the learning objectives.
2. Quality
Before investing in any eLearning vendor, you must ensure the vendor has expertise in delivering custom content – within your timelines, budget and quality constraints. They should be able to follow your style guides, match your branding guidelines, corporate voice, and more.
You can ask the vendor to:
Showcase samples to check their technical and design skills.
Work on a prototype to help you assess their capabilities and alignment with your requirements.
Your training content needs to resonate with your branding to bring your company's values even closer to your global workforce.
3. Set Processes
A good eLearning vendor will have set processes for design and development, be in close communication with you to avoid delays, and work like an extension of your internal team. An agile process such as SAM (Successive Approximation Model) can help the vendor constantly communicate with you and develop high-quality eLearning programs – with a clear idea of your requirements.
An iterative model has scope for interaction at each point so that feedback and lessons learned are implemented immediately, without having to wait until the course is developed – which was a major drawback with earlier models such as ADDIE.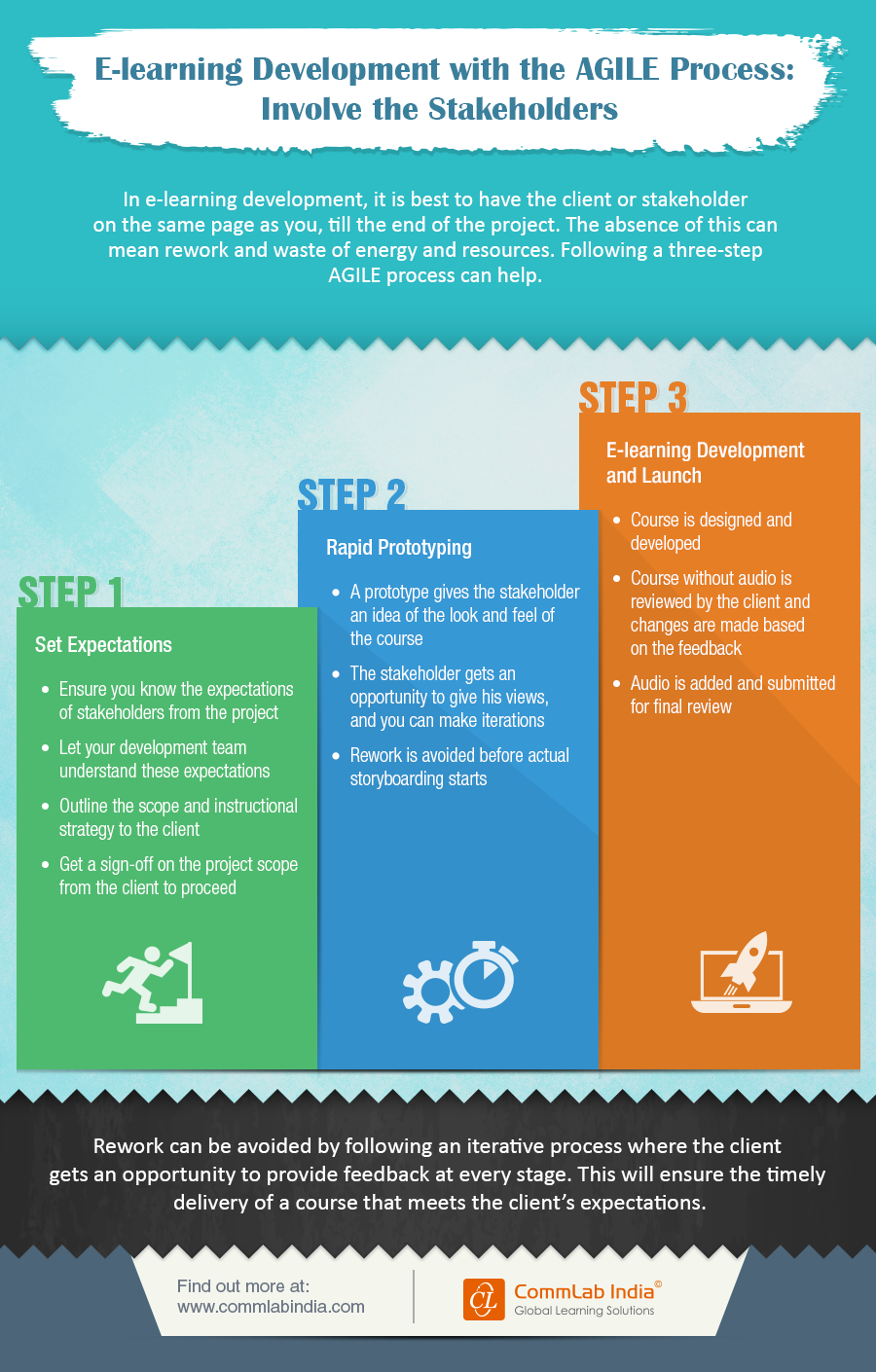 A good vendor won't let the difference in time zone obstruct them; rather use it to their advantage and will also be good at adapting to nuances – knowing your holidays, understanding your mode of communication, frequency, and more.
4. Familiarity with your Industry
The idea is to get to know your vendor well and build a foundation of trust. The vendor should be able to showcase other projects done for companies in your industry. You could ask the vendor to share references of their customers and the type of projects they have handled.
This will give you an idea of their expertise in not just eLearning design and development but also in handling your content. Some eLearning vendors do have inhouse SMEs in different domains which is an added advantage.
5. Longevity in the Business
You can always check their website, awards, and customer testimonials to get a clear idea of how long they've been in the business and their USP.
Good eLearning vendors also offer thought leadership in the form of blogs, eBooks, webinars, and more to educate the L&D fraternity.
More importantly, they will keep themselves in sync with evolving technology to meet changing learning requirements – microlearning, videos, virtual classrooms, VR-based eLearning.
However – a caveat: the vendor should be in a position to advice you. A good vendor will analyze what is optimal for your organization and learners – not get carried away by fads. Your eLearning vendor-partner should be capable of providing customized solutions that meet learners' requirement.
To Sum Up
Before closing, here's an extra tip – check for the cost of the vendor. While the cost of eLearning depends on aspects such as the duration, strategy, and level of interactivity, look for a vendor, who offers value-add services such as:
LMS administration support
Duration of updates without cost
Job-aids
According to me these are the main considerations for choosing an eLearning vendor. What are yours? Do let me know in the comments.
For more information, check this eBook.