Top 5 eLearning Trends to Stir Up Within Your Blended Learning Course
Blended learning provides you with the best of both worlds – Online and Offline. With the forever evolving world, eLearning trends also change. This blog discusses the latest eLearning trends to merge within your blended learning course.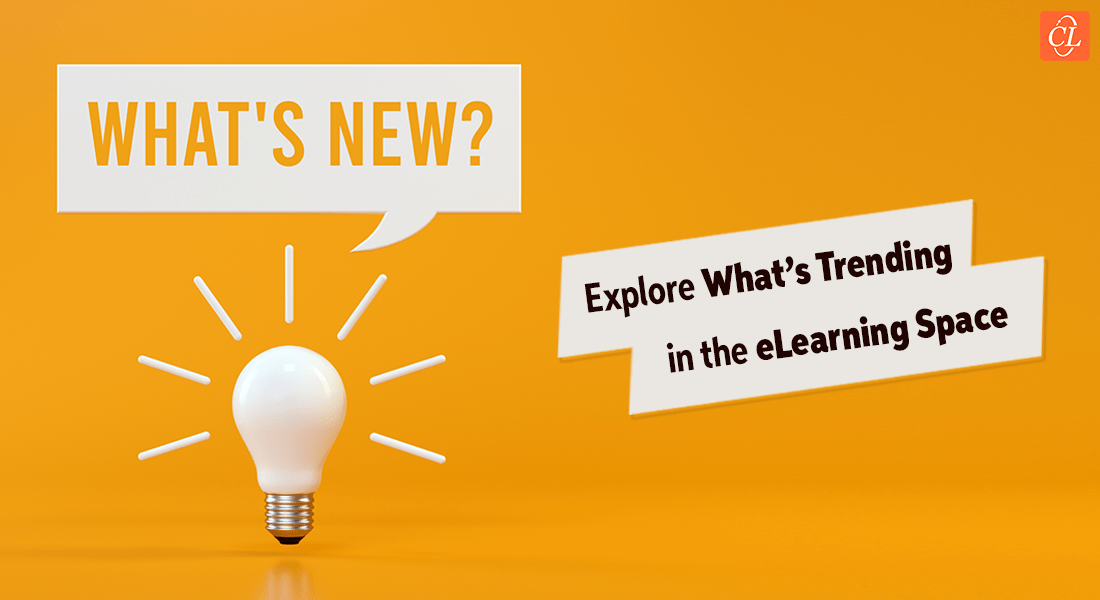 The recent pandemic has forced the world to explore new options for learning as the traditional classroom sessions were extremely hard to host. The need for a change caused the corporate industry to go for a blended approach as it was more flexible and versatile. Multiple eLearning techniques are mixed to come up with a perfect blend, that serves the trainees with an engaging learning experience. In this digitalized era, eLearning has proven itself to be immensely productive for training and development. A lot of eLearning formats exist currently but a few are always trending over the others due to their versatile and personalized approach to training. In this blog, I will discuss the 5 most popular eLearning trends.
Want to Offer the Best Blended Learning Platter to Your Corporate Learners?
Here are some of the popular trends you can try your hands on-
Immersive eLearning Courses
Video-Based Learning
Microlearning
VILT(Virtual Instructor-led Training)
Mobile Learning
Read on to understand these trends in detail.
Top 5 eLearning Trends That Can Help Your Blended Learning Courses Rock
1. Immersive eLearning Courses
eLearning courses nowadays are developed through various instructional design strategies so that the new-age learners are engaged effectively. In order to design engaging courses, a lot of modern techniques and technologies can be blended together or implemented individually to create an immersive eLearning experience.
Best Modern ID Strategies and Technologies
Storytelling – Explaining different topics with the help of interesting stories that consist of hypothetical characters and a conclusion at the end. Learners tend to develop an emotional connection with the protagonist or deuteragonist of the story.
Simulations – Software or machinery training can be the best examples of simulations where learners work in a sandbox environment instead of a real environment. The trainees are allowed to learn and become proficient in this virtual environment in such a way that their mistakes do not affect reality and once they have learned, they can work with software in real-time.
Scenarios – Learners are placed in certain situations and scenarios they might have to face in their job someday. To help learners tackle that situation in real life, these virtual situations are created. Learners get to understand the consequences of their decisions and how their actions can affect the organization. Some of the best examples can be sales training and compliance training.
AR & VR – Augmented Reality(AR) and Virtual Reality(VR) are two of the hottest and most trending technologies to be associated with eLearning. To make the most out of these 2 technologies, industries have incorporated them into most of their training sessions. AR adds digital elements to real life environment whereas VR takes the user into the digital environment virtually. CenarioVR is an authoring tool that helps to create immersive eLearning courses and includes these technologies.
Game-Based learning – eLearning courses can be blended well with games to improve learner engagement to a great extent. Organizations can either gamify the eLearning courses or make the trainees learn through actual games. Games have a lot of genres and every genre can be helpful to make employees learn different skills, whether they are soft skills or technical skills.
2. Video-Based Learning
Videos are one of the most popular formats to deliver any sort of information. Organizations have caught up well with this format and use them to their best potential. Blended learning sessions can be enriched with the addition of various types of videos such as:
How-To videos and DIY guides
Interactive videos
360 videos
Animated Videos
Video Podcasts
Videos can be useful for classroom sessions, VILT sessions, and eLearning sessions as well, and thus, they are immensely effective for all the aspects of a blended learning program. Video platforms such as Youtube or Vimeo allow their videos to be embedded in a course for easy access.
3. MicroLearning
Modern learners have relatively lesser attention spans than any of the previous generations, so they might drop their courses in between if they are lengthy. Hence, these learners are provided with small bite-sized information related to a specific topic one by one, popularly called microlearning. Microlearning modules can be developed in various formats such as videos, audiobooks, infographics, games, etc. Microlearning content can be easily blended with other training formats or even be delivered as standalone courses, it all depends on the learner's needs and the company's training goals. Some of the best use cases of microlearning can be either refresher courses or instant performance support like job aids.

4. Virtual Instructor-led Training
Organizations that have a hybrid workforce use VILT sessions as their primary training programs as it helps the learners to interact with their virtual instructors and clear their doubts in real time. VILT( Virtual Instructor-led Training) is a synchronous online training format that is delivered in a virtual habitat where the learners and the instructors can participate in the training at the same time from different locations. VILT courses help in social and collaborative learning. Features like Polls, chats, and breakout rooms help engage learners and make training impactful. Companies use VILT within their blended learning sessions to assist employee training for departments such as sales or onboarding.
5. Mobile Learning
Smartphones have taken over the world by storm, where every person who owns them, spends most of their free time using it. After the organizations have incorporated the BYOD (Bring Your Own Device) rule, the device that most of the employees were comfortable with, were smartphones, followed by laptops and tablets. Blended learning already being one of the most preferred mediums to host training sessions, mobile learning work as an ultra edge to them. Learners can either learn on-site or learn on the go because of the flexibility these compact devices provide.
To Wrap It Up!
Blended learning sessions are improving with time, and new technologies are being introduced, which will eventually introduce more combinations of various techniques and strategies. Have you ever wondered why there is a need for so many combinations? Learners are of different personalities and have distinct interests, so engaging them in one type of format can be a problem, thus, multiple combinations are required. If employees are engaged, they become proficient in their work faster. Access this free webinar recording to gain deeper insights on how blended learning can accelerate time to proficiency.
Editor's note: This post was originally published in September 2022 and has been updated for comprehensiveness.