Mobile Learning – A Quick Overview!
Gone are the days of being restricted to desktops or laptops. Today, eLearning courses must adapt to the pace of the generation that is on-the-go. This is where mobile learning comes in. Mobile phones and tablets function just as well as desktops and they help us save time and overcome facility constraints. Utilizing mobile phones to learn is the most logical solution for today's generation.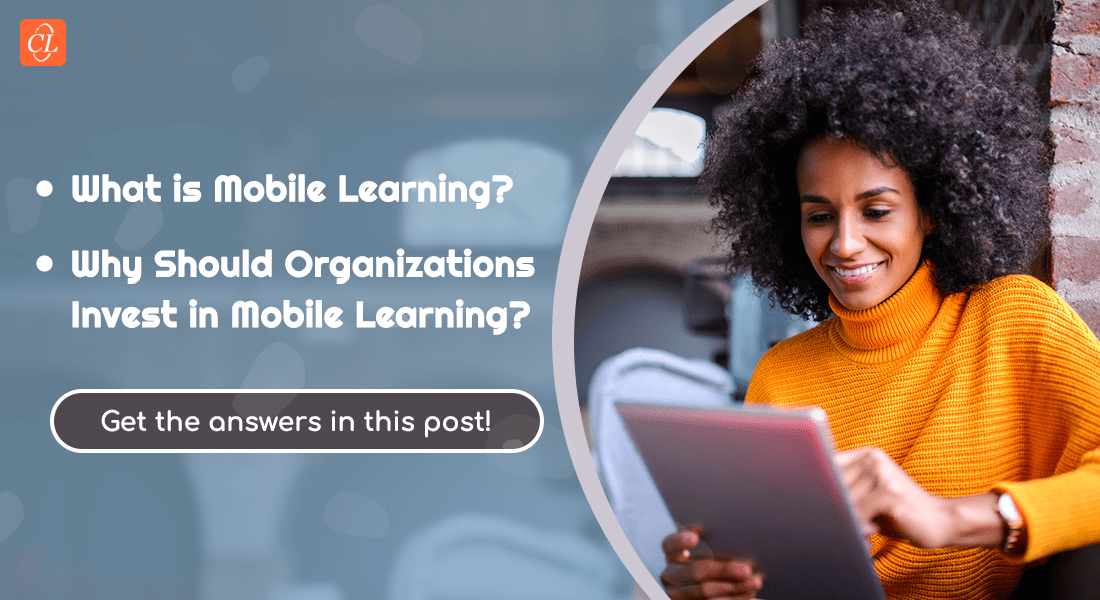 "As long as you have a Cell Phone, you are never alone"
– Stanley Victor Paskavich.
Mobile phones and devices have become an indispensable part of our lives today. The world would be a very different place without these smart devices? With necessities and luxuries being just a click away, mobile devices have overcome the limitations of time and space. Consequently, utilizing mobile phones and tablets have become the norm, and we need to use them to our benefit. Read on to learn more about Mobile Learning.
Interestingly, most millennials prefer mobile first courses or mobile only courses. These mobile learning courses, that are a boon to the on-the-go generation, have made an indelible impact. According to a survey by Towards Maturity, 64% of the respondents said that they access learning from their mobile devices. Moreover, the survey goes on to report that 89% of its smartphone users download apps and 50% of them use their apps for learning.
What is Mobile Learning?
Mobile learning supports learner preferences, saves time and engages today's millennial workforce. In simple terms, it provides 'anytime-anywhere' accessibility for trainers and learners alike. Mobile learning is a self-paced online training platform that can be accessed by learners on their tablets or smartphones.
Are you wondering where to use Mobile Learning in your corporate training?
Mobile Learning is ideal for
Sales Personnel
Channel Partners
Customers
Senior Management
Millennials
However, this does NOT mean that any eLearning course delivered on a mobile phone or device is a mobile first course. Mobile learning must fulfill two criteria – learners' mobility and device utility. The learner must have a pocket-size portable device and the mobile learning course must be accessible on the move. Only when these two standards are met by a course, can we call it a mobile learning course.
Benefits of Mobile Learning in the Workplace
Who does Mobile Learning serve in the workplace?
Mobile Learning benefits:
Desk-free employees such as factory employees
The distributed workforce that are forever on the go.
The global workforce who mostly rely on mobile phones rather than desktops.
Let's find out who the most suitable audience are for mobile-first learning courses.
Sales Personnel – It is a known fact that sales personnel and technicians are always on-the-go. They can join a course during their commute to work, coffee breaks or even at home. All they need is a portable mobile device and a working internet connection.
Channel Partners– They include people such as wholesalers, distributors, and agents who require knowledge while on the go.
Customers – You can educate your customers about new products and processes, as well as product features using mobile learning. It can also help you expand your base of loyal customers.
Senior Management – Senior managers usually have a very tight schedule. Mobile first courses help them keep up to date with the latest happenings in their organization.
Millennials – Technologically advanced courses are the need of the hour. Millennials spend most of their waking moments on their phones which make them the ideal beneficiaries of mobile learning.
The demand for mobile learning is not going anywhere, anytime soon. Here is what mobile learning can offer learners as well as organizations.
Benefits for the Organization
Timesaving method
High ROI
Great productivity of learners
Future-proof design
Read on to gain a deeper understanding of organizational benefits.
Benefits of Mobile Learning to the Organization:
The easy reach of the mobile phone or device enables learners to access them at their convenience, and they complete most of their courses well within the allotted time. Organizations greatly benefit from mobile learning. When learners save time through mobile learning, they can spend that time being more productive on job-related tasks.
Learners are the most productive when they retain what they have learnt. Mobile learning helps learners hold on to their newly gained knowledge as well as maximises its use for the long run. This gives learners more knowledge of their jobs, which in turn helps the organization maximize their ROI. Handling a mobile device is quite easy and learners are more likely to use their mobile phone or devices to complete their training. This leads to the employee rate of proficiency or productivity going up When learners are proficient at their jobs, it is a win-win, for them as well as for the organization.
The future proof design of mobile learning helps to make it adaptable and productive even in the future. This saves the organization on their future investments.
Benefits for Learners
Easy Accessibility
'Anytime-Anywhere' Learning
Engaging and Interactive Formats
Collaborative Learning Support
Learners' benefit in the following ways:
Mobile learning provides a major advantage of ease of access. While learners can access their mobile phones and devices according to their need, they can also access mobile learning online as well as offline. As a result, mobile learning is a popular solution among today's generation, as it overcomes many limitations.
The 'anytime-anywhere' feature of mobile learning is its hallmark. Also, since mobile learning is self-paced and self-directed, it offers its learners flexibility and comfort.
Mobile learning platforms are engaging and interactive. What's more, their courses become an instant hit with Millennials.
While learning takes place at one's own pace, mobile learning offers greater collaboration with more avenues to interact and learn, thereby making the learning process more satisfactory.
You may come across the terms Mobile-first, mobile-friendly and mobile-only. These are NOT all the same!
Mobile-first or responsive courses -These courses are developed for a larger audience. They offer seamless learning experiences across all screen-sizes on laptops, desktops, tablets, or phones. The idea is to design courses for decreasing screen-sizes as they can be viewed on larger ones (desk-tops) too.
Mobile-friendly or adaptive design – These courses are multi-device compatible. The difference here is that the courses are best viewed on landscape mode as they shrink in size when viewed on portrait mode. The adaptive nature of these courses makes them customizable which is ideal for a combination of desktop and mobile learners.
Mobile-only courses – Such courses are designed specifically for users of the mobile phone and tablet. These courses support learners to access content on the go. These courses utilize microlearning course content (?).
To Sum Up!
The impact of mobile phones and devices is indelible in today's world. People of all ages are usually found engaged on their phones. This can be capitalized by giving people more opportunities to learn on their phones through mobile learning courses. Mobile learning greatly enhances the learners' experience. Mobile learning makes life easier without the hassle of laptops or desktops. Mobile learning courses are a boon! Download this free eBook to make mobile learning a successful part of your training strategy.