Training through Mobile Apps: Enabling Training Anytime, Anywhere
The usage of mobile apps for learning is on an increase and for good reasons. Read this blog to know more about how mobile learning can be used in training by organizations.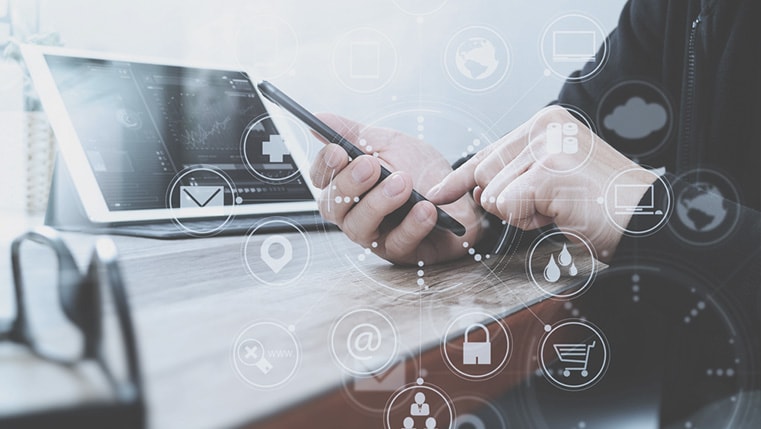 After the advent of Internet and mobile technologies, corporate training has evolved by leaps and bounds. The transition from traditional learning to e-learning and now mobile learning has enabled corporates to enhance employee skills using the latest technologies. Mobile learning has become more affordable, accessible, and effective than its traditional counterparts.
How is it different from traditional classroom training?
The traditional training method requires the trainer and the trainee to be present in a brick-and-mortar facility for specific periods of time. Learning through mobiles allows accessibility to the course at any point of time. Trainees don't need to be present in the same physical space as the trainer. Hence the spatial differences are no more a limitation in mobile-learning.
With bite-sized learning modules, learners do not need to go through lengthy books and presentations. Even otherwise, long and complicated courses becomes easier to understand once information is broken down into chunks of learner-friendly content. Smaller chunks of information are also easy to remember, which increases the retention level of employees. These learners in turn become proficient enough to apply the knowledge at work.
Why is it ideal for corporate training?
Scope for Scale: Like eLearning, m-learning provides better scope to scale than traditional training, as any number of employees can be trained at the same time. The employer and the employees are not required to travel to a particular area. It ensures greater productivity and savings on expenditure.
M-learning is scalable to thousands of employees in terms of efficient content delivery and the scope to assess the learner's progress. Also, the ever-increasing rates of mobile users have led to an increased accessibility of learning apps through mobiles.
Flexible: Mobile learning lets employees learn at the workplace, at home and, even while traveling. Some courses can even be downloaded and accessed offline, if enabled by the organization. Mobile learning is compatible with videos, infographics and, podcasts in multiple devices such as smartphones and tablets.
It's flexible and allows blended learning, in case the organization feels the need to have face-to-face trainer interactions for certain courses. This increases retention rates and boosts performance, as well by tailoring the learning materials to meet the needs of employees, which creates a customized learning experience. Multimedia tools make the course creative, effective, and at the same time, engaging.
Personalization: Since employees use their own devices, there is a sense of increased comfort among them. Also, employers do not incur any additional costs on devices because employees use their own personal ones.
Cost-Effective: With traditional learning methods, it would take a lot of time to update and formulate a new course. In mobile learning, reproduction of the same is cost-effective and less time consuming. The online platforms allow the employer to update important elements quickly and easily. The content stays online and needs no printing. Employees can go back to the course whenever they wish to. An increased Return on Investment (ROI) is clearly the largest benefit of mobile learning.
Collaborative Learning: Mobile learning fosters a collaborative environment for employees to share information, irrespective of where they are. Queries can be easily shared on online forums and platforms. It encourages employees to use instant messaging service or other conferencing tools in their mobiles.
Multimedia: Mobile learning can be made interesting by adding elements and techniques such as gaming, videos, infographics, podcasts, etc., to any training program. The learning environment becomes more relaxed for learners when multimedia is incorporated in the course. They tend to be more responsive while interacting with the course. Multimedia allows the learning module to be more interactive and fun-filled.
Challenges with mobile learning in the workplace
Security: As more and more devices are used for accessing online learning modules, security threats have to be taken into consideration. In order to mitigate this risk, measures have to be taken toward mobile audit, periodic checks, and constant support from mobile security consultants. It has to be ensured that crucial data of the organization is secured.
Other distractions: Learners can access all sorts of information when they use their phone. They will also have access to their social media accounts while simultaneously receiving and answering calls and texts messages. This can be distracting.
Since the majority of the workforce in an organization uses mobile devices, it makes good business sense to incorporate mobile learning in their training solutions. It would increase productivity and efficiency. The benefits of mLearning can far outweigh the risks if it is deployed properly.