How to Engage Learners in a VILT Session
Did you know that you can craft a unique virtual classroom experience for learners? Explore tips on how to engage your learners during VILT session.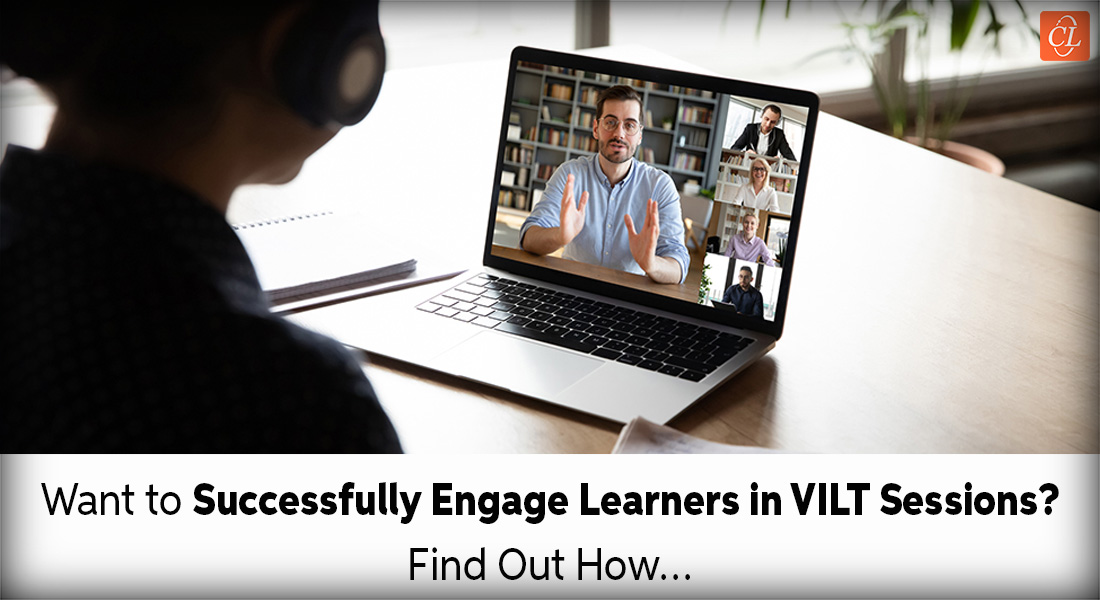 You are here because you want to improve the engagement of your learners during your VILT sessions. VILT helps you digitally overcome the restrictions brought about on the world through COVID. Here's something that you shouldn't do during a VILT session. You mustn't tell your participants at the end of the session that you are going to share a copy of your slides? It makes the learner feel that all the time and effort they put into taking notes is in vain.
Are You Looking to Enhance Learner Engagement in Your VILT Session?
Here are a few tips to help you:
Perform Periodic Pulse-checks
Provide Breaks
Create Collaboration Activities and Games
Make Them Shorter Than ILT
Stick to the Learning Goal
Read on to learn more.
VILT: A Definition, Types, and Challenges
What is a VILT? VILT, or virtual instructor led training is a form of synchronous online training that is delivered in a virtual environment with the instructor and learners participating in the session at the same time, but from various locations. VILT is a remote training session with a facilitator instructing learners on an online platform.
There are several types of VILT. The following is a list of different VILT sessions:
One-to-many VILT: The one-to-many VILT does not have two-way communication. It is where there is one facilitator and many participants. This type of VILT can involve polling and the use of video conferencing tools.
One-to-one VILT: The one-to-one VILT is where there is one facilitator and one participant, and it is like a one-to-one or peer-to-peer training.
Small Group VILT: A small group VILT is where there is one facilitator and a small group of learners, usually 3 to 5. This is for smaller teams who are learning a new process or task at work.
Workshop VILT: The workshop VILT is where participants come to learn a new software or a new task, and it involves practice time where learners can work on a new project. It also requires homework and a follow-up during subsequent sessions.
Virtual Classroom: A virtual classroom is like an online lecture where there is no polling or video conferencing. Participants are muted during such sessions, and they are primarily watching the facilitator give a lecture. There's extremely limited interaction between the facilitator and the participants in the virtual classroom.
There are many ways to maximize learner engagement in a VILT, and it takes planning and effort to replicate the essence of the physical classroom. You can use things like breakout rooms, chats or text-based communication, and whiteboard activities to better engage your learners.
There are also a few challenges when it comes to engaging the learner. They include not being able to assess the non-verbal communication of the participants, digital fatigue, and the limited time as compared to in-person classroom instruction. One of the challenges called digital fatigue and mental exhaustion comes through the excessive use of multiple apps and screentime.
Here are five achievable tips to help you engage your learners during a VILT session.
5 Practical Tips to Engage Learners in a VILT Session
1. Perform Periodic Pulse-checks
It is best to keep checking in with your learners when conducting a VILT. As an instructor, you need to make sure your learners are as active as possible and also not falling asleep or getting distracted by a plethora of other activities that can occur in the VILT's remote setting. You don't want your VILT stuck behind three windows, and the learner is actively engaging in an ongoing email chain or playing a video game. You need to ask your participant to do something every 3 to 5 minutes, and you can also keep sharing a recording of your session every five to ten minutes. This is to encourage your learners to ask questions in case they missed something or when they need to clarify their doubts.
2. Provide Breaks
If your VILT session is 40 to 50 minutes long, then make sure you provide a ten-minute break in between. This way, your learners have the time to go through their notes and assess how much they are gaining from the session and where they might need extra assistance. When you provide your learners breaks during your VILT session, they are able to rejuvenate themselves and come back to the session with even more motivation.
3. Create Collaboration Activities and Games
Learner engagement can only go up when you have your learners participate in a fun game and activity. This is also true for an ILT or instructor led training. You might remember an interesting classroom project that you got to engage in, where your teacher had you do things out of the ordinary, and it made the everyday mundane tasks at school that much more exciting.
You must also design online polls where your learners share their feedback and opinions and enable chat sessions for the text-based exchange of information between the facilitator and the learners. You should also initiate breakout rooms during your VILT to replicate the peer-to-peer collaboration activities of a brick-and-mortar classroom session. Another way to engage your learners is playing a game of Pictionary on your whiteboard with your learners. This way you help them brainstorm strategies as well as participate in team building initiatives through worksheet activities. You need to design Q&A sessions into your virtual training strategy and also ask your learners questions during the session to check whether they are focusing on the topic. VILT games need to ensure that they are built using the best and most visually engaging graphics as this will help your learners pay attention even more.
4. Make them Shorter than ILT
A VILT session typically lasts under an hour. So, if your ILT or in-person classroom session lasts longer than an hour, you need to break them down into shorter sessions, specifically when designing a VILT from the same training material. For instance, if you have a two-hour long instructor-led training, you can design two one-hour long VILT sessions to help your learners better process the information. A long VILT can make a learner loose interest faster than through an overly long seat-time in a physical classroom.
5. Stick to the Learning Goal
As you have less time in a VILT session when compared to an ILT, you need to set a clear goal to ensure your learners are focused during the virtual training session. Your aim in designing the VILT is to ensure the learning goal is met. You don't need to transfer every part of the content from an ILT to a VILT session. You only need to take the most important information that is directly related and impacts the learning objective of the VILT. The rest of the content can be given in the form of supplementary and pre or post VILT training material.
You can also boost your learner engagement in a VILT session by offering participants a 'teach back' opportunity. The VILT facilitator needs to involve his or her learners as much as possible, instead of just lecture at them. The VILT instructor can allow the learner to 'teach back' at them. This is a method to get learners to explain to the instructor the knowledge they've preserved correctly. And if they miss some information, the facilitator can fill in the blanks for the learner.
It's a Wrap
These are the five tips to help you design super engaging VILT sessions and motivate your learners to get more out of their virtual training session. Do you have more questions about VILT? You can find answers and more in our eBook on techniques to motivate your virtual classroom learners. Click on the link below to download it now.