5 Things to Keep in Mind While Designing VILT Courses
Designing VILT courses to ensure maximum training impact and efficiency is easy now! Yes, you read it right. But curious to know how? Well, there are a few basic things you need to be careful about. Read this to find out the 5 things to keep in mind while designing VILT courses.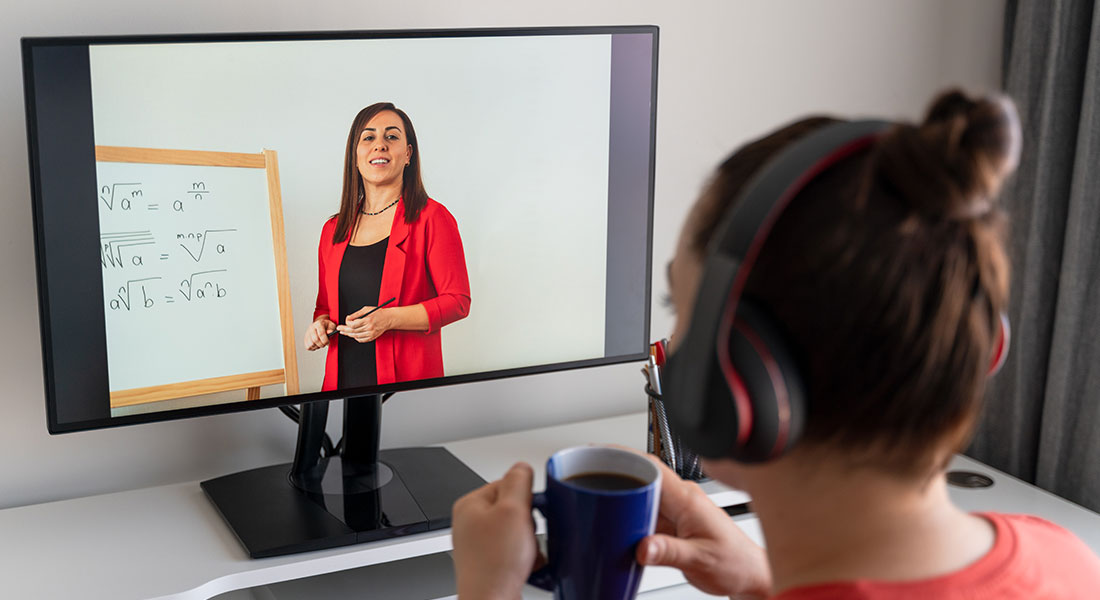 Designing Virtual Instructor-led Training (VILT) courses effectively is not an easy task. But that doesn't mean you should stop trying. Rather it means that you need to put your best foot forward by paying close attention to the important elements of a VILT course. They help you design high-impact, learner-centric training courses. Now if you're wondering what these elements could be, this blog is just for you!
Designing VILT Courses is Easy Now!
Here are the 5 Things to Remember:
Understand your learners
Create engaging content
Provide timely breaks
Include relevant content
Select the virtual platform carefully
Here I'll discuss five things that you need to keep in mind while designing your VILT courses.
Why keep waiting? Let's begin.
5 Things to Keep in Mind While Designing VILT Courses
1. Understand Your Learners
Understanding your learners is a fundamental aspect of designing effective VILT courses. That's right! This element involves identifying the target audience and understanding their specific learning needs. In turn, it lays the foundation for creating relevant and engaging training material. But how can you understand the learners? Well, you can conduct a thorough needs analysis, along with other factors like demographics, learners' prior knowledge, their skills, as well as learning preferences.
Moreover, understanding your learners also includes assessing their technical proficiency and familiarity with virtual learning platforms. It plays an integral role in tailoring the VILT course according to learners' specific requirements for maximum impact. It helps you in identifying the potential barriers and allows you to provide additional training resources or tutorials to support the learning of your employees.
And that's not all! Being well-versed with your target audience enables you to select relevant instructional design strategies that accommodate diverse learners and foster learner engagement. For this, you should pay attention to different learning styles, language proficiency, cultural backgrounds, accessibility needs, etc. It creates a more inclusive learning environment.
2. Create Engaging Content
Pick one: A lengthy text or an interactive eBook.
I'm sure, most of us have opted for the second one, i.e., an interactive eBook. Your learners are no exception! It is a well-known fact that interactive, engaging training content delivers more effective, desirable results. Therefore, it is a vital component in designing VILT courses too. To ensure interactivity and engagement in your training material, it is important that you strike a balance between presenting relevant content and choosing the right instructional design strategy, along with other multimedia elements and eLearning interactivities.
To begin with, define your learning objectives and outcomes clearly. Based on this, create a clear, concise roadmap for your learners. It will help you design content that is focused, relevant, and aligned with the desired learning outcomes, thereby making it more engaging and interesting for the learners.
Furthermore, you can leverage different multimedia elements to augment the learning experiences in VILT courses. This can include videos, infographics, audio, digital flashcards, etc. eLearning interactivities are another great way to grab the attention of your learners and foster active participation. Check out the infographic below to know a few examples of eLearning interactivities.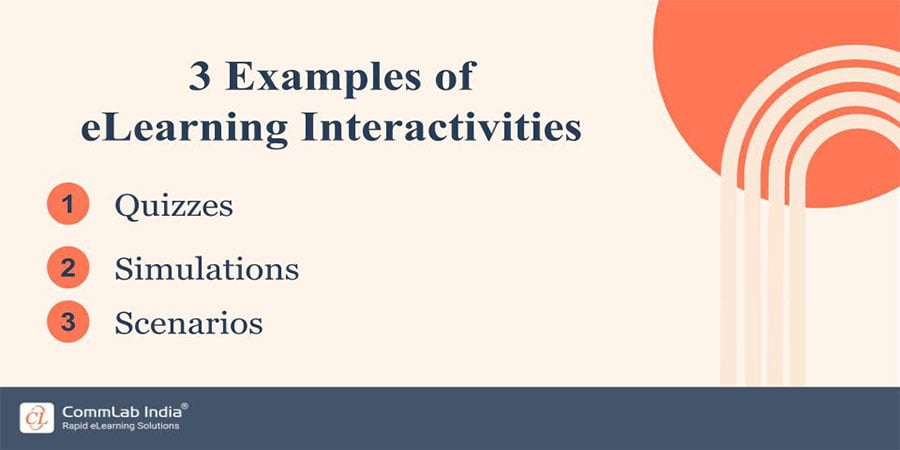 You can also design course content that offers opportunities to collaborate. It promotes engagement and coordination among learners. Well, engagement isn't just limited to courses. It must be very well carried forward to eLearning assessments as well. So you can use quizzes, MCQs, match the following, group discussion, etc., to evaluate the understanding of your learners. Overall, all these elements collectively form the basis for designing effective VILT courses that result in meaningful and impactful learning experiences.
3. Provide Timely Breaks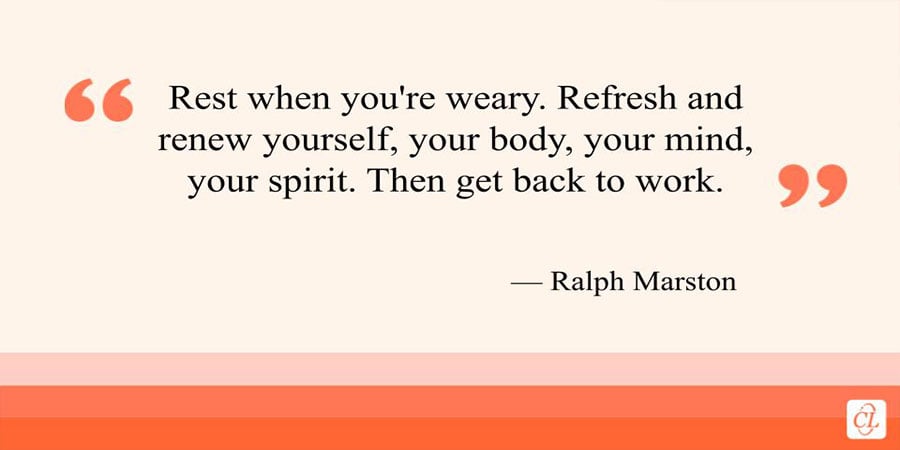 Ralph Marston's quote is a great reminder to take breaks. It emphasizes the importance of rest and rejuvenation. With that said, in your VILT training course, providing breaks offers your learners the opportunity to pause, recharge, and revitalize their engagement with the training content. Such intentional intermissions not only ensure cognitive refreshment but also boost physical comfort and interaction.
Therefore, while designing the VILT courses, make sure to incorporate breaks in a well-planned manner for a balanced, learner-centric training experience.
4. Include Relevant Content
Content relevancy is the key to effectiveness. So keep this thing in mind while designing VILT courses. Your content should align closely with the learning objectives and meet the specific requirements of the learners. To create relevant training material for your learners, try to segregate the need-to-know information from nice-to-know information first. Need-to-know content is the essential information for accomplishing the learning objectives. Without this information, the whole purpose of conducting the VILT session would be defeated.
On the other hand, nice-to-know information refers to additional information that doesn't contribute to the learning goals directly. It is the supplement knowledge that some learners might be interested in knowing. But if you skip it, it won't really impact the training ROI. Apart from these two elements, it is crucial to ensure that the selected information is accurate and up-to-date because providing outdated or inaccurate information can hinder the learning process. Check out the video below to learn more about enhancing the VILT efficacy.
5. Select the Virtual Platform Carefully
You wouldn't attempt to cross the ocean on a bicycle. Would you? Similarly, it is equally important to select the right platform for facilitating the VILT course. Your selection of the virtual platform is intricately woven with how you design your VILT courses. After all, the VILT platform you choose serves as the sturdy vessel to carry your course content, facilitate meaningful interactions, and ensure a smooth learning experience.
And a word of caution here is that not all the virtual training platforms would support the design and format of your VILT courses. So when you embark on your decision-making journey toward selecting the right platform, consider the features and functionalities that will navigate you toward success. Make sure they align with your course requirements and support the design of your VILT course.
From live video conferencing to breakout rooms that ignite collaboration, the virtual platform is the key. With that said, design the courses in a way that aligns with the platform's device compatibility and accessibility needs. Along with this, make sure it follows the policies and guidelines of the virtual platform to facilitate an effective and seamless learning experience for your learners.
Wrapping It Up!
Evidently, designing VILT courses calls for careful planning and implementation. Combining both these elements helps ensure a holistic, positive training impact. Effectively designed VILT courses allow the learners to furnish their skills and enhance their knowledge which further augments their performance and productivity. Moreover, this paves the way for maximum training ROI. And now you already know the 5 things to keep in mind to design VILT courses in an effective manner. So why miss a chance to create learner-centric, impactful VILT training courses? Get started right away! If you're just taking baby steps, then given below is a beginner's guide on Virtual Instructor-led Training. Check it out now!