What Makes for Successful Blended Learning?
In blended learning, ILT and eLearning provide a comprehensive learning experience. This blog discusses criteria to design blended learning.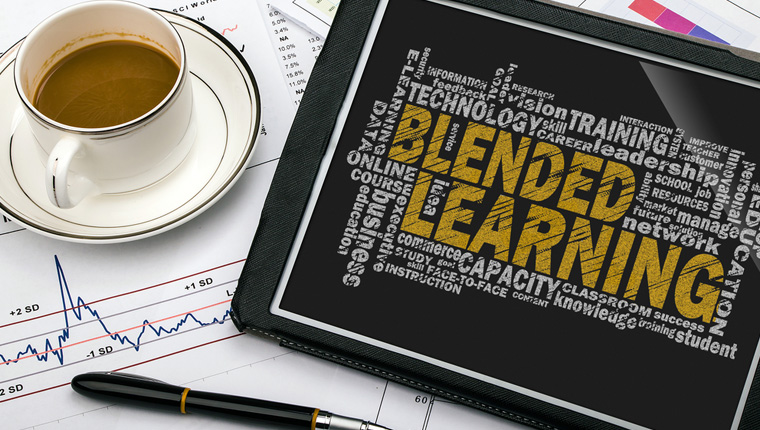 Blended learning, a hybrid learning strategy that utilizes both classroom and digital learning methodologies is the trend in corporate training. According to the 2018 Learning Strategy Study by Brandon Hall, 52% organizations said this approach is effective at delivering learners a tailored learning experience. But how do we go about this blended learning approach?
For years, your organization might have relied on classroom training which is highly effective in imparting training. However, today with technological transformation sweeping through organizations and the work culture becoming increasingly remote, a pure instructor-led, "one-size-fits-all" approach is no longer an ideal choice for global organisation.
To meet the needs of today's dynamic business environment, we need to blend classroom training with different delivery methods such as eLearning and other online formats. ILT and eLearning when brought together complement each other and provide a comprehensive learning experience to learners.
How do you blend formats that make for a successful blended learning? Kaye Thorne in her book "Blended Learning: How to Integrate Online and Traditional" discusses the key criteria to plan for ways of integrating different forms of learning in a blended learning solution. Let's take a look at these criteria.
Criteria to Get Blended Learning Right
1. Identify the Core Learning Need
Each learner group will have different learning needs. For example, new hires will need detailed insights on their organization's business processes, unlike experienced employees (who might just need periodic refresher training or access to updates). In blended learning, you are at the advantage of providing the right solution to your learners which is more focused and specific to their learning needs. Taking the same example forward, while new hires will benefit from face-to-face interactions on the processes, whereas others can be given access to an eLearning for the latest updates.
In blended learning, look for opportunities to creatively design a learning experience and use a variety of media to match different learner needs.
Consider at which stage of the learning program your organization will adapt the eLearning component of blended learning. Online training can be integrated in the following stages of a blended learning program:
As an introductory teaser at the beginning of the training program to provide learners an overall idea of what will be covered in the proceeding classroom session
To facilitate actual learning. Here, an ILT session can be conducted later for a face-to-face interaction with the expert and exchange of idea among peers
Pre and post-training assessments to evaluate learners and provide immediate feedback
Demonstration videos on a particular process. These videos can be provided before the commencement of an instructor-led workshop session
Short videos and infographics can act as post-training refreshers or on-the-job support aids
2. Establish the Level of Demand for Blended Learning
The very nature of blended learning is flexibility. While developing a blended learning solution, it is of real importance to gain an understanding of the shape and scale of learner demand. How immediately do you wish to roll out the training program? How large is your learner group? Both these questions matter while establishing the level of demand for a blended learning solution.
Imagine your company is planning to go live with a new product globally within the next two months. You need to upskill the sales force with the salient features of this new product immediately. Here, the need is immediate, and the learners are in vast numbers. Hence, conducting an ILT session alone is definitely not a feasible option.
An online program can be immediately rolled out among employees in the form of a short video or an infographic explaining the salient features of the product. This helps the sales team have a quick understanding of the product features before its launch. An ILT session that offers a deeper understanding on the product can be offered at a later stage as part of an annual training program.
3. Recognize Different Learning Styles
Several theories such as the VARK model suggest that everybody has their preferred style of acquiring knowledge. Blended learning approach meets learners where they are and tailor to their learning style. This is because learning resources will be available in learners' preferred online formats and can be accessed even after classroom sessions.
This is important as today most organizations have a multigenerational workforce comprising the millennials, Generation X, and Baby Boomers. Millennial learners want to quickly access knowledge wherever they are and whenever they want it. Hence, they will demand online and mobile learning formats such as videos, games, animations, infographics, and simulation-based learning. On the other hand, Generation X and Baby Boomers who are more used to classroom training and reading look for easy to access short and relevant content.
Moreover, the preference of learners can also vary with respect to their working environment. Hence, it is significant to take into account the environment in which learners work. For example, the sales force which is always on the move would like to be part of an online learning community which helps them share knowledge and interact with peers through a smartphone. On the other hand, employees who are on a highly technical task would prefer an expert-led workshop where they can have hands-on experience with the equipment.
4. Look Creatively at Designing Blended Learning
While blended learning has several benefits to offer, its success hinges on its design. Identifying what goes into the classroom and what goes into the online component of a blended solution is a very delicate task, requiring a high understanding of the learning goals and learner profile. If not designed optimally, the whole blend will be a 'dud', and you will fail to capitalize on its benefits.
Thankfully, one way you can't go wrong in designing a blended solution is by using the Job Task inventory Matrix.
A job task inventory consists of the job title, job duties, and the list of tasks to be performed on the job – for each learner profile.
Once the tasks have been identified, they need to be categorized based on four critical parameters – frequency, importance, difficulty in learning the task, and the risk associated with performing it incorrectly.
Now let's see an example on how to design a blended learning solution based on the analysis. If, in a job inventory template, all the parameters high, then blended learning can be a combination of both ILT and eLearning.
Classroom training with a subject matter expert who provides detailed information and clarity of consequences or risks involved
eLearning with demos, virtual practice opportunities, and instant feedback
On-the-job support aids to gain mastery on the subject
On the other hand, in a different scenario, the knowledge required to perform a particular job role is not complicated and can be easily learned. Also, there is a limited risk involved. In such a situation, there is no need for an instructor-led training program. Instead, training can be directly taught through the following learning methods:
Performance support tools
Self-paced learning
Social learning
5. Undertake a Pilot Project to Demonstrate the Benefits of eLearning
Assuming your organization is new to online learning, a working prototype of a microlearning or an eLearning module will help you illustrate the potential of eLearning to top-level management, executives, as well as learners.
Additionally, this opportunity will help subject matter experts and training managers in identifying how eLearning can be leveraged to supplement and complement classroom training. It will support them to handle the new change in the training process and tell them how well the approach will work.
Support your learners throughout the blended learning program and monitor their individual progress. You can make the best use of a Learning management System (LMS) to track learner scores, lessons covered, and improvements that can be made. Blended learning makes your corporate training learner-centric. It allows organizations to leverage the best of both worlds and makes the time spent in classroom more fruitful. Harness the full potential of blended learning and extend the accessibility of training among your global workforce.