Training Disruption due to COVID-19: Rapid eLearning to the Rescue!
Training disruptions due to COVID-19 can be resolved with rapid eLearning. Let's find out the different solutions rapid eLearning has to offer.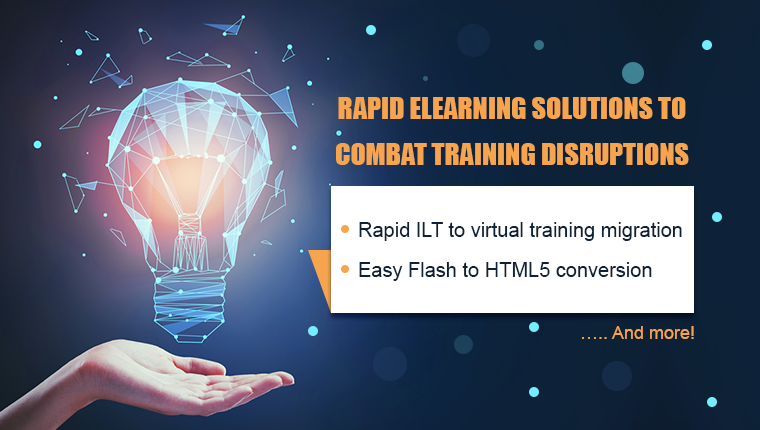 Hello, Training Managers! I imagine you must be knee-deep in the mess that COVID-19 has brought in. In our survey, 57% of global organizations agreed that this lockdown has led to an unprecedented training disruption. That certainly explains the drastic change in their buying behavior. Most organizations are now buying off-shelf courses, shifting to virtual training, and trying several other quick fixes to get their training back on track. But instead of going into a panic mode, why not look into rapid eLearning? It's a tried and tested strategy that can solve most of your problems in one go.
Rapid eLearning services have always been the remedy for quick training rollout. You can cut down development time by 40-60% and deliver training results within a limited budget. You don't even have to worry about compromising on quality (for the sake of quicker delivery) because the whole rapid eLearning design and development process is based on robust instructional design principles.
Can you think of a better strategy to solve your current training problems?
No, right? So, let's explore the scope of rapid eLearning and the different ways it can help overcome your training disruption.
Rapid eLearning to Overcome Training Disruptions during COVID-19
Quick ILT to virtual training migration
Easy Flash to HTML5 conversion
Quick microlearning development
Rapid eLearning translations
4 Ways Rapid eLearning can be Used to Overcome Training Disruptions
1. Quick ILT to Virtual Training Migration
According to Training Industry, the search rate for virtual training, VILT, and eLearning has increased by 8,135% because of the COVID-19 crisis. Which is understandable, since most organizations that depended mostly on classroom training are now looking for quick ways to make training accessible to employees who suddenly find themselves working from home.
How will opting for rapid eLearning help in migrating from instructor-led classroom training (ILT) to virtual training, be it synchronous (VILT) or asynchronous (eLearning) mode?
Here's how rapid eLearning can help in quick development of synchronous and asynchronous virtual training.
Rapid eLearning will help you:
Transform all your existing ILT materials, be it manuals, handouts, SOPs, PDFs, question banks, or PPT decks, for VILT sessions
Eliminate unnecessary content and stick to useful and specific 'need-to-know' information for both the modes
Reduce the time and cost of training development through the use of rapid authoring tools (by leveraging reusable templates, built-in interactivities and media assets like images, videos, and audios) for eLearning courses
Replicate classroom interactivities in eLearning and VILT through instructional strategies or methods
2. Easy Flash to HTML5 eLearning Conversion
While working from home and trying your best to get your employee training back on track, are you sure you aren't forgetting something in all this confusion? Shifting from classroom to virtual training is, I agree, very important, but what about that repository of legacy courses created in Flash and other authoring tools now obsolete? How can you use them?
There is a way to make use of them. Yes, I am talking about Flash to HTML5 conversion of eLearning courses.
Flash will be gone for good by the end of this year, lockdown or no. And once that happens, there will be no going back. All Flash-based courses will cease to function on any browser – there will be no way you can use them. That will hit your training plans harder than this lockdown, and that is saying something.
So, what can you do to salvage your valuable legacy courses? Opt for rapid conversion, of course! Converting your Flash courses to HTML5 will not only enable remote learning in the current situation, but it will also prevent training disruptions in the future. And using rapid eLearning will make the whole conversion process a lot faster and easier. Here's how.
Flash to HTML5 conversion will:
Enable the use of already existing courses and assets, saving a lot of time and effort which would have otherwise been spent on recreating courses from scratch
Offer an opportunity to revamp your legacy courses with new-age instructional practices to meet the training demands of the modern learner
Convert mobile-incompatible Flash-based courses into mobile-friendly HTML5 courses. Most authoring tools can create responsive courses for your remote workforce
Future-proof your training, protecting you against such training disruptions in the future
3. Quick Microlearning Asset Development
If there is one thing this entire COVID-19 pandemic and the ensuing lockdown have made clear, it's the need for instant digital training solutions. Migrating from ILT to virtual training and converting eLearning from Flash to HTML5 can be made faster through rapid eLearning, but those are still multi-step processes that need some time. But when you need to rollout training solutions almost instantly, the best way is to develop microlearning assets from existing ILT resources.
Microlearning assets come in various formats – videos, animations, podcasts, interactive PDFs, eBooks, game-based nuggets, GIFs, flashcards, and infographics. They are easy to create, update, and share.
Microlearning modules are the ideal way to deliver focused learning because each module addresses only one learning objective. This makes them effective not only for delivering formal training but also for performance support, post-training. These assets can be modeled into a digital library that can be accessed by learners remotely at the time of need.
4. Rapid eLearning Translations
Unlike other health crises that have occurred in the past, the COVID-19 outbreak is not region-specific. It was declared a pandemic a month ago by the WHO and has affected the personal and work lives of people across the globe. That means your training problems are not limited to your own area or state, but are affecting your entire workforce, wherever they may be. With employees working from home across the globe, the only way to deliver standardized training is through eLearning translations.
And to make the whole translation process faster, you need the magic of rapid eLearning! Here's how rapid eLearning can speedily translate your English courses into multiple languages.
Most rapid authoring tools like Articulate Storyline and Lectora Inspire have an import/export feature that helps in rapid eLearning translations. Lectora also has a switchable language interface that allows learners to switch between languages on the same screen.
Rapid eLearning translations use CAT or memory tools that save translated units such as words, sentences, or segments from a course in a database for reuse in the future.
Summing it Up!
Rapid eLearning services can help you navigate this difficult time and also transform your corporate training program for the better. With the constantly changing corporate L&D landscape, there's no better strategy than this for flexibility and ease in creating and updating courses. And I hope this blog has made the diverse scope and benefits of rapid eLearning very clear.
Since we've talked about ways to lessen the impact of COVID-19 by shifting in-person classroom training to virtual training, I am sure you must be wondering how to ensure effectiveness! In case you're going for synchronous virtual training, – Virtual Instructor-led Training or VILT – your worries must be regarding learners' engagement. Well, here's something that will help you ensure your learners are motivated and excited through the VILT sessions.
Download our free eBook to find out tips, tools, and suggestions to generate motivations and excitement in VILT sessions.