4 eLearning Trends That Will Change The Way You Look At Online Learning
The corporate world has been trying out things and adding upgrades to technologies, and as a result, some of these trends stuck around, while others didn't. Read on to learn more.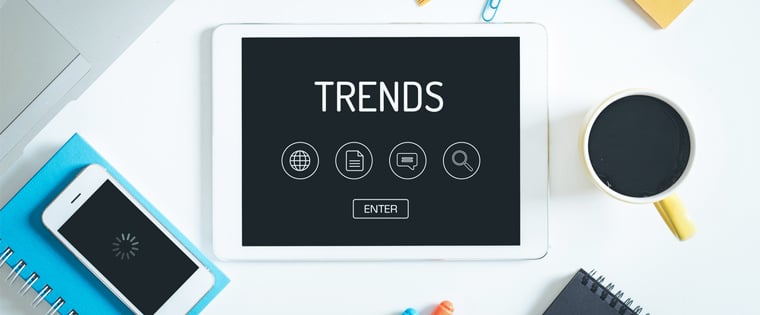 In the Learning and Development (L&D) community, the words learning trends are easily tossed around. However, it is quite tough to live in the midst of a technological disruption in the learning space. No matter how you look at it, it's evident that the disruption in learning trends is larger than it's ever been. In fact, I will go as far as to say that this disruption we're experiencing right now is bigger than when we moved from classroom training to online learning.
Some of these trends that we are going to discuss have been around for quite some time now, and there's a reason for that. The corporate world has been trying out things and adding upgrades to technologies, and as a result, some of these trends stuck around, while others didn't. The revolution of Smartphones has been particularly instrumental in changing things around.
So what are these disruptive learning trends that are taking the L&D space by storm? Are they powerful enough to change the way you currently look at learning? Let's take a look.
1. The growth of mobile and on-demand learning
Mobile learning is one of the biggest technological changes we have ever witnessed. Mobile learning courses are modern and engaging. The use of Smartphones and mobile devices to access learning resources – let alone the training in its entirety – was totally unheard of a few years ago. The ability to offer engaging, interactive content through a device the size of your palm has made a huge impact on how we look at delivering e-learning training content online.
Gone are the days when Flash-based courses were the norm and classrooms were the only training ground. Now, with HTML5 the newer technology than Flash, the opportunities are almost endless for mobile learning. HTML5-based courses are accessible on devices of all shapes and sizes, and can run on all platforms and browsers. It is robust, faster and utterly versatile. For organizations that have long been offering Flash-based e-learning courses, well, they will have to pull themselves out of the murky waters before they fall behind.
Learn more about the mobile e-learning trend here.
2. The demand for gamification to increase learner engagement
Gamification is not a new trend, but that hasn't stopped it from being the subject of a great deal of conversations and myths. The basic premise of gamification is to add game elements to non-game settings to motivate learners and engage them in the training they are undertaking. Specific elements such as adding leaderboards, badges, and achievements to instruction help increase and improve learner performance.
Gamification is an extremely powerful tool that improves a learner's skills and problem solving capabilities. An increasing number of organizations have already begun using gamification to meet their training needs. According to Ambient Insight, the spending on game-based learning is set to reach USD 2,404.12 million by 2018. Why do you think game-based learning is on the rise? Four reasons:
Motivates learners to take the course
Grabs learners' attention
Training can be imparted in a stress-free manner
Reinforces knowledge efficiently
3. Increase in the popularity of video-based learning
Video is soaring, and no surprise. Especially given that it works so well on all devices.
The demand for video-based learning has stealthily witnessed an upward spiral in the recent times. They are short, engaging nuggets that can explain any concept you throw at them. Although videos often get a bad reputation for being a means of informal learning, the truth is that they have become the most sought after phenomenon across the corporate learning space, specifically after the rise in the use of smartphones.
The most interesting bit about video-based learning is its ability to comprehend different learning styles. Videos can easily cater to both visual and auditory learners simultaneously, but there's another reason videos stand out from other trends. Unlike others, videos blend the instructional strategy with the wide assorted range of technology and delivery options, and have largely been nurtured on account of the advent and rise in the use of Smartphones. For example, videos can be made available on your learning portal (or LMS) for learners to access either on their Smartphones or tablets. It's safe to say that videos are truly a valiant alternative to the reclining and somewhat boring conventional approach of e-learning.
4. SCORM and Tin Can API for e-learning content standards
A healthy e-learning implementation is dependent on a Learning Management System (LMS) that can read, run, and report on learning content, with extreme precision. In the last few years, several standardized systems have been developed for packaging learning content. Among them, SCORM (Sharable Content Object Reference Model) and Tin Can API have been instrumental in raising the bar for e-learning content standards.
Although AICC laid the groundwork for a learning content standard, it failed to keep pace with emerging technologies. Every new device or operating system presents challenges to the AICC standard. SCORM and Tin Can API, on the other hand, simplify e-learning and fill the gaps left open by the AICC standard. The outcomes delivered by SCORM- and Tin Can-compliant courses are very similar. Both these standards allow learners to access and launch courses, complete them, take assessments, and also allow the administrators of the LMS track learner progress, which is more or less the end goal of e-learning, for most users.
(I personally feel SCORM is the better option as it not only tracks courses, but also keeps a record of the learner's course progress, completion status, assessment scores, percentages, points gained, the number of times a course has been accessed, and even the time spent by the learner on each screen.)
It may be overwhelming when you realize at once that so much has been happening in the learning and development arena. These learning trends are something your organization may not be ready for yet… but should start planning for soon. It's essential that you should be aware of the trends that will impact your e-learning training and development activities and assess how best you can use them.