What will Happen to Corporate Training in a Flash-less World?
While Flash courses to HTML5 conversions are in full swing, have you been thinking how a Flash-less world would be? Find out what happens when you convert Flash courses to HTML5 and Flash becomes a thing of the past!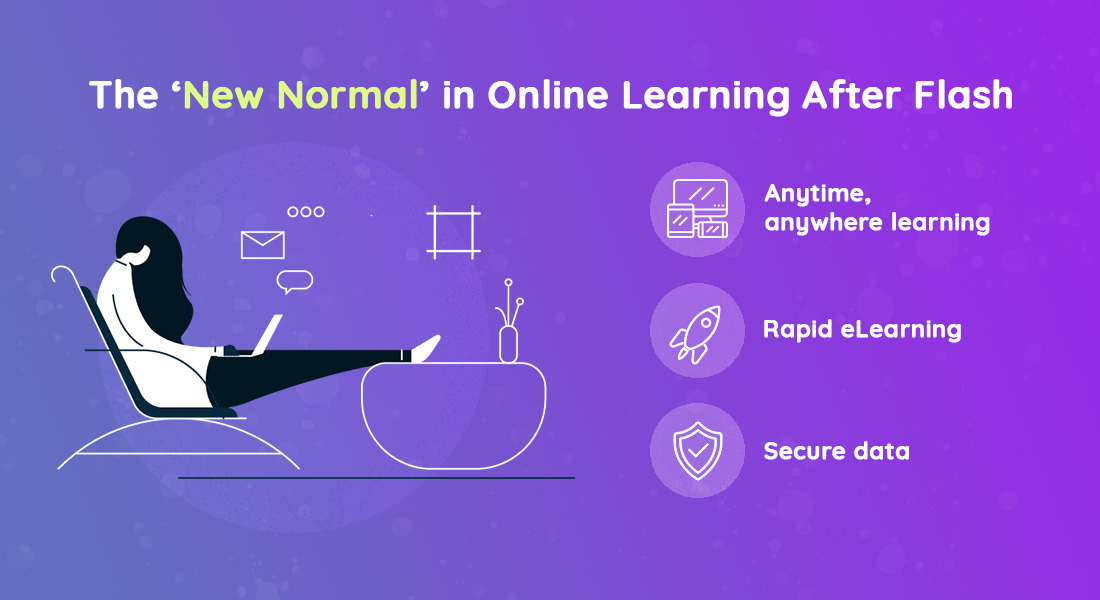 With more than 81.2% of users across the world preferring Chrome as their browser, Flash's 2020 phase out will have a tremendous impact on eLearning (since Flash-based courses will stop working on the latest browsers after their migration to open web technologies). After all, Flash's love affair with online training has been going on for more than two decades. We've leveraged Adobe Flash to develop eLearning courses, including games, videos, complex interactivities, and animations. And now, it's nearly time to say goodbye!
4 Changes in Corporate Training after the Flash Phase Out
Training will finally break free of training rooms
Rapid eLearning will be a reality
Giving courses a makeover will cease to be a headache
Security loopholes will be a thing of the past
Envisioning a Flash-less world, your organization must've started planning for the Flash to HTML5 conversion of their courses. While the conversion of Flash courses to HTML5 is definitely needed to salvage your existing resources, you must be wondering how a world after Flash phase out will look like for training.
Let's find out!
4 Changes in Corporate Training After Flash's End
1. Training will Finally Break Free of Training Rooms
Flash was released in 1996, in a time when desktops (and not mobile devices with touch interfaces) ruled the roost. Though hugely successful for a long time, Flash failed to keep up with the mobile revolution over the years. For starters, Flash-based courses are not compatible with mobile devices – making them unfit for anytime, anywhere access for mobile learning.
In addition, web browsers (Internet Explorer, Chrome, and Mozilla Firefox) will completely migrate to open web technologies (HTML5) in the next three months – making your Flash courses non-functional, even on browsers.
After 2020 (whether you convert your Flash courses to HTML5 or not), eLearning will be ruled by HTML5. This is great for all your converted and new eLearning courses because HTML5 is an open standard, recognized by W3C (World Wide Web Consortium) and integrated into all modern-day browsers. It'll allow you to support and future-proof training by enabling access to online training on multiple devices, both mobile and stationary. And that's not all!
Learners will be able to access eLearning courses even when they are in the offline mode, not connected to the Internet (through mobile apps). That means, online training will finally break free of training rooms and workstations, and be available to learners anytime anywhere.
However, just like any other new training initiative, implementing mobile learning also needs careful consideration. Let's look at a few aspects you should definitely factor for successfully implementing mobile learning in your organization:
Infrastructural and Technological Readiness
Will your organization provide mobile devices to your employees?
Will you implement a Bring Your Own Device (BYOD) policy?
How good is your learners' Internet connection to access mobile learning?
Do you have a mobile-compatible Learning Management System to track and report mobile learning activities?
Design and Development Considerations
Should your eLearning courses be accessible on mobile devices exclusively for mobile learning?
Are you looking for a fully responsive eLearning solution or an adaptive design?
What are the authoring tools you are considering to develop responsive eLearning courses?
Do you need mobile learning for performance support as well?
The answers to these questions will help you nail mobile learning implementation right form the very beginning!
2. Training Requirements of Rapid eLearning Will be Met
Remember the times when you had to work against time to get eLearning courses ready for an urgent training requirement? While you might have had an amazing team that worked day and night to do that, do you feel it could have been better if you had easy-to-use development tools/software at that time?
Well, in a Flash-less world, fulfilling such rapid training requirements won't be a nightmare! With HTML5-based eLearning authoring tools, there is no need for extensive coding and programming (which was the case with Flash). Popular authoring tools (Storyline and Rise, Lectora Inspire and Online, Captivate, iSpring, dominKnow One) are packed with features that enable easy and rapid eLearning development.
Authoring tools offer:
Inbuilt templates for different screens (for the welcome, learning objectives, interactivities, major content, summary, and assessments)! These templates are ready-to-use and can also be customized to reflect your corporate branding. No more design and development from scratch!
A vast media library with hundreds and thousands of images, pictures characters, illustrations, videos, and icons – to save time and cost on stock image sites.
Media and simulation features (watch-try-do software simulations or VR-based eLearning courses) that make it possible to roll out highly interactive courses (especially on software, product training) within weeks!
Online review apps (ReviewLink, Review 360) that make collaborative eLearning development a reality. Say goodbye to maintaining different versions of Word docs and Excel sheets during storyboard and course reviews. These online apps enable in-context feedback, resolve contradictory comments, and provide cohesive feedback over the web, anytime anywhere.
3. Giving a Makeover to Courses Will No Longer be a Headache
Are you hoping that updating or upgrading courses (converted to HTML5 or those that will be developed after Flash) will be as easy as developing them post Flash phase out? Well, the answer is a big yes!
Flash was cumbersome, even for making minor updates to existing courses – whether it involved the color, content, font style, images, or a few screens. Remember the last time you had to do the updates of your eLearning courses? Updating seemed as harrowing as creating the courses in the first place!
Flash is not only time-consuming, its use requires expertise that not all developers would have. However, HTML5-based authoring tools can be used by developers of different levels of proficiency – from beginners to experts. So, even after you convert your Flash courses to HTML5, upgrading those same courses would not be a problem.
In a world without Flash, you can think of using any trending new-age instructional strategy – storytelling, gamification, videos, microlearning, social learning, and more – without having to worry about the development time and effort, not to forget the escalating cost that comes with delays due to feedback implementation.
The credit for rapid, easy, and most importantly cost-effective eLearning course updates should go to:
Advances in technology, more specifically, the authoring tools/software that offer libraries full of assets for different training needs – Captivate offers different modes (demo, assessment, training) to create software simulation courses easily, while Rise offers ready-to-use blocks (templates) to quickly digitize text-based resources. (Check how popular authoring tools are armed to meet rapid eLearning requirements)
Learning designs that focus on making courses meaningful rather than ornamental – relevant learning objectives, need-to know content, new-age instructional design strategies, targeted assessments, and easy-to-access performance support assets.
Already thinking about the updates you might want in your eLearning courses?
4. Security Loopholes Will be a Thing of Past
One of the biggest reasons for organizations converting Flash courses to HTML5 is Flash's issues with security (CNN Business). Since Flash was riddled with cyber security issues, it became a constant target for hackers on the lookout for malware deliveries. Adobe could not offer security updates fast enough and that made way for a robust and more secure HTML5!
Post Flash phase out, your HTML5-based eLearning courses won't face similar issues. HTML5 is an open source simple markup language which doesn't require your learners to download any external plugin – which was the main source of Flash's cyber-attacks. Any HTML5 update happens through the web browser and is more likely to be applied faster (than Flash's patch file if it had to exist).
All in all, HTML5-based courses (either converted or newly created), unlike those developed in Flash, ensure optimum reliability and performance.
Wrapping it Up!
Considering the benefits of migrating from Flash to HTML5, 95% of websites have already moved away from Flash ahead of its retirement (ALPHR). Similarly, more and more organizations are opting for Flash to HTML5 conversion to ensure unhindered corporate training.
However, if your organization has been postponing making this move, its high time you did – convert your Flash courses to HTML5 today! If you need help, here's the perfect solution for you.
Download our free eBook "Flash to HTML5 eLearning Conversion – The 4 'R's That Matter" to discover the role of HTML5 as Flash's successor, 4 Flash to HTML5 conversion strategies, the best authoring tools for the conversion, tips to select the right outsourcing vendor, and more!