Flash vs. HTML5: Why Converting Flash Courses to HTML5 is a Must
Why should you convert Flash courses to HTML5? Well, mobile compatibility and better security are just a few reasons for you to convert Flash to HTML5.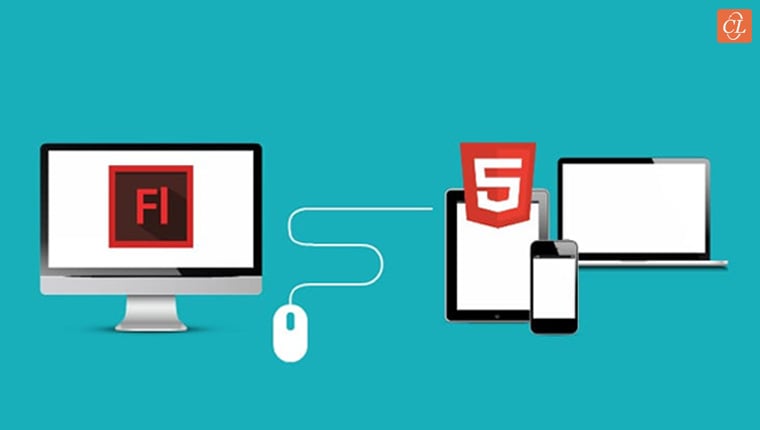 Before the advent of Adobe Flash in 1996, eLearning courses were created using plain text and a few images. But with Flash, it became possible to create courses with rich media and interactions, and they could be played on any browser if it had an in-built Flash player. Cut to 2019, every major organization is moving away from Flash-based training. This is in light of Adobe's decision to stop support for the Flash player by the end of 2020. This is bad news for organizations who have been using Flash-based courses and they need to convert Flash to HTML5 to ensure uninterrupted training.
Why Convert Flash Courses to HTML5?
The biggest flaw of Adobe Flash was its lack of support for mobile devices. HTML5 eLearning can:
Meet the needs of learners using multiple devices
Future-proof training courses
Improve the ROI on your training
Is there hope for companies who have heavily invested in courses using Adobe Flash? The short answer is, yes. But before we discuss that, let's understand why Adobe Flash—the original favorite of eLearning developers in the first place— is no more the number one choice for authoring eLearning courses.
Why Flash to HTML5 Conversion is a Must for Organizations
Adobe Flash became popular among e-learning courseware developers because it:
Supported audio, animations, and complex interactivities
Allowed customization based on the demands of course design
Enabled customized assessments for online courses
Provided the required support for developers through a large user community
The run of Flash as a popular authoring tool slowed down in 2010 when Steve Jobs decided not to use Flash in Apple devices because of its proprietary requirements and slow processing power. (You can read Jobs' thoughts on Flash here.) Unbeknownst to Jobs, this decision to drop Flash from its mobile devices had huge implications for the e-learning community.
This was also the time mobile learning was taking off and the iPad's incompatibility with Flash was a serious concern—because iPad users formed a major chunk of the market for tablet devices that supported mobile learning.
However, developers soon realized that creating courses using Flash was getting tedious. Besides, the introduction of rapid authoring tools such as Adobe Captivate and Articulate Studio changed the game because they could quickly build courses where the output could be delivered on a Flash player.
Long story short, the biggest flaw of Adobe Flash was/is its lack of support for mobile devices. It simply wasn't and still isn't worth the investment for companies anymore as the workforce is increasingly becoming mobile—in terms of both movement and learning access.
Here are some other reasons for the downfall of Flash:
Hugely dependent on plugins to run on devices
Less reliable, less secure, and performed poorly on devices which relied on small and delicate hardware chips

Battery life suffered on devices that played Flash content
The Big Question: Can Flash-based Courses be Salvaged?
As I mentioned earlier, there are still many organizations who have a repository of Flash courses. Instead of discarding them altogether, companies can simply convert Flash to HTML5—the worthy successor to Adobe Flash. There are various rapid authoring tools that create HTML5-based eLearning. Below is an infographic that gives a breakdown of all the tools that produce HTML5 output.

HTML5 technology helps courseware developers create responsive e-learning courses—replete with rich media and interactions—that can be accessed on all mobile devices. Also, unlike Flash, HTML5-based courses require no separate plug-ins to run on browsers.
A Deeper Dive into HTML5
There are many reasons companies must convert their Flash courses to HTML5. Here are some of the most important ones:
The primary reason companies should convert Flash to HTML5 is because these courses cannot be accessed on most mobile devices. You can meet the needs of "multi-device" learners by converting Flash courses to the HTML5 format, as HTML5 lends itself far more easily to adaptive and responsive design.
Future-proof courses on a platform that won't go obsolete anytime soon—i.e. HTML5.
Improve the ROI of your training by salvaging the content that's already available—content you have invested so much money and time creating. You can choose to reuse some of the content or replace/recreate the entire legacy course if need be.
Many organizations use the Flash-to-HTML5 conversion opportunity to also adopt eLearning techniques such as interactive videos, infographics, gamification, etc. that resonate well with the modern learners.
The End of Adobe Flash
Web browsers such as Google Chrome, Safari, Mozilla Firefox and a few others have made it more difficult to play Flash-based content over the years for various reasons. The increasing usage of mobile devices has extended to online learning as well, and HTML5 has proved to be the most compatible player for mobile devices. Various factors we've discussed in the blog have pushed Flash to the background. It's quite evident that the future of eLearning is HTML5, at least for the foreseeable future. It's time organizations seriously consider converting their Flash-based e-learning courses to HTML5 if they wish to offer good, effective training.