The Why & How of Flash to HTML5 Conversion to Convince Your Boss
Flash eLearning to HTML5 conversion has become a hot topic for conversation in recent months, for really good reasons. This blog will help you convince your boss on why and how you need to go in for Flash to HTML5 eLearning conversion.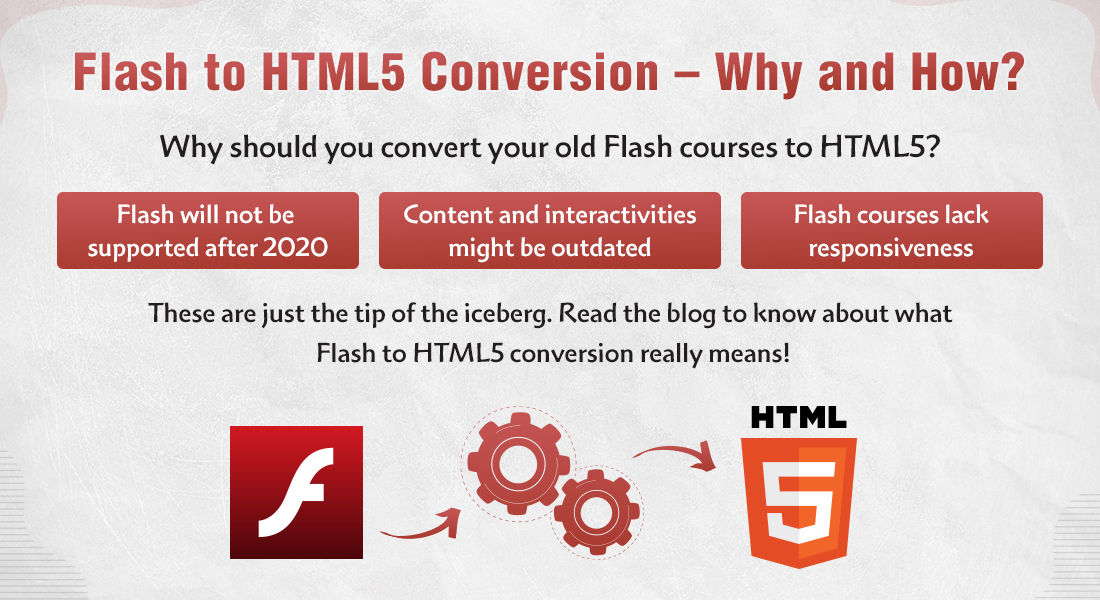 Training Manager Steve is engaged in a fiery verbal battle with his boss. He wants to convince his boss on the urgent need to convert old training courses from Flash eLearning to HTML5. Somehow, he is just not able to make his boss see his point.
Flash to HTML5 Conversion – The Why & How
Why Convert?
For mobile compatibility
To update interactivities
To make courses suitable for the modern learner
For eLearning translations
How to Convert
Assess Content
Build Inventory
Choose Strategy – Record, Republish, Rebuild or Redesign
Decide on Authoring Tool
Choose Either Mobile Friendly or Mobile First
Choose Between In-house and Outsource
Steve's argument: "Adobe is ending its support for Flash in December 2020. Flash to HTML5 eLearning conversion is the buzzword everywhere. And given that all our training material is built in Flash, they will no longer be supported on computer browsers once they get their 2021 updates. Eventually we will have to look for new courses that will run on modern browsers."
To Steve's wonder, his boss replies, "You are right. But what if I tell you that there is a way to save those courses from dying?"
Steve couldn't believe his ears. Is his boss finally coming around?
"We just won't update our browsers", his boss said with a smirk! Steve gave up.
Later that night, Steve invited his boss on a video conference along with a friend Wyatt. Wyatt represented a firm of eLearning vendors, and was considered an expert in all things eLearning. Steve's skeptical boss thought nothing could change his mind. But Wyatt had something else in his.
"I heard you won't update your browsers", Wyatt said after the initial greetings. "I have to tell you that is a smart idea".
"There's one small problem though", Wyatt got the boss's attention with this. "Very soon your browser will become outdated and will stop functioning altogether".
A little alarmed now, Steve's boss listened to Wyatt, and by the end of this 'small' talk, had changed his stance on Flash eLearning to HTML5 conversion.
You must be wondering what it was that Wyatt said that changed the boss' mind. Nothing earth shattering. He shared a few disadvantages of Flash courses compared to HTML5, why converting Flash courses to HTML5 conversion was the most lucrative deal, and the simple steps involved in the conversion process. He even made the boss say, "Damn!"
Flash to HTML5 – Why Convert in the First Place?
Considering the fact that Flash's support is ending, here are the other reasons why you should shift from Flash to HTML5.
1. Flash Courses are Mobile Incompatible
Flash was designed to be used on computers with a keyboard and a mouse. It was never built to support responsive or scalable content, thus spelling a big NO for its use in mobile devices. This was the reason for Apple pulling off Flash from their devices way back in 2010.
Learners in the 21st century are becoming increasingly comfortable with mobile learning, so much so that there are dedicated eLearning courses built for mobiles and tablets. In such a world, Flash courses are like living fossils. They still run, but not on most mobile browsers and devices.
HTML5 is newer, more secure, compatible with all browsers and all devices, and is even touch friendly. Isn't that millennial enough for your new-age learners?
2. Flash Courses Contain Outdated Interactivities
It's not that Flash courses did not have any interactivities, but Flash being a code-dependent software, they were very complicated to build. But now, in the last months of 2020, those eLearning interactivities have become outdated, and modern learners need something new, something modern to keep them interested and engaged in the training.
Today, eLearning courses are developed in rapid authoring tools like Articulate Storyline, Adobe Captivate, Lectora Inspire, etc. These authoring tools use features like in-built triggers, dials and sliders to replicate Flash interactivities or even make new ones. These updated interactivities which are supported across devices is one of the reasons why HTML5 is an excellent alternative to Flash. Best of all, they need no coding, because these authoring tools come with a library of their own pre-built templates for interactivities.
3. Flash Courses Don't Go Well with New-age Learners
Try to picture what your legacy Flash courses looked like back when they came out. We were thrilled and amused by what Flash was able to do. Today's learners are not impressed. They get to do a lot more on their mobile devices anyway. Yet sometimes, legacy Flash courses contain information useful for corporate training.
So, what do we do? Revive those courses and make them suitable for the modern learner. We can do that with the help of authoring tools with their in-built template libraries. This means that the courses will have the latest standardized screen layouts, media elements and everything 2020 friendly, enough to impress your learners.
4. Translating Flash Courses is a Nightmare
If you have been dealing with a multilingual global workforce, then you already know how tough it is to deliver effective training to the whole lot of them in one language. Flash courses cannot be translated to multiple languages easily – they need to be rebuilt every time.
Thankfully, authoring tools are capable of eLearning translation, enabling learners to access the course in any language they want to. Tools like Articulate Storyline come with a 'Text Label' feature by which on-screen components like buttons, messages, and pop-ups can also be translated and localized for a specific location.
How to Convert – The 4R Strategy
The four Rs in the 4 'R' strategies for Flash to HTML5 conversion stand for "Record, Republish, Rebuild and Redesign". Let's take a gander at what they mean in Flash to HTML5 conversion.
1. RECORD if your courses do not have source files
When your Flash courses are simple, without a lot of learner interaction, and do not have source files, you can run the courses and capture them in an MP4 video which:
Is compatible with eLearning technical standards (SCORM/AICC/Tin Can)
Can be hosted and shared with learners easily over an LMS (learning management system)
2. REPUBLISH if your courses were developed in older authoring tools
Outdated versions of authoring tools (with both Flash and HTML output) do not have the same features as its new-age counterpart. Republishing them using the latest authoring tools will be the best option for you to:
Enhance the courses instructionally to meet new age demands
Repurpose the courses as microlearning curriculum assets
3. REBUILD if your courses built on older tools still have functional media assets
If your courses were built on older software but still have usable media elements, you can rebuild the courses using them. This helps:
Reuse old content and its assets and publish in HTML5 output
Make the courses compatible across devices and platforms
4. REDESIGN if your courses have obsolete content and unusable source files
If the content of your Flash course requires major edits, and/or the source files are unavailable, you can redesign the entire course from scratch on a new authoring tool to:
Add new and more relevant information to the content
Add the latest responsive interactivities to the course
Use new-age learning strategies like microlearning and mobile learning
How Can YOU Get Started?
To be honest, Steve's boss was only half convinced. No wonder Wyatt had to pull out the big guns. He hit them with 6 simple steps they have to do to get started with Flash to HTML5 conversion.
Step 1: Assess Content
Check if the content of your Flash courses is still relevant
If relevant, select them for HTML5 conversion
If not, trash them
Step 2: Build an Inventory of the Courses
Sort out the courses into:
Those that need content updates vs. those that do not
Those with source files vs. those without
Step 3: Choose Your Strategy from the 4Rs
As discussed already, choose the best strategy from the following:
Record: For no source files
Republish: For courses built in older authoring tools
Rebuild: For courses built in obsolete authoring tools with reusable media assets
Redesign: For courses needing major updates
Step 4: Choose the Authoring Tool
Different authoring tools provide different features and benefits, not that you would need them all (click here to read more about choosing the right authoring tool). You can choose:
Articulate 360 – For developing courses with minimal text and high interactivity
Adobe Captivate – For developing truly responsive interactive courses and software simulations
Lectora Inspire, Online – For cloud authoring services and collaborative development
iSpring Suite – For converting PPTs to HTML5 friendly eLearning courses
Step 5: Choose Between Mobile-friendly and Mobile-first
Different learners have different needs and priorities. So, choose the right platform.
Go for mobile-friendly (more scalable) version if your learners access courses mostly on computers but are also okay with mobile devices.
Go for mobile-first (more responsive) version if your learners use their mobile devices more.
Step 6: Choose Between In-house Conversion and Outsourcing
This is a very important step when it comes to Flash to HTML5 conversion.
If your team has the expertise and skill-set needed for conversion – do it in-house.
If your team does not have the needed expertise – outsource to a vendor.
Wrapping Up!
And then that was it. Later that night the boss searched for Flash to HTML5 conversion services on the web that were speedy, without compromising on quality. He was stunned by what he found. Need I say Steve's boss was more than convinced?
But is your boss convinced? Wait, are you convinced? If you are not or need more info, here is a handy eBook that will give you a better insight into Flash to HTML5 conversion strategies.