Why Articulate's RISE is Impressive for Responsive eLearning!
This blog explains why Articulate Storyline's web-based application 'Rise' is very useful for developing responsive eLearning courses that work on multiple devices seamlessly.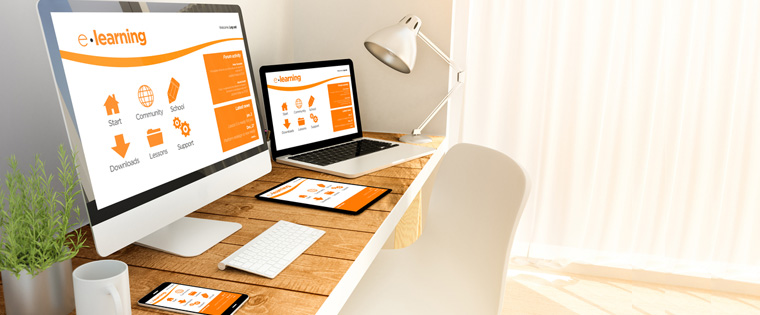 In the era of multiple hand-held devices, not many employees want to take long hours of online training sitting at their desktops. Smartphones are changing the landscape of workplace learning. Employers want to leverage this pattern to extend training on multiple devices, for training reinforcement, and performance support. But, courseware developers are facing some challenges in designing online courses that work seamlessly on any mobile device.
A sheer number of various hand-held devices, new models with different technical specifications such as screen size, OS, and other features complicate the multi-device compatible eLearning even more. In the midst of these challenges, how can you provide an optimal learning experience to your learners irrespective of the devices they use?
The 'responsive design' showed the way out by automatically adapting courses o t multiple devices. Now, there are a number of 'responsive' authoring tools in the market that make multi-device eLearning possible.
Rise is the web-based authoring app and it is a part of Articulate 360. You can easily develop multi-device compatible courses with Rise in no time. Articulate Rise is mainly used to create responsive courses so that they work on any device. With Rise, you can develop courses online using various templates available. , It's possible to preview the course real time for various device sizes while developing . It's easy to export to SCORM/xAPI and upload them to your Learning Management System (LMS).
The new web-based application Articulate Storyline 360's 'Rise' is Pro among other authoring software tools that provide responsive output to every device with the highest degree of precision with less or no manual adjustments. What makes it different and how does it make responsive eLearning so easy? Let's take a closer look..!!
1. Develop Responsive Courses in Web Browser
You can easily develop multi-device eLearning courses in the web browser itself as 'Rise' is an intuitive web application. You can first begin with a course outline or develop each lesson as you go as per your convenience. You can make changes easily and modify the order of the units/modules whenever you want to by dragging them to the required place. The Preview option is available for developers to check how the course looks like to learners after publishing. You can use this preview option for every lesson/unit/module too.
2. Optimize Courses for Mobile Devices
You can easily create mobile-optimized online courses using Articulate's Rise. The course's development is quick, as it has various inbuilt lesson types. This is not just for one mobile device but for all hand-held devices with various screen-size variations and different web browsers. The courses developed in 'Rise' are not just multi-device friendly but also look elegant and you can easily customize as per your brand guidelines.
3. Optimize the Display for Smaller Screens
Rise application counts every pixel to optimize the content display on smaller screens. It hides menus, scales media, and reflows content so that learners can comfortably take the courses on their smallest screen phones.
The responsive mobile player scales the content to fit multiple devices automatically. It optimizes the screen display by hiding unnecessary buttons, provides gesture support, and handheld device friendly navigation.
4. Give the Flexibility to Learn on Any Device
Rise helps you create eLearning courses that automatically adapt to smartphones, tablets, and desktops. You don't have to spend a lot of time on manual tweaking to adjust the courses to fit each screen size or for various breakpoints. There is no need to cut short the learning content for adjusting the course to smaller screens.
Rise doesn't put an additional burden of optimizing the online courses for multiple devices on eLearning developers but does most of the tasks automatically and your designers get more time to focus on eLearning design and development. In Rise, the content reflows to fit the screen of any device your learners use. Moreover, the online courses developed are SCORM, AICC, and xAPI compliant to function well in your Learning Management System (LMS).
So leverage the simple to use authoring application 'Rise' to develop multi-device compatible eLearning courses in no time..!