Situated Cognition in eLearning: 5 Ways to Implement
Situated Cognition theory can help learners put theory to practice. Here's more information on applying Situated Cognition theory in eLearning.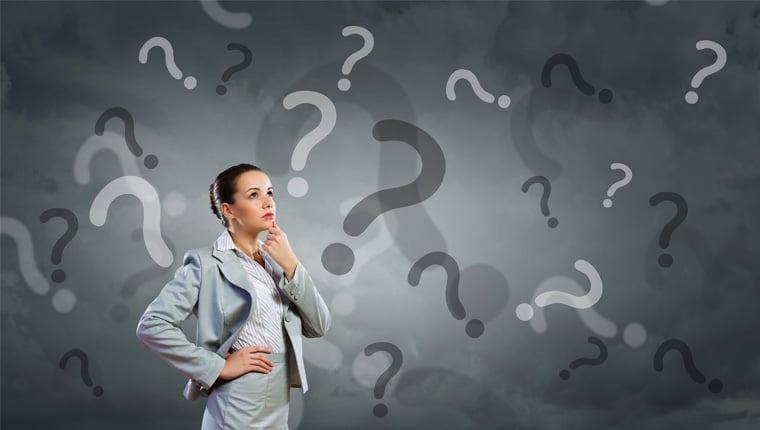 We all want our learners to apply what are they trained on in the real world. How we do that is the big question. While we all look for learning approaches that aim at effective knowledge transfer, we often overlook the fact that context is paramount in creating successful eLearning courses. It is imperative for learners to put the acquired knowledge to use outside the digital classes and simulating real world situations is the one of the optimal ways to achieve this. This is where the Situated Cognition theory can help online training.
Situated Cognition in eLearning
Integrate real-world simulations and scenarios
Encourage communities for learning and practice
Include case studies to put knowledge into context
Model behaviors or tasks

Develop engaging eLearning assessments
What is the Situated Cognition Theory?
The Situated Cognition Theory was introduced by Allan Collins, Seely Brown, and Paul Duguid in 1989. The theory suggests knowledge cannot be separated from its context or the situation in which it was acquired. Situated implies learning is connected to an activity, culture, place, or a social situation. To put it simply, learning doesn't happen in isolation from the environment. We learn in and learn from specific interactions and places. What does it imply for digital learning?
While every eLearning approach tries to prepare learners for real world challenges, Situated Cognition suggests putting learners right in the thick of things, so to explain, right from the beginning. How? By incorporating eLearning activities and exercises taken directly from the real world, thereby providing learners the opportunity to acquire and utilize knowledge in context.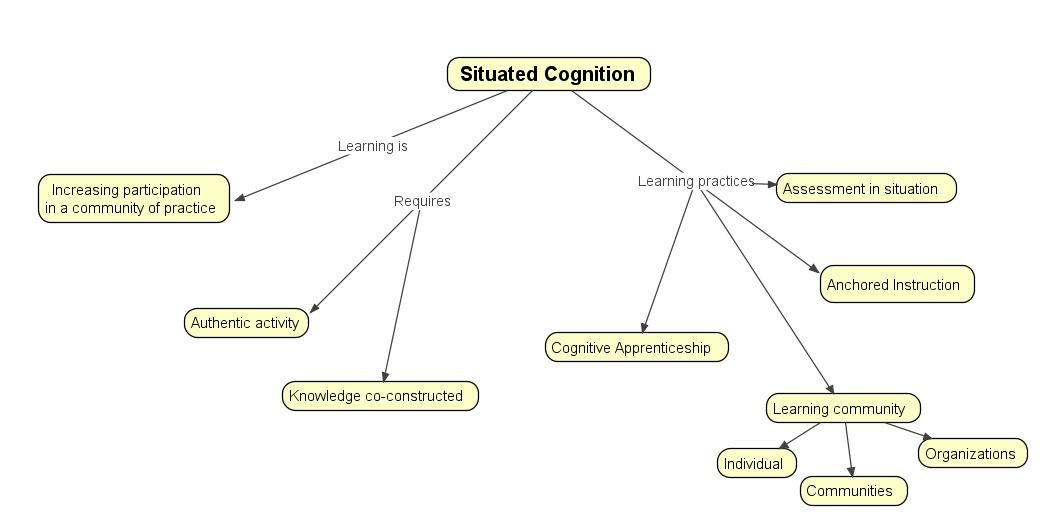 Image Source: The University of British Columbia
Learners have to be completely immersed in eLearning activities that mimic the real-world situations they are most likely to face in a day-to-day basis. For instance, if a learner needs to learn about a complex procedure, learning by doing will be certainly more effective than reading a text-heavy manual about the same.
5 Ways to Use Situated Cognition in eLearning
1. Integrate Real World Simulations and Scenarios
Using scenarios and simulations in your online training is one of the most effective and authentic ways to leverage situated cognition. Online simulations provide hands-on experience of real-life tasks whereas scenarios in eLearning accustom learners to handle possible on-the-job situations they can face in reality. Additionally, all elements should be kept as authentic and close to real-life as possible so that it provides accurate context for your learners. How do online scenarios and simulations foster in-context learning?
Both these tools hold the power of immersing learners in actual environments, presenting them actual challenges, without having to face the actual risks. Learners are provided opportunities to explore a task, master different aspects of an on-the-job situation, and identify their important strengths and areas where they need to improve – in a supportive and controlled learning environment.
While developing eLearning courses with scenarios and simulations, it's important to ensure the situations, virtual environment, images, and characters used are as realistic as possible. It makes learning more relatable and ensures effective application thereafter on-the-job.
2. Encourage Communities for Learning and Practice
Communities of learning and practice are a conventional form of collaborative learning wherein people within the same field of interest or industry collaborate to solve problems and achieve common goals. Learners have the opportunity to share their experiences, share viewpoints with members of the learning community, and benefit from their skills and expertise.
Additionally, learners can also be provided the opportunity to interact with instructors and subject matter experts apart from their peers to expand their knowledge spectrum about the topic and work toward applying and mastering the same. How can you create a learning community in your online training framework?
Online discussion forums allow learners to socialize and share learning before, after, and post training sessions. Discussion forums provide opportunities where learners can share, contribute, interact, and observe the contributions of others as well. This enables them to learn from shared experiences and gain new perspectives. Moreover, groups can be created in your LMS or the learning portal wherein an instructor can administer and guide the online discussions. Social media platforms and learning communities are widely used for learning and practice.
Learners can share and seek solutions to their queries from those who know. For instance, learners can create a learning community or a group in platforms such as LinkedIn and Facebook where they can share content, videos, links, and encourage constructive discussions.
Another effective way to create communities of learning and practice is through video conferencing tools. Learners spread over various regions can connect real-time and share their learning experiences. For instance, an expert or a senior who has used a machine optimally can show how to use it. Needless to say, learning is in-context and results in effective application.
3. Include Case Studies to Put Knowledge into Context
Your learners are more likely to participate when they can see the eLearning course is tied to real-world applications. One way to do so is by including case studies in your eLearning courses that convey crucial lessons for best practices.
Case studies are discovery learning activities for learners that focus your learners' problem-solving and analytical skills on the specific situation presented in the case.
The goal of case studies is providing relevant situations and posing questions to learners based on their understanding.
Case studies in eLearning fosters interactive environment by providing ample room for online discussions and collaborations for further strengthening of knowledge.
4. Model Behaviors or Tasks
Modeling is one of the important components of the Situated Cognition theory. An expert guides or shows the learner every aspect of a task or procedure so that the learner can see the task in action. What are the ways of doing so in eLearning? Use different kinds of online learning videos.
Live demonstration recordings have the power to show learners how to do something in an impactful manner than static diagrams or illustrations. For tasks that require physical action, demonstration videos can help as learners can pause, playback, repeat if they don't get it right in the first go.
User-generated videos can be another way to model the behaviors of experts.
You can leverage the power of virtual walkthroughs and provide your learners the opportunity to learn about a task or an activity step-by-step.
5. Develop Engaging eLearning Assessments
Rather than using conventional assessments types such as Multiple-Choice Questions or True or False, you can move one step ahead with game-based eLearning assessments or scenario-based assessments that immerse the learner completely. Learners test their knowledge and understanding in a low-pressure situation which allows for better performance.
Game-based and scenario-based eLearning assessments encourage learners to utilize and apply their skills to overcome the hurdles and situations to complete the task on their own. Learners have to explore all possible situations without any assistance, making assessments effective. Doing so not only assesses their knowledge and abilities, but also provides them the confidence they require to achieve the task in the real world.
A successful eLearning experience that hitches on situated cognition puts everything into context. It provides learners the opportunity to see knowledge in action, in contrast to passively observing the same. This is what makes situated cognition eLearning experiences a powerful approach in eLearning design, and the reason you should think about using it in your next digital learning project.
And in case you want to know about the different ways to engage your learners and keep them hooked throughout the learning journey, we've got you covered! Download this free eBook on "Instructional Design Strategies to Design Engaging eLearning Courses" and get your hands on what goes into creating effective eLearning courses.