5 Ways to Encourage Continuous Learning through Online Training
Encouraging continuous learning in online training creates a win-win situation. Here are 5 ways to encourage continuous learning using online training.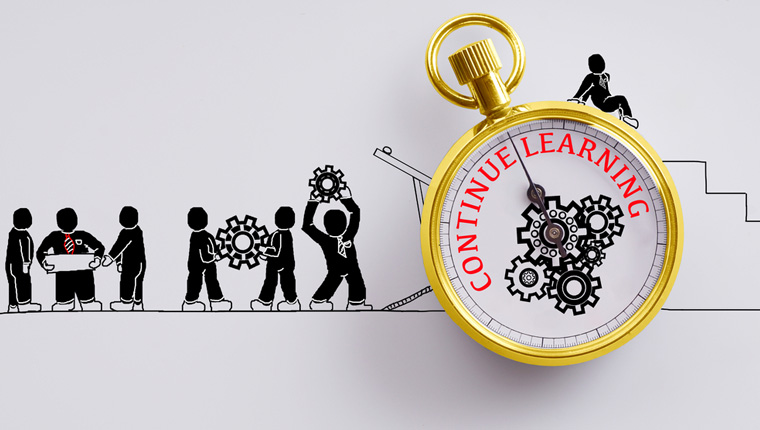 Advances in technology, influx of millennials in the workforce, and the persistent competitive need to upgrade skills is transforming the conventional online training landscape. These factors are pushing organizations to consider new methods that will allow learners to take charge of their own learning experiences, and encourage a culture of continuous learning through online training in the organization.
5 Ways to Encourage Continuous Learning
Offer anytime, anywhere learning
Utilize microlearning assets
Create scope for social and collaborative learning
Build an online resource library
Motivate learners with recognition
In fact, as per a report by Deloitte, there has been a considerate shift beyond internal programs that were aimed at providing employees with newer and innovative platforms to develop themselves. The report also cites that:
More than eight in 10 executives (84%) view learning as an important (40%) or very important (44%) issue
Employees at all levels expect dynamic, self-directed, and continuous learning opportunities from their employers
To put it simply, continuous learning is all about how your learners expand their skillset in a changing environment and amidst new developments. This is imperative, considering your employees are called to respond to changes on a daily basis.
How can your organization provide scope for continuous learning through online training programs? Well, here are 5 ways to do so.
5 Ways to Encourage Continuous Learning through Online Training Programs
1. Offer Anytime, Anywhere Learning
The concept of continuous learning clashes with conventional one-off training events, either instructor-led training or online training sessions. Learning should be a continual process as long as employees work in your organization. Learning continually allows them to overcome the forgetting curve effectively and be at their productive best.
One of the ideal ways to do this is by making your online learning courses available anytime, anywhere by leveraging responsive learning or learning on mobile devices. Today's learners are tech-savvy and spend a considerate amount of time on mobile devices.
Over 54% of employees expect mobile-optimized online courses that can be accessed on the device of their preference. They can start taking the course in office, continue it while commuting, and finish it at home. They can even re-access courses on their mobile devices when they need to brush up their knowledge, post training. Using these additional touchpoints will allow you to provide opportunities for continual learning, at their own pace.
After all, if your employees can access news, sports stories, and social media anytime they like, why not provide equal access to eLearning courses on their mobile devices?
2. Utilize Microlearning
According to a report by Bersin by Deloitte, 68% of employees feel an overwhelming amount of information makes it harder to notice and keep track of important information. Clearly, going through long and tedious online training modules is not the ideal way your modern learners obtain knowledge. Not to forget, it can put them off easily and discourage learning. What's the solution?
Microlearning assets such as interactive infographics, podcasts, videos, interactive eBooks, and game-based nuggets provide just the right amount of information required to achieve one specific learning objective. Information is short, sharp, and engaging for learners to absorb, without any cognitive load.
The short, single-objective nature of microlearning assets makes it easier to fit in your employees' busy schedules.
Microlearning helps make mobile learning effective by allowing learners to make productive use of their leisure time or breaks during a working day. Microlearning assets load quickly and run economically on mobile devices.
Microlearning assets such as an infographic also provide avenues for just-in-time learning. For instance, a sales executive can quickly go through an infographic to know the features of a new product before meeting a client.
Microlearning indeed is an effective method to offer continuous learning through an online training program. While your employees need not go through lengthy training sessions to refresh their memory, you can leverage various microlearning assets to refresh important points. For instance, a monthly microlearning video on safety rules will keep your employees in-the-know about important topics.
3. Create Scope for Social and Collaborative Learning
Part of the modern-day learning landscape is that employees can teach each other through social learning elements such as discussion forums, user-generated videos, and social media platforms. Social learning hitches on employees observing their peers and imbibing the shared information. Encouraging your employees to use discussion forums and social media groups will help reinforce important information and aid when seeking valuable learning opportunities.
This allows your employees to share lessons, novel and creative ideas, professional experiences, as well as probable solutions to their problems – enhancing their spectrum of knowledge, and encouraging them to come back for more. For instance, employees can record videos of best practices to tackle a situation, tips on how to perform better, and much more. These videos can be uploaded on your organization's learning portal, fostering a culture of continual learning through your online training program.
Learners can also find answers to their questions from those who are in the know. This can be about troubleshooting steps, emerging market trends, and anything else you can think of. 87% of employees feel that sharing knowledge with their colleagues or teams is crucial for their learning. Need I say more?
4. Build an Online Resource Library
Imagine a situation when your employees want to learn more about a topic they found intriguing in the online training session but failed to find related learning resources. Your organization just lost an opportunity to enhance employee knowledge and hindered the continuity of learning. To avert similar situations, your organization can create an online library where learning content can be curated.
Having a resource library (on cloud) will help your learners find relevant information quickly and easily. You can add links to assets in library in eLearning courses, which will take the learner to the resource library.
The online resource library can contain a variety of digital learning assets such as interactive PDFs and eBooks, videos, audiobooks, user-generated content, and much more. Learners will have the liberty of choosing the learning asset they prefer.
Opting for cloud storage to store resources in the library enables your employees to access it anytime, anywhere.
Having a well-structured resource library makes your learners responsible for their learning, and enables them to create personalized learning paths. This in turn enhances engagement and encourages continuous learning through your online training program.
Much like how everyone relies on Google for information, offer your employees access to the high-quality online resource library which can also be hosted on your organization's Learning Management System (LMS).
5. Motivate Learners with Recognition
Although we are intuitively aware that intrinsic motivation is the best, extrinsic motivation such as certificates and badges work as well. Knowing that one would receive a certificate after the successful completion of an eLearning course motivates and keeps learners interested in further learning. However, it is important to ensure your organization puts ample emphasis on the criteria to obtain digital certificates or badges contrary to the popular belief of anyone getting it upon completion.
Credible certificates and badges with a learner's name and achievement will motivate learners to look out for further learning.
Certificates and badges allow employees the opportunity to showcase their efforts and skills newly mastered.
When certificates and badges are recognized as an achievement, it motivates other learners to undergo the online training program that offers valuable and important competencies your organization wants them to learn.
You can even put these achievements or certificate holders on a virtual leaderboard to take the motivation game one notch higher.
Hence, incorporate these 5 methods to encourage continuous learning through your online training program and create a win-win situation for both employees and your organization. Now that the benefits of continuous learning are plain to see, you might want to go one step further into developing engaging and motivating online training programs. Well, we've got you covered! Download this free eBook- "Instructional Design Strategies to Design Engaging eLearning Courses" and know all!