3 Flash to HTML5 eLearning Conversion Success Stories
Tired of listening to Flash to HTML5 conversion without getting any real idea of what it entails? Check our success stories of Flash to HTML5 conversion.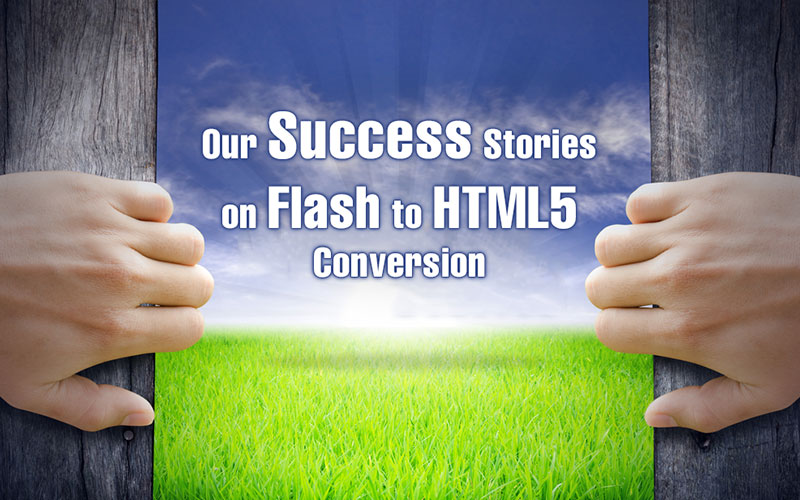 As a training manager, I am sure you are aware of Adobe withdrawing support to Flash by the end of 2020. I am also sure you don't need me to tell you how essential it is to convert your Flash-based eLearning courses to HTML5 before the phase out. To give you a breather from the usual long and preachy 'why' and 'how to' blogs, let me tell you three success stories on Flash to HTML5 eLearning conversion. My stories start with, "Once upon a time, Flash…" and end with, "and lived happily with HTML5". These stories will take you through some unexpected, yet much-needed opportunities the conversion process offers you to enhance your training program. Let's get started.
3 Successful Flash to HTML5 eLearning Conversion Stories
1. The Case of the 1500 Legacy Course Conversion
Once upon a time, a global telecommunication company had a repository of 1500 legacy courses developed in Flash, Adobe Presenter, and older versions of Storyline and Lectora. These courses were designed to train their sales and service technicians on their processes, policies and products. Since the courses were meant for sales and service personnel, they needed to be made responsive to make learning accessible. Requirements
Convert courses from Flash to HTML5
Make courses responsive to mobiles
Offer performance support
Challenges
Missing source files for most courses
Making courses responsive for desktops, smartphones, and iPad screens (both portrait and landscape orientations)
Solution For a well-defined conversion, we used the 4'R's of Flash to HTML5 conversion and published them in Lectora Online. Depending on the availability of source files, content complexity, and instructional design strategy, we:
Recorded simpler courses with missing source files, and republished them using Lectora Online.
Republished courses (with the original source files available) that were developed in earlier versions of Lectora.
Rebuilt courses which were developed using now obsolete software and saved the assets to be re-used.
Redesigned courses from scratch which needed to be revamped conceptually or instructionally.
For a responsive design, we developed wireframes for different screen types and the converted courses were adaptive to screen size and orientations of all devices under consideration.
2. The Story of Storyline 360 Conversion
A global enterprise providing water, hygiene, energy technology, and services globally wanted their courses developed in Storyline 2 to become responsive. Since the company worked across regions, it ended up with multiple Learning Managements Systems that led to courses being decentralized with multiple duplicate versions across LMSs. Requirements
Migrate 200 courses developed in Storyline 2 to Storyline 360
Redesign mobile incompatible interactivities
Rectify functionality issues:

Update specific triggers across courses
Update the Help screen with a newer version (in 16 languages)
Replace a PDF Trouble Shooting Guide with a newer version

Centralize all courses under one platform
Challenges
Ensuring there are no technical glitches in the converted courses
Ensuring rigorous quality checks to ensure 40,000 employees can access courses under one LMS without any issues
Solution For a seamless and streamlined conversion process, we created two teams:
Development team to take care of the conversion process and fix functionality issues
Testing team to check the compatibility of courses in both the LMS and mobile app
To centralize all courses and have a well-functioning administration, the organization decided to host all converted courses on a single LMS.
Development Team

Testing Team

Redeveloped all mobile-incompatible interactivities
Updated Triggers, Help screen, and PDF files
Checked courses for alignment, audio sync, and other related issues
Republished courses with Storyline 360 in HTML5-only output

Created Checklist
Checked republished courses in SCORM Cloud
Checked converted courses – desktop and mobile app versions
Checked final courses for browser compatibility
3. The Tale of Rapid Flash to HTML5 eLearning Conversion
A US-based educational NGO founded by physicians to provide training for multiple life-science companies globally, required the rapid development of eLearning courses in the HTML5 format. Requirements
Convert content-heavy courses into interactive modules in the HTML5 format for multi-device accessibility
Design engaging presentation patterns and interactivities
Add relevant images provided by the client
Adhere to strict deadlines for timely delivery of courses
Translate converted courses for global audiences
Challenges
Very strict timelines – courses had to be rolled out for other organizations
Extreme scalability – >870 modules to be developed, including the translation of 50 English courses into 5 different languages (Spanish, Russian, French, Portuguese, and Chinese)
Solution
We used Storyline 360 to develop responsive and interactive modules in HTML5 output from text-heavy content.
We used Rise 360 to develop 23 responsive course modules meant for on-the-go learning for the sales team.
We used Storyline's pre-localized player templates for rapid eLearning translation.
Developed a checklist for testing converted courses, approved by the client
We had a 7-day turnaround time for each module, with SCORM compliance and hosted on the client's LMS.
Wrapping it Up
The 2020 phase-out of Flash may have put an ultimatum on your legacy courses, but the conversion to HTML5 was inevitable. These stories do not just highlight the ways for Flash to HTML5 conversion but also show how it gave businesses opportunity to incorporate other changes in their online trailing program. Here are few more benefits of Flash to HTML5 conversion which might entice you.
5 Additional Benefits of Converting Flash to HTML5
Convert Courses to Responsive Design: Flash was never meant for a world of touch-screen smartphones and tablets. Use this opportunity to make your mobile incompatible Flash-based courses device responsive. Update Courses with CARE: Revamp your legacy courses to reflect your organization's brand and value. Convert your Flash courses to CARE (Current, Application-oriented, Relevant, and Engaging) content. Go for Microlearning: Make learning stick by resizing lenghthy courses into small bite-sized microlearning modules. This will be a hit with your millenial workforce. Reinforce Instructional Strategies: Updating course design using new-age instructional strategies will give a boost to your online training. Translate & Localize Content to Reach Global Audiences: Converting Flash courses to HTML5 using rapid authoring tools enables quick translations. Our success stories are a testament to our commitment toward providing the best eLearning services. If you want to know more about the Flash to HTML5 eLearning conversion process, please refer to our eBook, "Flash to HTML5 eLearning Conversion: The 4 'R's That Matter".