How Much Does it Cost to Develop an ELearning Course?
What should be the budget for an eLearning course development? A frequently asked question that is seldom answered well. Find 3 crucial factors that impact the price tag of eLearning course development here!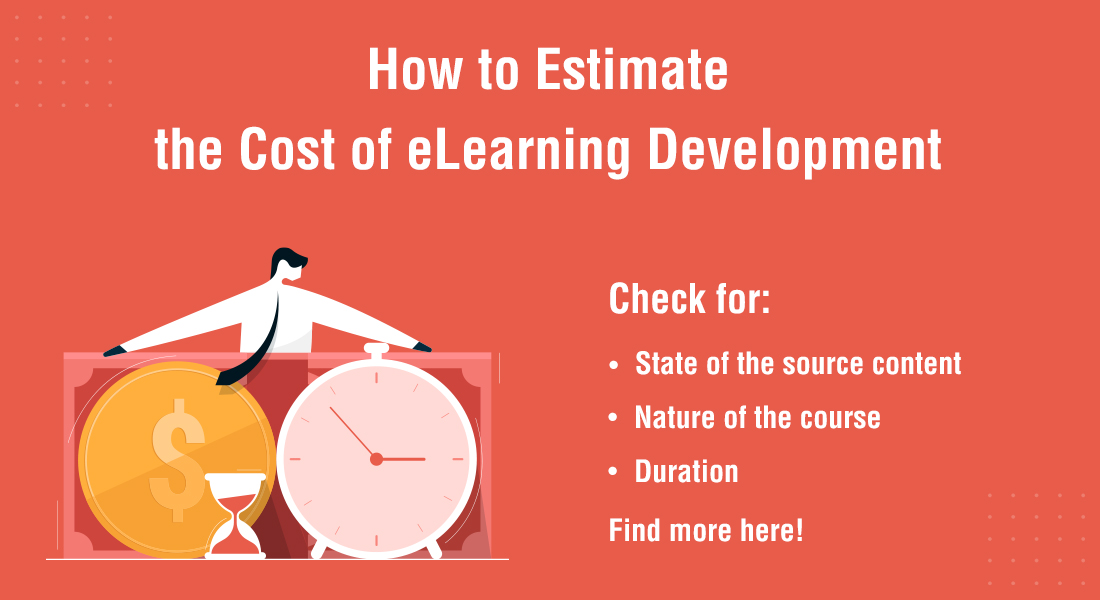 So, here you are trying to figure out how much it would cost to develop an eLearning course that'll give you an idea about the budget you need. Well, I am sure a lot of people must've told you "it depends" – a phrase that leaves you wondering what it actually depends on! While I can't promise not to use 'it depends' (a necessary evil), I'll try to shed some light on the different factors that affect the cost of developing an eLearning course.
3 Factors that Impact the Cost of eLearning Course Development
State of the source content
Type of the eLearning course and duration
Resources and their rates
For instance, the length of the course, its complexity (simple page-turner or highly interactive?), resources developing the course (in-house team or eLearning vendor?) will affect whether the development cost will be $4000 or a whopping $40,000!
To find out where the cost of your project stands, you first need to know who your audience is and what their training needs are, before you jump into the actual factors that will affect the cost of the eLearning development.
Understanding the Audience and Objectives
Whether you want a simple click-next course or a highly-interactive one, the key thing is to ensure the course helps you achieve the objectives – learning as well as business. After all, what's the point of online training if it does not translate into returns? So, here are few things you need to ascertain before you even begin thinking of the costs involved:
Who is the target audience? This helps decide the content and its focus. Is the audience made up of beginners or experienced employees? What or how much do they already know?
What's in it for them? What are the problems your target audiences face in their job? And how will this training help them with that?
What is the learning objective of the course? What should the learners be able to do after completing the eLearning course? How will the course help them perform better? How will it benefit the business?
How will you determine if you've achieved the desired results? What are the metrics you would want to track and how? How will you determine the changes are due to the eLearning course?
Answers to these questions will help you determine the level of interactivities, gamification elements, audio narration, videos, and more – all of which will add to the time and cost of development.
Once you've decided on these, the scope of the eLearning course development will start to become clear.
3 Components of eLearning Development that Impact Cost
1. State of the Course Content
What will your eLearning course be based on? Is it just an outline based on which the content needs to be sourced? If content is available, how complete is it? Is it in the form of PDFs or PPTs or whitepapers and manuals? If it is a PowerPoint presentation, does it have detailed notes explaining each slide? Or at least a recording of a Subject Matter Expert explaining the content? Are there existing question banks or assessments that can be used in the course?
More often than not, organizations underestimate the amount of work involved in making the source content suitable to be developed into an effective eLearning course. However, this is one of the costlier steps of eLearning development. Source content that is current, relevant, well-organized and has appropriate graphics and visual elements (especially technical ones) to support the content can make a significant difference to the required budget.
For instance, if you are looking to convert your existing PowerPoint presentations (assuming the content is complete and relevant) into eLearning, it will be much easier and cheaper to do so using an authoring tool (such as iSpring) than creating a course based on the raw content provided by an SME.
2. Type of the eLearning Course and Duration
ELearning courses may be categorized into three levels based on the amount of interactivities. The more the interactive elements, more the cost of developing the eLearning course.
eLearning Level

The eLearning course

Level 1 – Basic

eLearning courses at this level consist of:

Basic slides with text and images, and 'click-next' buttons
Simple assessment questions – True/False or multiple choice

So, if you convert your PowerPoint deck to eLearning after slight modifications, it will be level 1 eLearning.

This type of eLearning works well if your objective is to:

Train employees on basic facts and concepts
Inform employees about updates – products or policies

At this level, there are no big costs involved for eLearning interactivities – only content and design need to be considered.

Level 2 – Moderate

A level-2 eLearning course can include:

Audio narration
Videos and/or animations
Advanced assessment questions such as drag and drop.

This level of eLearning works best if you want employees to:

Master a new skill (using the latest version of a software)
Change their attitude towards something, for instance, fire safety guidelines at the workplace

The course should provide practice opportunities through scenarios, simulations, gamifications, quizzes, and so on.

Obviously, the cost of developing a level 2 eLearning course will be higher than that of level 1.

Level 3 – Advanced

Level 3 eLearning courses provide learners an immersive learning experience and ample opportunities for practice. They include highly customized interactive elements that will take more time and cost to develop:

Level 3 eLearning courses are ideal to train employees on complex practical skills.
Developing responsive eLearning courses that can be accessed on any device (desktops to smartphones) will entail more cost, obviously.
Another important factor you need to consider is the course duration you are looking at:
A single module with fixed duration – 20-40 minutes
Multiple modules with shorter duration – 5-10 minutes each
Curriculums with different eLearning levels
So, the eLearning development cost will depend on the type of course and its duration. For instance, a 20-40-minute level 1 eLearning course will obviously cost much less than a curriculum of smaller courses (more resources and development time).
3. The Resources and Rates
The next thing to consider is who is going to develop the eLearning courses? You have two options – do it in-house or outsource it to an eLearning vendor. You will have to estimate the cost for each option to determine the total cost and decide on the one you want to go with.
If you are planning on developing the courses in-house, you will have to consider these:

Apart from this, it's important to add the cost of licenses of eLearning authoring tools. For instance, the annual subscription for Articulate 360 Teams is $1299 (as of today). Investing in an authoring tool will make sense if you plan to develop more courses in the future.
However, if your in-house team does not have the required expertise and you need to roll out the training urgently, it makes more sense to outsource the project to a reliable eLearning vendor. You will then have access to a pool of resources with expertise in eLearning development. Quite obviously, development will be faster with the vendor's robust processes in place. In addition, outsourcing will save you the cost of purchasing licenses or subscription for tools/software.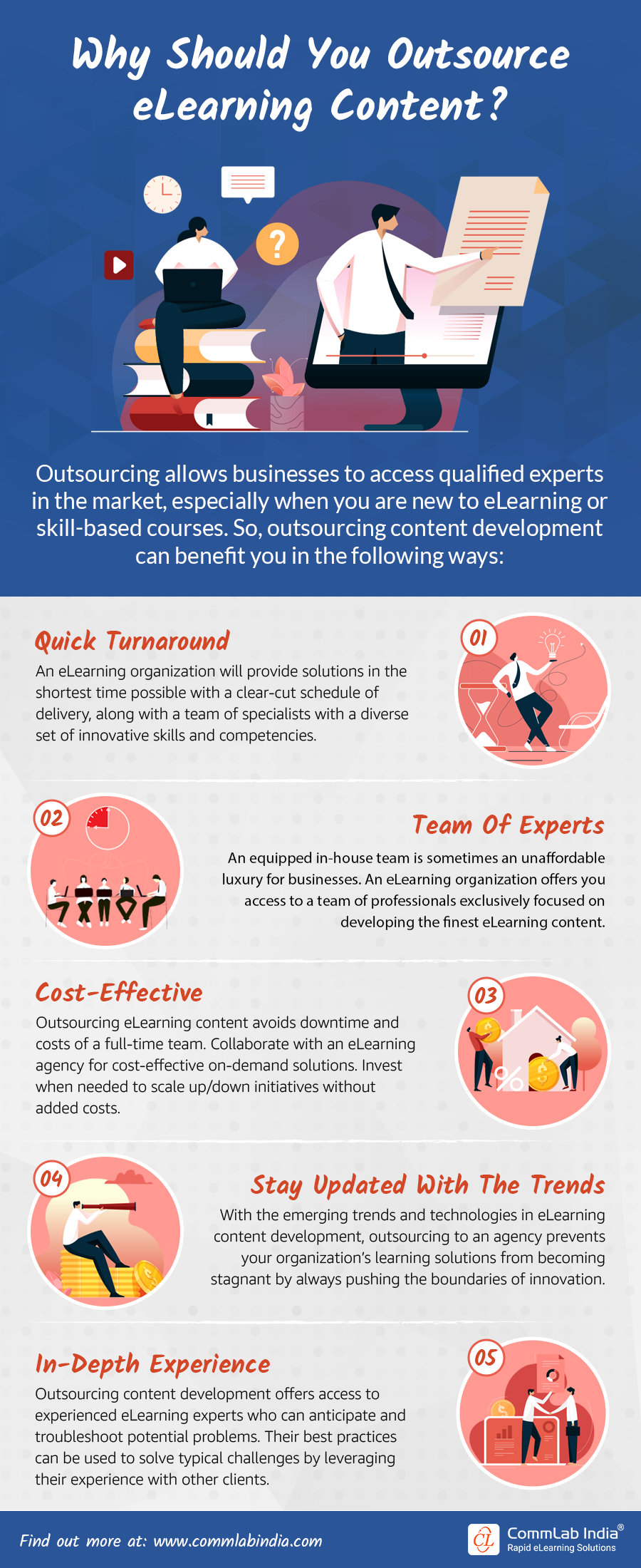 While outsourcing the eLearning development, also take into account the resources required – instructional designers, visual designers, multimedia and authoring tools experts. Their time will also impact the cost of development.
To give you an idea, according to Upwork, the rates typically charged by instructional designers per hour are: beginner ($30), intermediate ($59), advanced ($125). The hourly rate of a courseware developer can be within 60-90 USD, depending on expertise and experience.
Wrapping it Up!
In the end, "it depends" doesn't really seem like an absurd answer to "How much does it cost to create e-learning?"
The good news is you do have control over all these factors and so, there is absolutely no reason why you can't develop high-impact eLearning courses within your budget.
However, before weighing in all these factors and deciding, it is important for you to understand:
Your overall training strategy and the role that eLearning can play – which online training assets can best support your training approach? Does it make sense to invest in these assets? Do a thorough analysis on how eLearning will cater to your learning as well as business needs.
How different media and interactive elements can support the learning outcomes – If you're new to eLearning, you need to know all about these media and interactive elements to make sound decisions and argue knowledgeably with those too ready to latch on to the latest trends.
That was all about the cost of eLearning design and development, but what about the basics? Here's an eBook 'ELearning 101' that'll help you understand (or refresh) what eLearning is all about – what, why, impact on business, how courses are designed, delivered and deployed, and more. Grab your copy today, absolutely free!
Editor's note: This post was originally published in November 2020 and has been updated for comprehensiveness.