Top 3 Factors That Help Determine eLearning Development Cost [Infographic]
Do you intend to implement eLearning for your workforce but are not sure about the cost? When seeking a quotation for eLearning course development, the cost of it depends on several factors. Continue to read to know what factors determine the cost.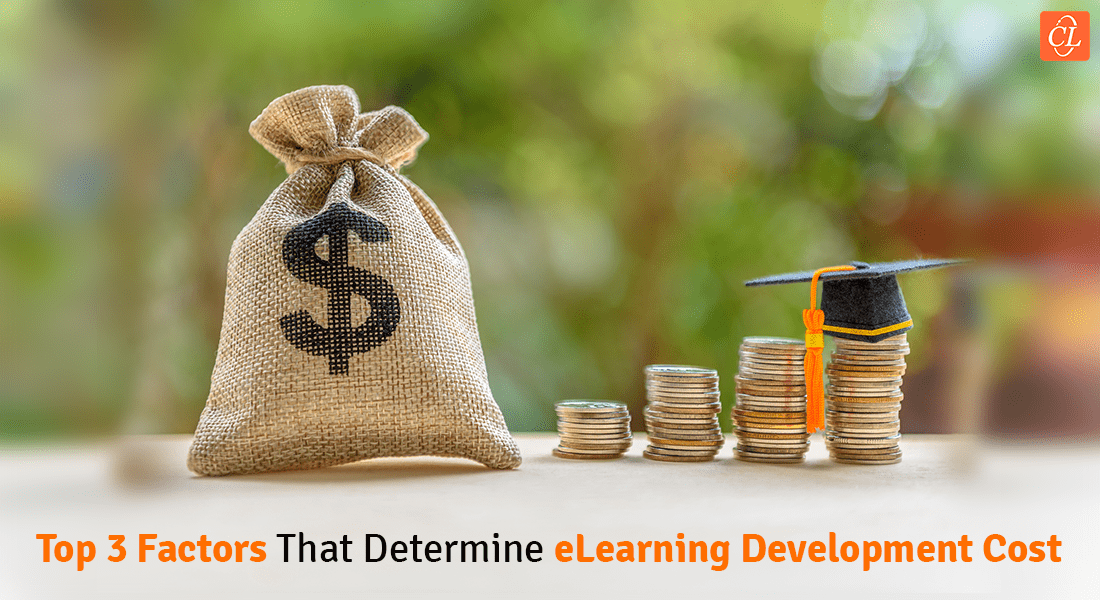 The most frequently asked question to eLearning vendors is "What's the pricing?". The most standard answer to it is "it depends." It is true that the cost of developing an eLearning course is determined by a variety of factors. The expected outcome of the course, as well as the time and effort put into creating the course, must be considered when determining the eLearning development cost.
3 Factors That Determine the Cost of eLearning Course
1. Nature of the eLearning Course
When developing an eLearning course, the nature of the course is an important factor in determining the cost. Will the course be available in a single, stand-alone format? Will the format be a collection of short modules assembled into a lesson? What will be the hosting medium, as well as the devices through which learners will access them? The answers to all these questions play a significant role to determine the cost.
The duration of the course whether it is a single course with a fixed duration of 20-30 mins or multiple modules with a duration of 5-10mins each, curriculum format with basic, intermediate, or advanced levels. For instance, A course with a simple linear structure could be less expensive and a curriculum design that requires more resources and time, adds to the cost. Furthermore, a responsive course design that demands the development of scenarios, case studies, and simulations is more expensive.
2. Expected Performance Outcome and Interactivity Level
The courses requiring the sharing of only basic concepts, facts, or principles may be simple with few interactivities. Product training, process training, and safety training, on the other hand, may involve more interactivities. When it comes to software training, advanced interactivities that include complex problem-solving activities are essential.
3. Time and Effort of eLearning Experts
The number of instructional designers, visual designers, and multimedia experts, as well as their time and effort, are all cost-determining factors in eLearning. Development time is also affected by the following factors: multimedia elements used, course complexity, instructional design time, and eLearning translation criteria which also contribute to eLearning development cost.
Here's an infographic that'll take you through the different factors that are used to determine the development cost parameters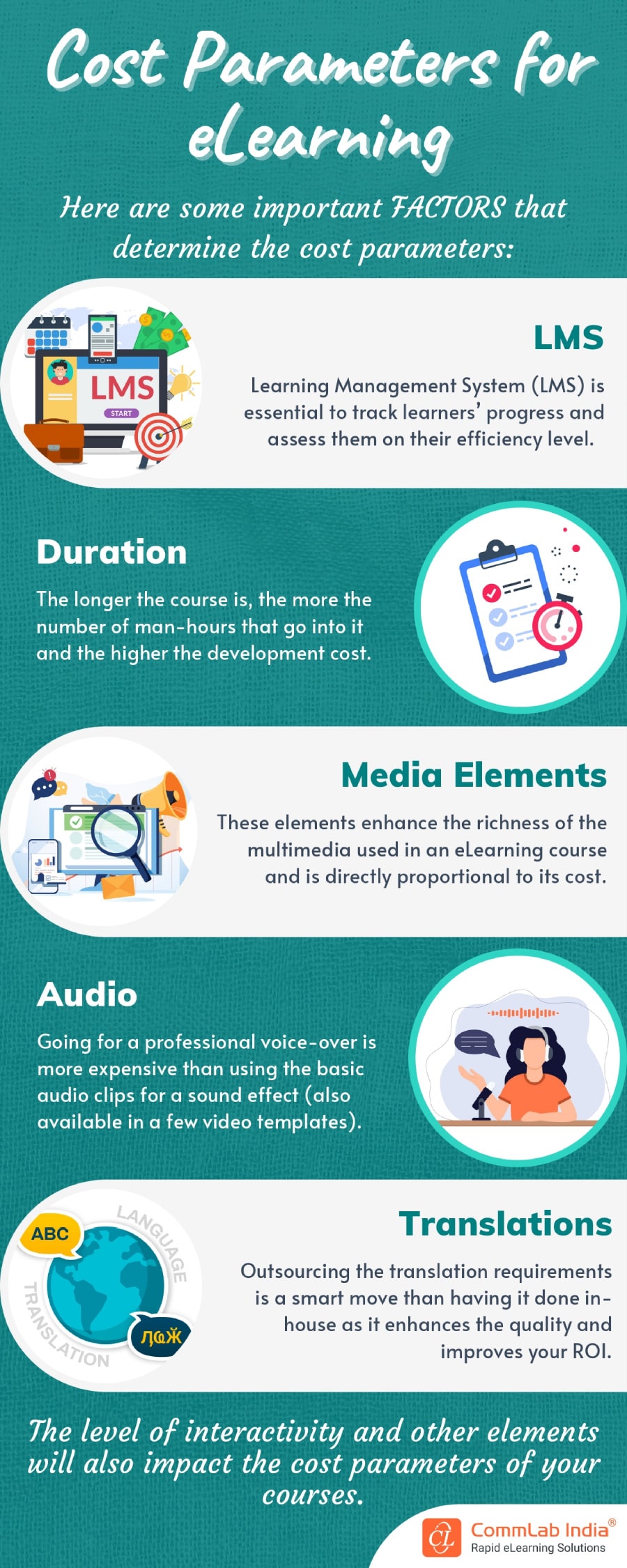 To sum up!
When you know what the course is about, whom it is for, and how long it will last, it will be simpler for you to estimate the eLearning development cost. The more complex the course, the more resources and time will be required, which adds up to the development cost.
Advance your career by learning everything about online learning. On August 25th, join us for a live webinar on 'How to Become an eLearning Champion' with business experts who will provide their expert advice on how to create training programs that satisfy organizational objectives and captivate your young learners. Hurry up and sign up to save your seat!