5 Key Benefits of eLearning Translations
Did you know that eLearning translation is essential to a robust training program especially if you are scaling up your business operations worldwide. Here's a blog that helps you decipher the benefits of eLearning translation and helps you get started.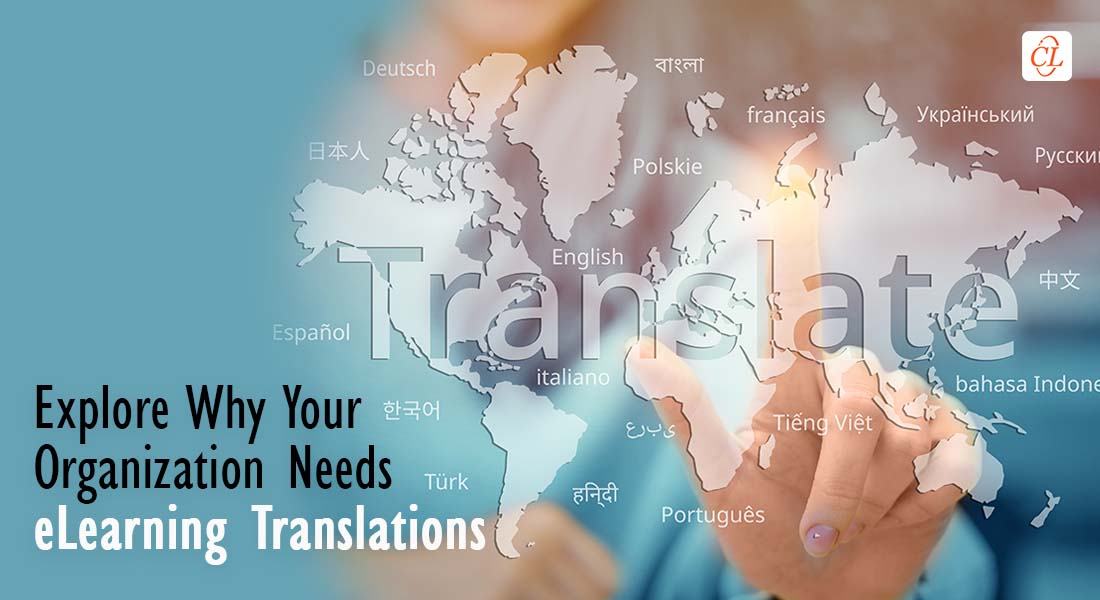 Have you ever experienced joining an organization where the onboarding sessions were in a language you were unfamiliar with? Did you feel left out? Or maybe you had questions, but no one was available to help you clarify your concerns. eLearning translation services can help your organization to train employees from multiple corners of the earth.
Wondering What eLearning Translations Can do for Your Organization?
Here are its five key benefits:
Improved Performance and Employee Satisfaction
Greater Productivity of Translators
Helps attract Global Talent
Enhanced Brand Image
Increased Scale and Global Reach
Read on to learn more.
eLearning Translation: A Definition
What is eLearning translation you might ask? Well, eLearning translation can be defined as converting an eLearning course from its original language into the 'target language'. Now wait a minute. Does this mean that you can ensure that your employees in another country can understand just what you are training your on-site employees? Well, to put it simply, yes, you can. eLearning translation not only helps you get your training across in diverse, unique language, but it also incorporates methods on how content can be presented, such as images and text, to give the right tone. This way, your organization comes out as the culturally competent employers and leaders in your area of expertise. And this is how you want to be known.
93% of L&D (learning and development) professionals are adding live online training to their organizations in 2020. With the rise of eLearning platforms, post pandemic, you want to be able to give your employees access to knowledge in their own language. When you train your employees in their native language, they learn, understand, and remember information better. You don't want your employees stressed out with an overload of content that doesn't match their community's culture and values. Cognitive overload is something that eLearning experts need to minimize in their design and development process.
eLearning can take on various formats, such as documents, manuals, questionnaires, audio and video clips, graphics, interactive elements such as navigation buttons, and units of measurement that are unique to the organization, community, locality, region, and country it is designed for. When you design content and shape it into eLearning courses with an international outlook, you are setting yourself up for success. You are imparting knowledge and your company's values the right way. eLearning courses need to be learner-centric and ensure that the end user or the employee is at the forefront of the instructional design process.
You need to analyze your target audience, to whom the training will eventually be delivered. As you learn about your employees and their linguistic needs, and as you design content that are culturally sensitive, you increase the effectiveness of your eLearning course.
Now let's look at a few significant benefits of eLearning translation and how you can get started with it.
Five Key Benefits of eLearning Translation
1. Improved Performance and Employee Satisfaction
You should design courses that take into consideration the culture and language of your employees. You need to use appropriate and relevant idioms, phrases, images, and icons that the learner can relate to, as this helps you to engage your workers on a whole other level. Your courses improve their effectiveness just by the fact that they are more relevant and relatable. Your employees are also going to be even more satisfied with their learning experience.
2. Greater Productivity of Translators
There is a rising trend towards machine translation, or translators that are not human, to improve the efficiency of the eLearning translation process. Machine Translation boosts the ability of your translator up to five times, and this ensures that more content is translated using less hours of the translator's time and effort. This way, you can free your translator's time to focus on crucial projects that are demanding their attention, and you ensure both the translator, and the eLearning community are happy.
3. Helps Attract Global Talent
With eLearning translation, you ensure that your globally dispersed employees feel seen and heard. They are assured that their employer's factor in their cultural background and language needs and realize that their global location is not just a field in their designation. You also give them a chance to recommend your organization to their friends and colleagues enhancing your organization's HR recruitment process with talent on a global scale.
4. Enhanced Brand Image
eLearning translation also enhances your brand's image in the global community. When you include eLearning translation services in all your eLearning formats you show your organization's brand to be diverse and inclusive. This way, you can include DEI (diversity, equity, and inclusion) as one of your key business mantras.
5. Increased Scale and Global Reach
Once your customers learn that you translate and localize your eLearning formats into diverse global languages, they are bound to give you more business and recommend your services. When you include eLearning translation into your design and development process you also increase your organization's scale and reach worldwide.
Wrapping it up!
The benefits of eLearning translation don't stop there. These are just a few of the reasons you should consider incorporating eLearning translation to spruce up your training programs. You can integrate eLearning translation into your compliance training and onboarding of new employees as you are obliged to train almost all the workers in your organization. Another recommendation is to use machine translation to make your eLearning courses more engaging, as this reduces the translation cost and helps ease the burden of the overall eLearning budget.
Do you have more questions about eLearning translation? Here's an eBook for you to get answers and explore more options in the vast dimension of eLearning translation. Click on the link below to get in-depth insights.