The 'Why', 'How', and 'Where' of eLearning Translations
This blog takes a brief look at eLearning translation and localization – the importance and benefits of effective eLearning translations, potential pitfalls of doing translations in-house, and a few tips for selecting the right eLearning translation vendor.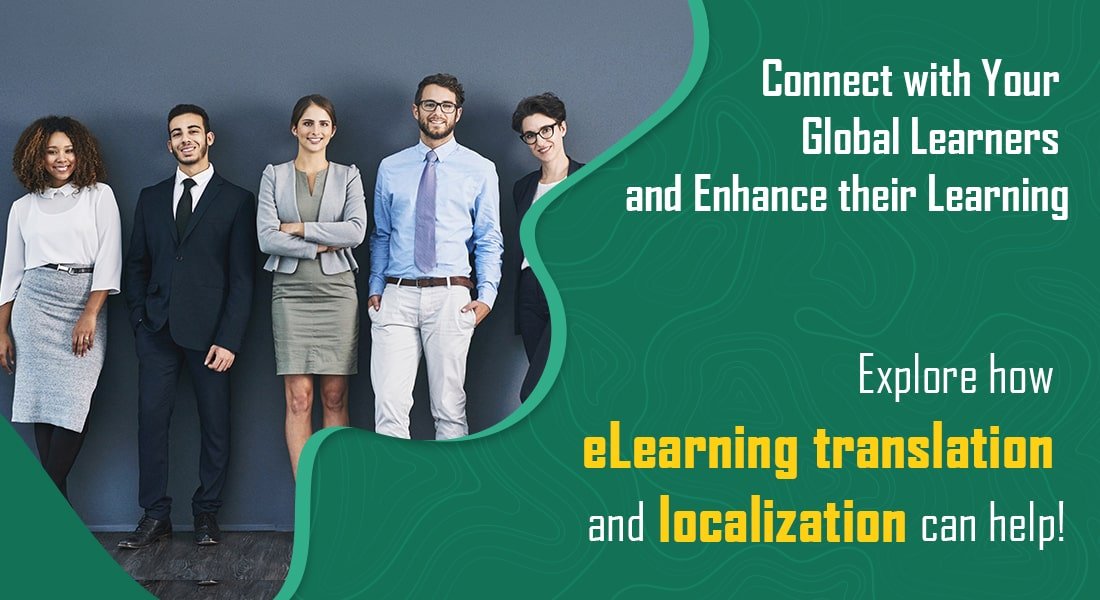 Most organizations today have a global presence, whether through consumers, partners, or off-site employees. A worldwide presence necessitates a diversified staff in terms of language, culture, and sensitivities. And with that comes the urgent need to provide consistent training across the organization. Translating your online courses into various languages is the first step to provide effective training and connect with your globally dispersed workforce.
How Can You Ensure Efficient eLearning Translations?
Plan for translations along with the master course
Have an in-house review team
Create a glossary and style guide
But here's a question. Is it enough to just convert your eLearning courses into the different languages of your worldwide learners? What about their distinct cultural sensibilities?
The answer? A combined eLearning translation and localization strategy.
So, "What's the difference?" you may ask.
Translation refers to the translation of text from the source language to the target languages. Localization is the process of adapting content to a specific region or location (context and culture).
With eLearning translation plus localization, you can overcome linguistic and cultural obstacles to better train your employees regardless of who they are or where they are from.
Advantages of Translating eLearning Courses
There are many advantages and reasons for organizations to translate their eLearning courses.
1. Happier Employees
You'll need to rethink your language approach before delivering eLearning courses to your learners located in different parts of the world. English may be the most widely used and understood language in your organization, but it is not everyone's native language.
Employees instructed in their native language get a better understanding of the topic. This also helps guarantee long-term employee satisfaction, which in turn results in happier employees. And happy employees are significantly better workers.
2. Easier Access and Reach
Employee training sessions that are translated result in a better knowledge retention and quicker troubleshooting, leading to reduction in the number of complaints and customer service cells. By translating your eLearning courses into many languages, you will also be able to serve more consumers from all over the world. This, in turn, leads to increased organizational growth and profitability.
3. Consistent Training
Translating your eLearning courses would certainly improve communication and irrespective of geographical constraints, you will be able to reach your workforce around the world and ensure that they receive the same quality of training.
How Can You Ensure Efficient eLearning Translations?
To ensure efficient eLearning translations, it is important that you:
1. Plan Ahead of Time
Make an estimate of the number of courses that require translation.
Allocate the required budget.
Create a project plan for reviews and deliverables to avoid additional costs.
2. Form an In-House Review Team
Subject matter experts (SMEs) to sign off on the content.
Language experts to review the language.
3. Create a Glossary and a Style Guide
Ensure the glossary includes technical jargon and commonly used words.
Provide it to the vendor so that the translated courses are consistent.
Will In-House eLearning Translations Work?
There are three ways you can do your eLearning translations – you can outsource the task to a trustworthy vendor (a simple, popular, and cost-effective solution); Or hire a team of experts – professional translators, linguists, editors (an expensive option, especially if they are going to work solely for L&D); or use your in-house employees who are native speakers of the target language(s) for the translations.
Most organizations would jump at the third option because it involves no immediate costs and also avoids issues with information security. But while this might seem like a very attractive option at first, it has many pitfalls that might not make it the smartest move in the long run.
Here are a few points to think about before entrusting eLearning translations to your in-house staff – their:
Lack of expertise in the subject matter being translated
Lack of technical knowledge for eLearning translation that may lead to missed timelines
Lack of proper quality checks, leading to poor quality translations
Primary job responsibilities and loss of productivity
So, your best option for successful eLearning translation is an efficient and reliable eLearning vendor who can ensure the project is completed within timelines, within the set budget, and with desirable quality.
Tips for Choosing the Right eLearning Translation Vendor
So, when you think of outsourcing eLearning translations:
Look for an experienced and competent provider who offers translation as a primary service.
Look for their experience with similar tasks (ask for samples).
Ask for and review a prototype.
Compare prices and choose the most cost-effective option.
Parting Thoughts
To conclude, we can safely say that while eLearning translation and eLearning localization are similar in many ways, they address different challenges to make your global learners more comfortable with online training. Translation and localization are inextricably linked. One oversees the language, while the other oversees the context and culture. And why shouldn't they? After all, language and culture are strongly intertwined.
If you want to learn more about eLearning translations and get answers to your questions, download this eBook now!