5 Tips to Choose the Right eLearning Translation Vendor [Infographic]
eLearning translation is an important part of training your global workforce. Outsourcing eLearning translation will help you gain the expertise of experienced language experts. Here is an infographic with tips to select the right vendor.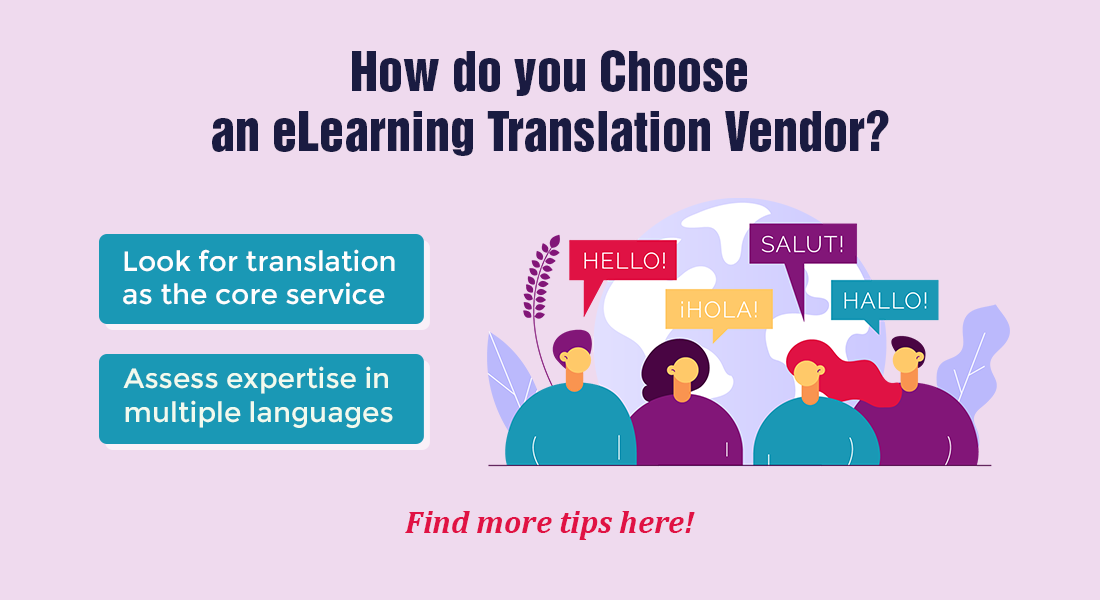 The COVID-19 lockdown has multiplied your job responsibilities as a training manager tremendously. Between looking for quick and cost-effective online training solutions and trying to effectively train employees working from home, you have your work cut out for you. One important issue that comes with training a remote workforce, especially global ones is the need for eLearning translation.
While many of your employees may know and understand English, it doesn't mean they are comfortable with it or get the subtle nuances of the language. Besides, learning happens best in a language that you can call your own, don't you think?
"If you talk to a man in a language he understands, that goes to his head. If you talk to him in his own language that goes to his heart."
– Nelson Mandela
eLearning translation has been a good practice for training global workforces for a long time and recent situations have made it even more important. But while understanding the need for translation is pretty straightforward, carrying out the process isn't. eLearning translation requires the combined expertise of instructional designers, developers, and language experts. It also needs technological infrastructure in the form of Computer-assisted Translation (CAT) tools. And since your in-house L&D team is already overworked, don't you think it's time to look for another solution?
Outsourcing eLearning translation will save you a lot of headaches and training responsibilities. It will also give you the experience and expertise needed to design and develop eLearning courses in multiple languages. But for a successful eLearning translation project you need to select an eLearning vendor who can deliver your training requirements on time, within budget, and without compromising the quality.
How do you find such a vendor? Well, take a look at our infographic with tips to select the right eLearning translation outsourcing partner.