Everything You Wanted to Know about eLearning Translations (But didn't know whom to ask)! [Infographic]
Are you convinced of the need for eLearning translations but have many questions? This post will give you all the answers, including the ones you didn't know you had! Explore the nuances of eLearning translation and localization, pros and cons of translation tools, tips to select the right translation vendor, and more.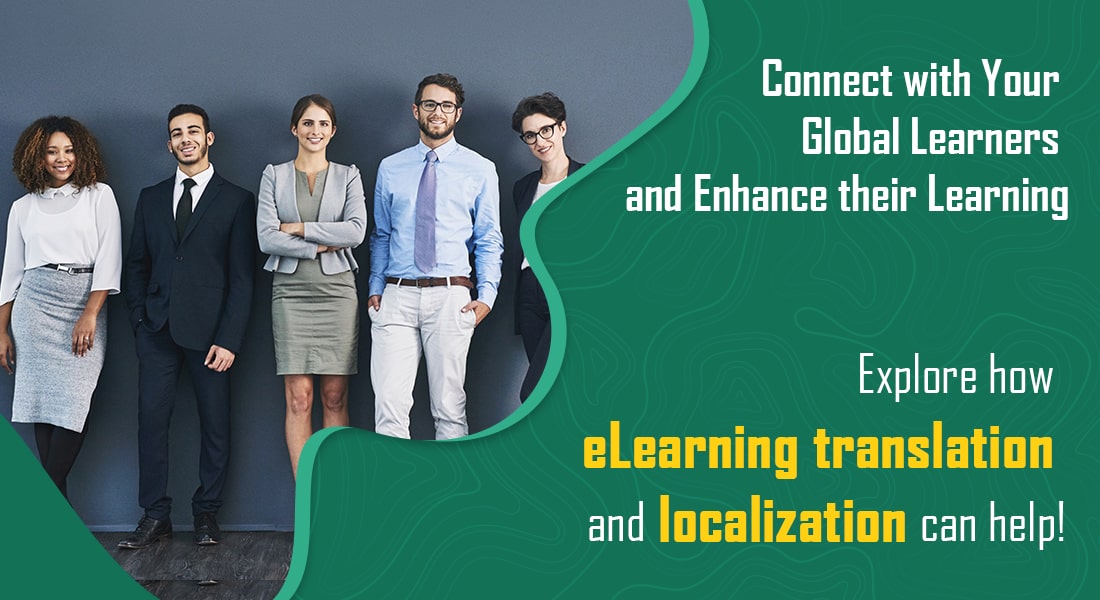 To ensure growth and success, it is important for organizations to communicate, create, and sustain a viable work-environment for their globally dispersed workforce. Training too needs to be factored as it is one of the main means of ensuring employees stay productive and engaged. Several studies have proven that learning in native languages is beneficial and eLearning translations enable organizations to deliver globally-uniform, locally-relevant training. However, "What does eLearning translations involve?", "How do we select the right translation partner?" are questions for many organizations.
All about eLearning Translations
The two significant strategies for training a global workforce are:
Translation of text
Localization of text, images, and context
When it comes to translation strategies, you need to ensure the scope of translation is defined right at the beginning so that the master course is designed to be neutral.
What should we ensure when the source course is designed?
What does localization involve?
Can tools aid eLearning translations?
How can you identify a competent eLearning translation vendor?
What is the role of audio in eLearning translations?
This infographic answers all these and more!



eLearning Translations and the SME
Subject matter experts are an indispensable part of eLearning translation as they ensure technical accuracy isn't lost in translation. Similarly, when translation tools are used, SMEs need to validate the terms and phrases so that there are no errors or room for misinterpretation.
Localization
When it comes to eLearning localization, you need to ensure your translated content is culturally relevant and appropriate. For example, while references to cricket will strike a chord with learners in the Indian subcontinent, it'll leave learners in the US befuddled. Localization ensures that eLearning courses are adapted to accurately represent the target culture – in terms of colors, symbols, gestures, humor, sports, idioms, and more.
eLearning Vendor
Choosing the right translation vendor is important to meet your organization's global training needs within your timelines, without compromising on quality. Read this article that explores why you shouldn't burden your employees with eLearning translations and the confusion that can ensue.
Adios
Translation tools are becoming more sophisticated every day, and artificial intelligence is playing a prominent role in this sphere too. Still, eLearning translations from one language into another is such an intricate human activity that the question remains whether at any point human translators can be fully replaced.
eLearning can make your organization's global training efforts a success – not just with translations – but by also offering a wide range of instructional design strategies. Explore popular strategies and how to pick the right one in this eBook.