Top 3 Factors That Define Your Overall Rapid eLearning Development Cost
Rapid eLearning helps organizations roll out eLearning courses within weeks instead of months. Apart from the speed, development cost-effectiveness is also one of its most crucial advantages and this blog discusses various factors that define it.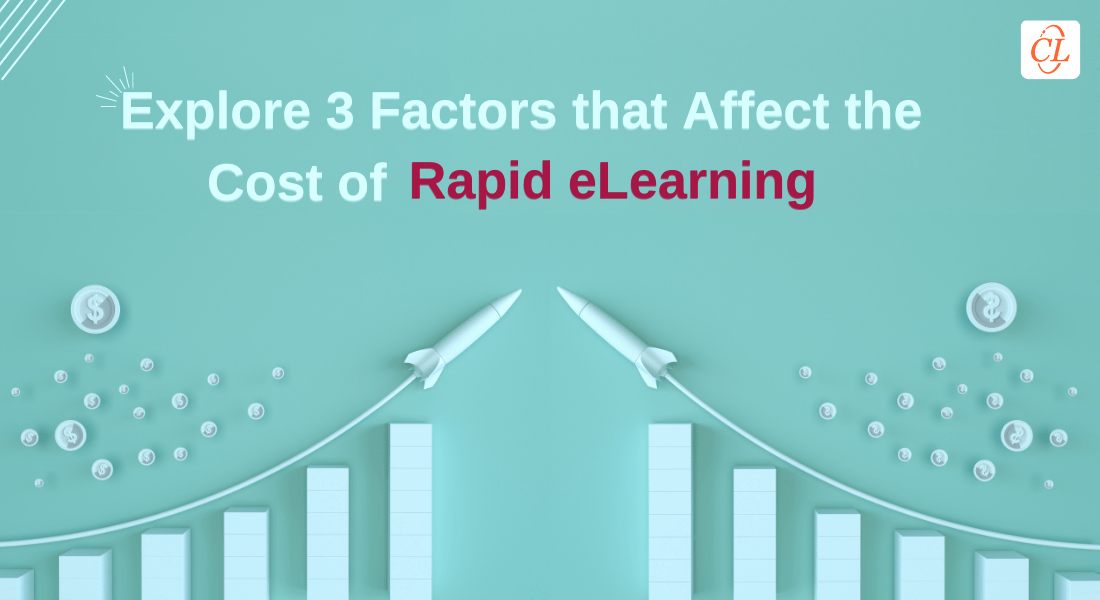 Imagine a world where knowledge is just a click away. A place where you can learn new skills and acquire information at lightning speed. Welcome to the world of rapid eLearning, where technology and efficiency come together to create an accessible and personalized learning experience. Rapid eLearning can save a lot of time and money for your organization, but how much you can save, is up to you. There are various factors that can define your rapid eLearning design and development cost and this blog covers most of these primary aspects.
Curious to Know The Factors That Define Your Rapid eLearning Development Cost?
Here are a few major ones:
The duration of your course or curriculum
The nature of the inputs
The selection of your authoring tool
Top 3 Factors That Define Your Overall Rapid eLearning Development Cost
1. The duration of your course or curriculum
The overall duration of your eLearning course or curriculum probably has the biggest impact on your development budget. But this doesn't mean a highly interactive course with a lot of multimedia costs less if the duration is short. If 2 different courses with a similar level of interactivity are to be compared, the duration of the course is directly proportional to its development cost. Therefore, to save even more money, rapid eLearning promotes mobile learning, because the courses that are preferred for mobiles are relatively shorter and can be rapidly developed within a limited budget.
2. The nature of the inputs
Apart from the duration, the primary input content is also one of the most crucial aspects that decides the cost of your rapid eLearning development. Detailed, well-organized content along with some supporting visual assets that follow a certain instructional design will definitely cost more than the simple combination of videos and PDFs. Additionally, the level and complexity of interactivities can also impact the development budget. For example, a standalone game-based learning course will cost more than a basic microlearning course or guided learning course because the level of interactivity and nature of inputs is quite different in each of them.
3. The selection of your authoring tool
This is kind of tricky and entirely based on your training goals and preferences. There are numerous Rapid eLearning authoring tools available in the market and each caters to different needs. For example, if you are not familiar with modern UI and UX, you can choose iSpring Suite because it can be integrated with MS PowerPoint to provide you with a more traditional authoring experience. Similarly, if you are designing a highly creative course and you wish to incorporate new technologies within your course, you can choose Adobe Captivate or Lectora because they have a lot of "extra-mile" features to support your demands and objectives.
Bonus Tip!
Even after you are done with your development, your cash flow doesn't stop. So, try not to spend most of your training budget on development, because there are other crucial aspects such as hosting or scaling that still need to be taken care of. Any modern LMS or LXP can help you host and scale your rapid eLearning courses seamlessly. They can also measure the impact of your courses, track employee progress, and provide you with advanced learning analytics reports to help you understand the learning preferences of your workforce and make changes to your course accordingly.
Choosing your LMS or LXP is very similar to the process of selecting your authoring tool because your decision or choice highly depends on the training needs. Even though an LMS is primarily responsible for the delivery of rapid eLearning courses, it's entirely co-related to your design and development budget. This is because a lot of LMS platforms come as an additional service along with your authoring tools suite subscription and add up to your development budget. LXPs are similar to an LMS but provide a more personalized approach to eLearning. You can also choose an external LMS but that might cost you some extra bucks.
Parting Thoughts!
Apart from the factors mentioned above, there are a lot of other sub-factors that can have a considerable impact on the development cost of your rapid eLearning courses. It is very important to keep the budget minimal and the effectiveness at max to get the best ROI. If you wish to understand how rapid eLearning stays true to its name and designs quality eLearning courses under a limited budget and tight deadlines without compromising on the quality, you can access this amazing eBook and explore various research-backed insights.