The 4 'R's for Rapid eLearning Development [SlideShare]
The 4 'R's for Flash to HTML5 eLearning conversions are well-known. But, do you know the 4 'R's strategies for rapid eLearning development? Find out here!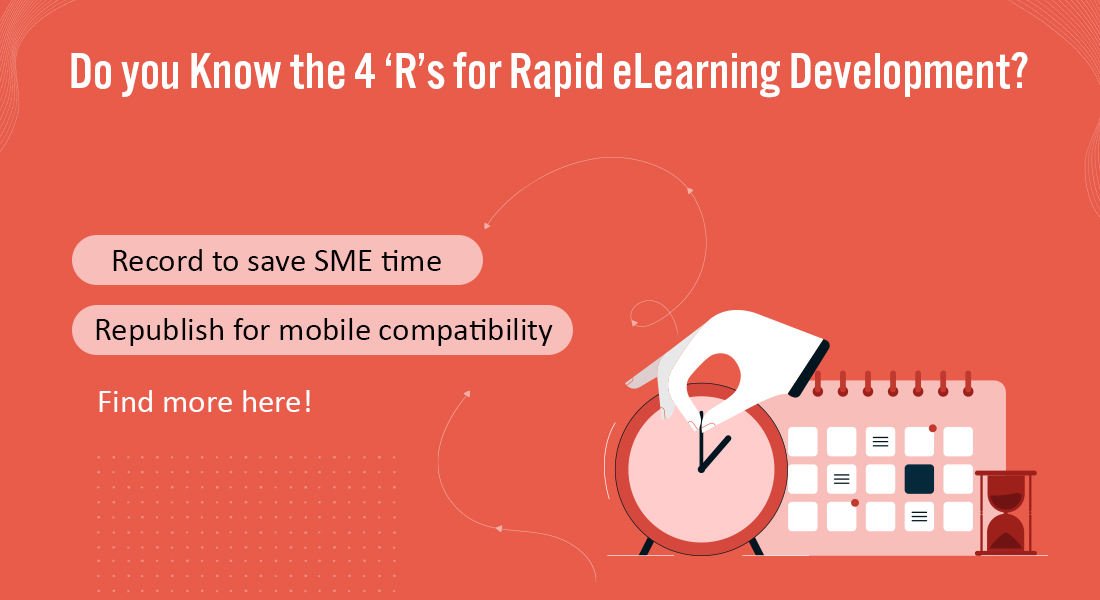 2020 has been unpredictable! Concepts such as 'lockdowns', 'social distancing', 'mask mandates' were unknown to most of us. Today, they are part of our everyday language. For corporate learning and development, social distancing meant disrupting the traditional way (in-person classrooms) organizations operate and train their employees. But this also meant that rapid eLearning development came into vogue.
Organizations levering in-person training methods – classroom, on-the-job, workshops, and so on – were compelled to opt for online training methods, be it eLearning (asynchronous) or Virtual Instructor-led Training/VILT (synchronous). And when you need to shift your classroom training materials to eLearning, within a limited time and budget; can there be a better solution than rapid eLearning? Of course not!
Whether you're looking to convert available PPT decks into interactive courses, or want to deliver mobile learning to your workers working remotely, give them the benefit of eLearning translation, rapid eLearning development will fulfill your training requirements within time-limit and budget, without compromising the course quality.
Here is a SlideShare to show you how rapid eLearning development uses the 4 'R's strategy to develop online training.
It's a Wrap!

Now that you are well-versed with the 4 Rs of rapid eLearning that back the success of rapid eLearning, it's time to implement it in your organization. You will certainly reap its myriad benefits. If you are still contemplating the thought, here's a comprehensive guide that will help you understand how rapid eLearning can facilitate the development of quick eLearning courses. Get your hands on this eBook now!