LMS vs LXP: 3 Key Differences That Sets Them Apart
LXP market is growing at a substantial rate but it's still a long way ahead to catch up to where LMS market stands today. Read on to understand the 3 key differences between an LMS and LXP and explore why LXPs are creating such a buzz lately.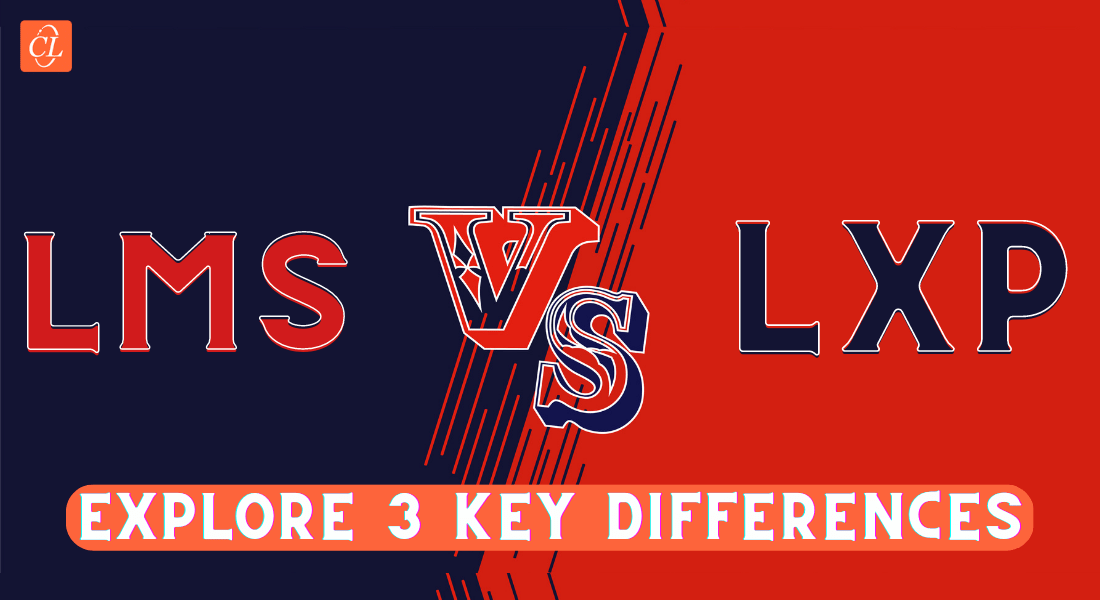 You must have been hearing the acronyms like LXP, LMS, CMS, etc, and it's natural for anyone to get confused with the exact differences between them even if you know the full form. While CMS is generic for all sorts of web content, like WordPress or WiX, LMS and LXP are both related to learning platforms for delivering and managing eLearning content. You must be having a number of questions like what provides a better experience? Who has the upper hand among the corporates? And many more. This blog will help you clear your dilemma and choose what's best for your learning requirements.
LMS or LXP: What's Best For The Modern Learners?
Consider these 3 points of differences to decide better:
The Control Over Learning Content
The Control of Learning Path or Learner's Journey
Their Applications and Preferred Use Cases
What is a Learning Management System (LMS)?
LMS is an online platform or a software that enables eLearning programs to be hosted, administered, shared, and tracked effectively. Most of the LMS today are a common platform to facilitate all types of formal or informal learning formats such as eLearning, webinars, VILT, social learning, etc. It secures the user information and allows them to access the courses and other training materials with a simple login. All modern LMS are built with a responsive user-friendly design in mind so that learners can access their training on the go. Moodle, TalentLMS, and Docebo are some of the popular modern LMS used by organizations.
Now you must be wondering if that's an introduction about an LMS, what is an LXP? How is it different from an LMS? Let's break it down for you.
What is a Learning Experience Platform (LXP)?
If an LMS is like a television channel that plays movies, then an LXP is like Netflix or Hulu. You can use this relativity to understand the core differences between the two. LXP has revolutionized the categorization and distribution of eLearning courses through a learning platform that allows learner-curated and completely aggregated content and helps them create their own learning path. AI suggestions and recommendations along with extensive social learning opportunities give a whole new meaning to the narrative of personalized learning.
The eLearning courses provided by an LXP platform are very easy to consume and highly engaging, and there are no restrictions to access them, which makes it easier for learners across the globe to enjoy their learning at its full potential. Any form of content, irrespective of its type can be hosted on the platform. The users have complete control over the content that can be shared whereas the administrator has most of the control when we talk about an LMS. Some of the popular LXPs preferred by the organizations are Udemy Business, LinkedIn Learning, and Edcast.
LMS vs LXP: When Should Organizations Opt for Either of Them
Here are 3 points of differences to have a better understanding of both of them and figure out their best use cases.
1. The Control Over Learning Content
One of the biggest differences between the two is who has the majority of control over the training content. In the case of LMS, the administrator has complete control over it whereas everyone is allowed to add content in the LXP. The LMS administrator uploads the content, controls the flow of content, delivers it to the learners, provides daily support, and manages multiple operations related to the course.
On the other hand, the content in LXPs is added and curated by everyone serving as an aggregator for the various types of content chosen by the learners. In simple words, an LXP consists of internal, external, and learner-generated content and this diverse collection promotes social interactions and learner engagement. The AI technology embedded within the LXPs along with the learning analytics reports of the user, recommends courses and other resources based on the history of content choices and learner requirements.
2. The Control of Learning Path or Learner's Journey
Now that we have discussed who has the power over the content, the situation is very similar when we talk about the control of the learning path. The learning path for all the users is pre-decided and majorly controlled in the LMS by its administrator whereas the learning journey in the LXP is entirely personalized and directed by the learner so they can pursue their personal and professional preferences.
LMS Learners are directed to follow a path where the expectation of the organization is relayed to them, and they act accordingly. The information about when they have to take their next course is also decided by the organization. But in the case of LXP, learners can freely navigate through the platform and choose what they want to learn and when will they start it, so it can be said that it focuses more on the learning process and the user's experience.
3. Their Applications and Preferred Use Cases
Before concluding, it's always a good idea to list some of the best use cases and real-time applications for both, the LMS and the LXP.
LMS:
Consider an LMS when the training objectives are compliance-driven, to tick off those mandatory boxes. Organizations sometimes prefer an LMS to have more control over the journey of their learners and prevent them from getting distracted. Another reason to choose an LMS is that it enables the companies to regulate the content they deliver along with their sources, to prevent learners from consuming false information. The best use cases of an LMS are ILT and VILT administration, eLearning, performance training, and blended learning.
LXP:
Choose an LXP when you want learning to be entirely self-directed by users and facilitate true social learning. All the learners can create and share their own content apart from the content they receive from the organization's side, and interact with their peers, SMEs, and even competitors. Different types of discussions, debates, and events can also be held here and promote a collective learning culture and harmony in the organization.
Parting Thoughts!
L&D leaders across the globe have started preferring LXPs to deliver and manage various types of corporate training but that does not mean LMSs are about to vanish. Currently what is happening is that LMS providers have enhanced their software by including features of an LXP, basically they have combined both of them. Since LXP features are pretty straightforward and the content from all over the internet can be organized here, choosing an LXP isn't a problematic task, but the situation isn't the same in the case of an LMS. Various aspects come into consideration when you have to choose the perfect LMS for your organization, and this free eBook can help you cross that bridge.