How Blended Learning Can Boost the Quality of 5 Crucial Training Sessions
Isn't it hard to provide quality training using just one or two training formats? Well, you can mix them, or even add more, and create a platter instead. Explore how you can create a great blended learning program for various types of training.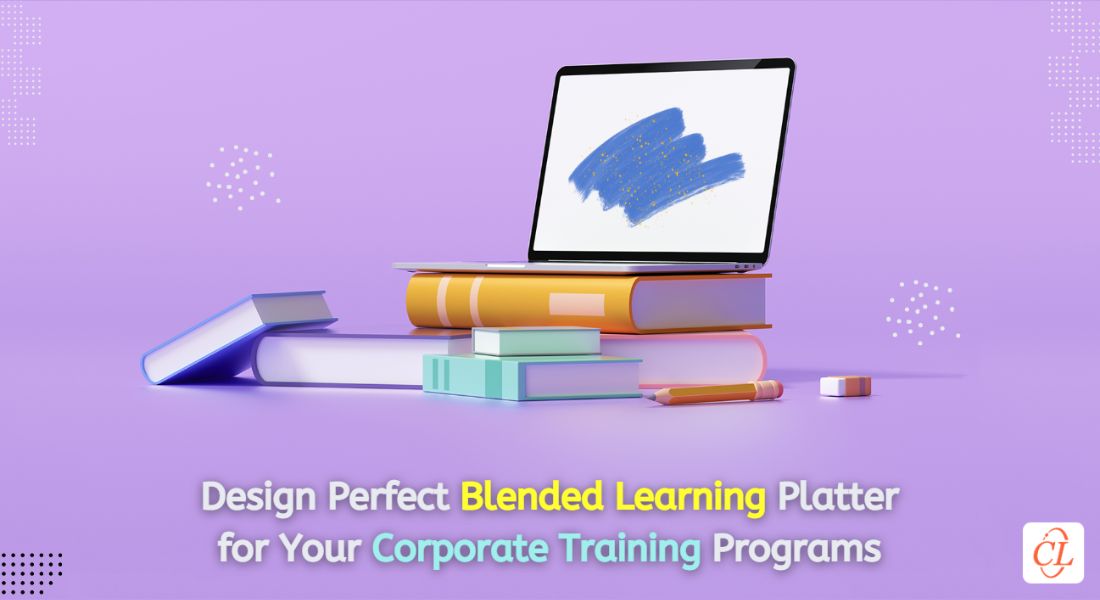 Today's generation never settles for a monotonous approach, no matter what the context is, and things are quite similar when we consider their corporate training. To cater to their interest, organizations can prefer a blended learning program because of the flexibility, versatility, and creativity it offers. The major training formats like eLearning, classroom training, virtual instructor-led training, and many of their sub-formats mixed effectively together form a blended learning platter. This blog will help you understand how you can create an impactful blended learning program for various types of corporate training.
Tired of Employees Dropping Out of Their Training Midway? Try Blended Learning!
Here are the 5 training programs that can be made engaging using blended learning:
Sales Training
Product Training
Safety Training
Compliance Training
Employee Onboarding
Read on to explore how you can create a perfect platter for each of them.
A Perfect Blended Learning Platter for Various Types of Corporate Training
1. Sales Training
Blended learning is effective in delivering sales training because it allows learners to have flexibility and control over their learning experience while still providing opportunities for face-to-face interactions and support. To create a successful blended learning program for sales training, you can mix and match various formats but one thing is to be ensured, the majority of training and its resources should be accessible on mobile phones because sales professionals are mostly on the field. Rapid eLearning can help you design responsive courses in no time and ensure uninterrupted training for your salesforce.
You can use microlearning assets, such as videos, podcasts, and interactive pdfs to introduce learners to new concepts and ideas. The classic in-person training sessions can be utilized to focus on hands-on activities such as role-playing and simulations for building confidence and skills while handling real-life situations and the same can be done through VILT. You can also consider using technology such as virtual reality (VR) or augmented reality (AR) to create interactive and immersive learning experiences to engage modern learners and make training more creative and effective.
2. Product Training
Now that we have discussed sales training, a considerable number of aspects are going to remain the same for product training. But, apart from the similarities, there are differences as well, for example, product training is targeted toward the entire workforce whereas sales training is specifically conducted for sales executives. Also, you don't really have to conduct in-person training sessions or create a full scenario-based learning course for product training (depending on the type of product) but they are quite necessary for sales training. Instead, you can create explainer/tutorial videos to feed all the necessary information about the product and create various infographics where features of the product or the steps to use it can be mentioned in brief for performance support.
Apart from online training, you can conduct in-person workshops and virtual events and train your workforce on the features and functionalities of the product. This helps the organization to gather valuable feedback from all the employees and incorporate the relevant upgrades accordingly. Creative microlearning assets can be shared on social media platforms to spread interesting pocket-sized information about various products and benefit from peer-to-peer and collaborative learning.
3. Safety Training
An employee's safety at the workplace is one of the major aspects an organization is obliged to focus on because workplace accidents or casualties can affect the company's image and cause the employees to quit their job. Workplace safety can be of various types, and it depends on the type of organization, the type of machinery they use, the variety of services they offer, the location where the office or workplace is situated, etc. Some of the training sessions are basic like fire safety or a cyber security course while sessions such as evacuation training or machinery training need to be extra personalized to avoid casualties.
To provide complete safety training for the employees, it is advised to address and evaluate the safety objectives as a first step. For example, a manufacturing industry where computer devices are barely used doesn't have a need for personalized IT safety training, instead, the same personalization needs to be done for their machinery training. Organizations can host classroom sessions to demonstrate evacuation practices in case of fire, short circuit, or any other workplace accident. The same measures can be displayed with the help of simulations/animated videos and various microlearning assets can also be used to provide instant knowledge retention.
4. Compliance Training
A few aspects of compliance training like IT safety or fire emergency measures are similar to safety training, but instead of personalized real-time experiences, the objective of compliance training is to ensure employees are aware of various company laws, regulations, and policies. Compliance training is essential to make sure employees maintain a healthy work environment and there are no workplace misconducts. Blended learning is favorable to providing compliance training mainly because of the type of training it is, monotonous and not very interesting, but mandatory.
Organizations can use basic eLearning courses to provide mandatory information to all employees and various interactivities like polls, quizzes, and other types of gamified assessments to make it interesting and maximize their completion rates. Later, on-the-job training sessions can be used to provide supplementary sessions on the major policies, mainly consisting of tips from authorities to maintain integrity and professionalism at the workplace. Company policies are supposed to change often, so using rapid eLearning solutions for creating compliance training courses can be really beneficial and efficient as it will ease the updation process as and when required.
5. Employee Onboarding
When it comes to employee onboarding, companies can simply prefer offline classroom training for employees working from the office locally and opt for virtual instructor-led training for the ones working from home, for their standard training sessions. Apart from this major segregation, a personalized online portal can be designed that enables interactive meet-and-greet activities for all new hires irrespective of their work location.
Learning through exploration and discovery (LEAD) is an interesting learning strategy to get new hires acquainted with workplace dynamics. Learners feel highly involved when they get a chance to explore and it also adds to knowledge retention. Microlearning in the form of short videos and cool infographics can be used for refresher training.
Wrapping Up!
Blended learning is indeed a lifesaver for organizations especially when it comes to dealing with a mixed-generation workforce having distinct learning preferences. Every type of learner eventually gets something useful and engaging for them in a full-fledged blended learning program. This approach helps employees improve their performance at work and become more productive. To understand more about how blended learning impacts an employee's performance, go through this amazing eBook. Get your copy now!