LMS vs. LXP: How and Why They are Different
LXPs are a rising trend in the L&D market. But will they replace LMSs soon? What do they offer more than an LMS? Learn more about LMS vs. LXP in this blog.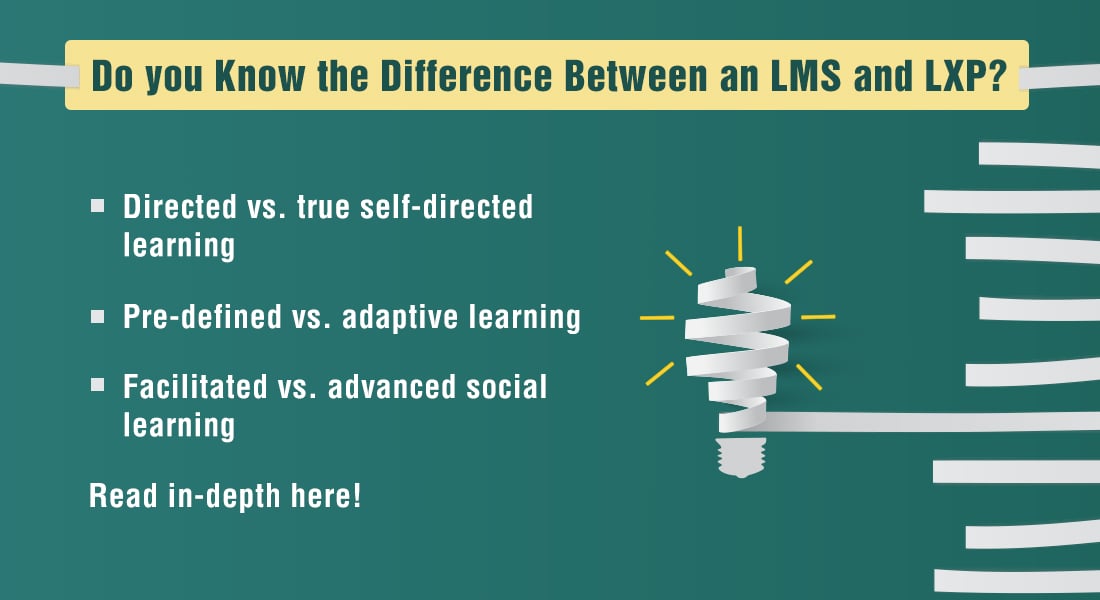 Did you know the LXP (Learning Experience Platform) market is over $200 million? According to Josh Bersin, the market is growing at a rate of more than 50% each year and is already showing signs of maturity with multiple big players—Microsoft, Instilled, EdCast—and complex products. That is why players in Learning Management System (LMS) space are trying to jump into the LXP space.
What does the LXP offer that the LMS Doesn't?
True self-directed learning
Adaptive learning
Advanced social learning
While data clearly shows that the LXP market is soaring high, most of us still can't get our heads around how an LMS is different from an LXP.
So, in this blog, we'll look into what an LXP is and its characteristics, and then discuss the differences between the LMS and the LXP.
Should you go for an LXP when you already have an LMS?
LMS is a common industry term. It is what people think of when an online learning platform is mentioned. Simply put, an LMS is a software which can host, administer, and track training programs, including eLearning courses. Moreover, it provides a common platform for all kinds of learning whether formal or informal. Modern LMSs can facilitate social learning, VILT (virtual instructor-led training) sessions, and much more.
But then, what is an LXP?
According to Josh Bersin, the LXP is similar to popular streaming services like Netflix. Just as Netflix revolutionized the distribution of movies and impacted audience viewing habits, the LXP is a learning platform which offers easy to consume, engaging, and highly in-demand eLearning courses and other digital training resources that can be accessed without any restrictions.
Building on the foundation of the LMS, the LXP curates and aggregates content, creates learning paths, and provides personalized learning resources.
Here are some of the key capabilities of LXPs. They:
Offer content in a Netflix-like interface, with suggestions and AI recommendations
Can host any form of content – blogs, videos, eLearning courses, and audio podcasts to name a few
Offer automated learning paths that lead to logical outcomes
Support true uncensored social learning opportunities
So, this is about the LXP and what it offers; let's now delve into its characteristics that differentiate it from the good old LMS.
LMS vs. LXP: 3 Points of Differentiation
1. Directed vs. True Self-directed Learning
As Josh Bersin points out, "LMS systems were never designed to be employee-centric. They were developed as 'Management' systems for learning, focused on business rules, compliance, and catalog management for courses." No doubt the LMS has evolved over the years, with the modern LMS embracing the idea of becoming learner-centric. But the crux of the matter remains the same, that is, who is in control of the learning?
With the LMS, there is always an administrator who controls all learning content. The administrator can be someone from the HR, or a trainer responsible for assigning different courses to learners based on their job roles. Doesn't sound very self-directed, does it? Even when learners have some flexibility to choose courses based on their need or interest, they have to search for the content only from what's available to their group or based on pre-defined criteria.
That is precisely what LXPs are aiming to change. They take the 'control' of learning from the hands of management and place it squarely with the learners. Though administrators do assign some mandatory courses for employees in the LXP, learners are not restricted to take only those courses. They can explore across all available eLearning courses and training resources available in the LXP database much like a movie-streaming platform.
The LXP is smart enough to recognize learners' knowledge gaps and interests based on their learning history and actions. It recommends learning resources using Artificial Intelligence (AI). These resources can either be pulled from the learning platform or resources available over the Internet – blog posts, videos, articles, documents, and so on.
2. Pre-defined vs. Adaptive Learning
In recent years, there has been a growing buzz about adaptive learning in L&D. We have all heard of it, and often use it synonymously with personalized learning. But adaptive learning is much more nuanced than the personalized learning offered through the LMS.
Adaptive learning is a learning strategy that uses artificial intelligence and data analytics to deliver custom learning experiences. It addresses the unique needs of individual learners through real time feedback and modified learning pathways.
With an LMS, you can track each learner's actions and analyze their needs, but only to a limited extent. All attempts at adaptive learning aimed at preventing the 'one-size-fits-all' strategy are still restricted by the pre-defined learning path set by administrators. But with an LXP, there is no such set path for learners. It provides AI-driven adaptive learning paths tailor-made to fit each learner's needs.
3. Facilitated vs. Advanced Social Learning
Social learning, by definition, is a strategy that promotes learning through collaborative projects, undeterred social interaction between learners, and free exchange of information and ideas. It has always played a crucial role in how employees learn at their workplace and in recent years, has become part of formal training too.
But, are these social learning opportunities designed for learners truly free and unrestricted? I don't think so!
When a learner posts a question to an online discussion board in an LMS, usually the administrator has to approve it before it's seen by others. The same is true for user-generated posts. Moreover, the user-generated content is limited to what learners will post and share within the LMS.
However, social learning can become truly 'social' with an LXP. Learners engage with their peers and Subject Matter Experts (SMEs) in a manner similar to social networking sites. Learners can not only share content available in the LMS or the ones they create, they can also share third-party resources such as blog posts, videos, audio podcasts available on the Internet. Moreover, to reiterate, the LXP leverages AI which recommends content based on learners' preferences, activity history, and stated goals to take learning one notch higher.
There may be a downside with allowing learners free rein, but adult learners are responsible individuals and you need to let them take control of how they want to learn. Only then can the potential of social learning be truly achieved.
Summing it Up!
After going through this quick introduction to the LXP and how it is different from the LMS, a lot of questions must be going around in your head! Are LXPs the future and did you just make a bad investment with your LMS? How soon will LXPs replace LMSs? Is any of this realistic or just some futuristic notion that will fade with time? Well…. there is no need for you to panic.
There are LXPs in the market now and their usage in corporate L&D is certainly increasing. Most organizations are using LXPs alongside LMSs for now. The rise in LXPs won't drive LMSs out of town. Rather, this trend has made modern LMSs like Effectus strive to offer a more experiential and learner-centric training. And if you want to get into the game, you should also follow the safe trend of combining the LMS and LXP together in your organization.
If you want to know more about trends and practices which will dominate L&D in future, download our eBook.